What customers have to say about our Thank You Cards
January 27, 2019
Grateful for my thank you cards
"I ordered these cards to give out with my closing gifts to my buyers and I am so glad that I did. The quality is amazing and the print was perfect. Can't wait to use them!"
"Love the size, love the card stock, love how our photo fit so nicely."
January 27, 2019
Love these cards.
"Shutterfly always does a great job."
"Once again, Iove my end result from Shutterfly. The people love their personalized cards too."
January 26, 2019
These turned out so CUTE!!!
"The card stock is very heavy and makes it a nice writing experience. Quality, thick, great bright colors on the card. This is a great product and a wonderful purchase."
Thank You Cards
Gratitude will never go out of style, and no matter how old or young, everyone loves to feel appreciated with a thoughtful, personalized thank you card. Maybe you'd like to thank a favorite teacher with a graduation thank you card or send a wedding thank you card to show your appreciation for gifts from your guests. Perhaps you want to extend your gratitude to gift-givers after your baby shower, birthday party, or communion. Whatever the case, your family members and friends deserve something special in return and this means giving them more than a generic card. Instead, give them a thank you card personalized for both of you, whether incorporating a photo or a customized message.
Personalized Thank You Cards For Every Occasion
With Shutterfly, it's easy to create personalized thank you cards. With a comprehensive selection of designs and a plethora of customization options, you can personalize your cards down to the finest details. Choose a thank you card design that matches specific occasions, including weddings, graduation, holidays, and funerals, or one that fits your relationship with your recipient. Our cute, easy-to-use templates are waiting to be filled with photos of your favorite memories and also your heartfelt messages of gratitude for your loved ones. With flat and folded greeting card options in an array of sizes and paper types, it's simple to find the perfect thank you note for any circumstance.
Creative Thank You Card Templates
Our unique design templates allow you to create thank you cards to suit any aesthetic or occasion. Whether looking for modern, watercolor, funny, or vintage cards, you'll discover a template ideal for you and your recipient, whether a nurse, teacher, customer, doctor, or coach you'd like to thank, or a guest at your wedding ceremony, kids' birthday party, baptism, or bereavement. These templates range from cards designs featuring one or two photos to all text designs or ones ready for photo collages. These include styles perfect for small business owners with loads of happy customers to thank for their purchases and also styles appropriate for recognizing veterans for their service and expressing gratitude to those who've attended a funeral or who've sent cards to extend their sympathy.
Cute Thank You Notes For Everyday Needs
Thank you cards have long been essential after attending Thanksgiving parties or receiving Christmas, retirement, engagement, or first communion gifts. They're the perfect way to show one's appreciation to all the partygoers and supportive friends in one's life. But our personalized thank you cards are also wonderfully-suited for mail carriers, first responders, police officers, realtors, and other people who deserve special recognition. Giving someone such a card can be an extraordinarily meaningful thing and something that others are sure to treasure for years to come. Whether you'd like to create a minimalist or pretty card, a floral card or one in, say, gold or purple, Shutterfly has a thank you card just right for you.
What To Write In A Thank You Card
Regardless of which thank you card template you choose, what matters most is the message you'll write. Be sure to craft a note that is genuine, sincere, and specific. If you've attended a Halloween party, received a generous referral, or been given a thoughtful housewarming gift, get specific about your experience at the event or gift you've received. If you're finding the right words for the latter circumstance, also be sure to detail what the gift means to you and specifically how you plan to use it. If what you write in your thank you card is honest and from the heart, your recipient will surely value it.
Related Products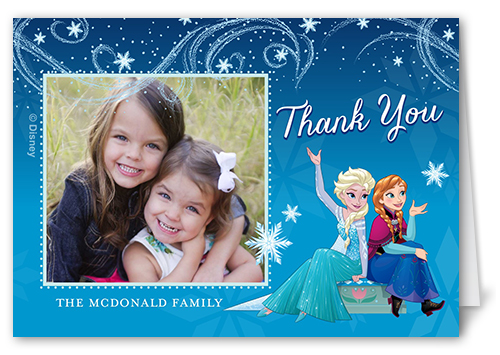 Disney Frozen Snowflake Swirls 3x5 Thank You Cards. Because they deserve it. Give them a personalized thank you card to express your gratitude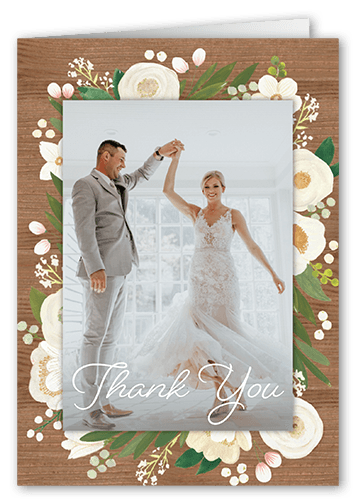 Elegant Bouquet 3x5 Folded Card by Petite Lemon. Because they deserve it. Give them a personalized thank you card to express your gratitude.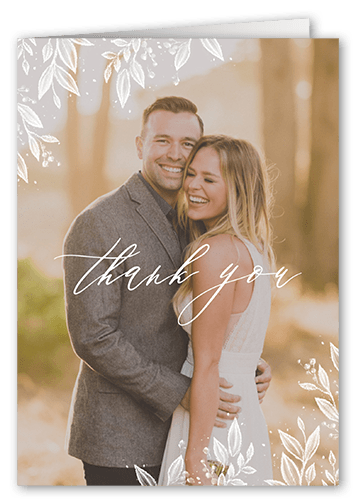 Garland Bliss 3x5 Folded Card by Petite Lemon. Because they deserve it. Give them a personalized thank you card to express your gratitude.