Thinking of You
What customers have to say about our Thinking of You
January 22, 2019
Personalized Card Bliss
"Great quality card made from personal photo and personalized captions. Sometimes a store bought card doesn't capture the sentiment you're trying to portray. This is a fantastic option to create your own!"
January 19, 2019
They LOVED my Thank-You Card!
"I made a couple of thank-you cards for my grandkids and my daughter. It was easy to make a professional-looking card and the paper was of good quality"
January 12, 2019
Shutterfly products always look great!
"If you love one of your photos, turn it into a card! Whether it's a Thank you card, a sympathy card, a birthday card or any other kind of card, it'll turn out great!"
January 10, 2019
It exceeded my expectations
"Great, professional results"
"quick and easy. Great pricing."
Share the Love with Personalized Thinking of You Cards
Create personalized thinking of you cards with Shutterfly. Even with all the holidays, birthdays, anniversaries, and other occasions we love to celebrate, sometimes there are not enough opportunities to show our loved ones how much we care. When you want to let your friend or family member know you're thinking of them but it's just an average Tuesday, create a personalized "thinking of you" card with Shutterfly. Also known as friendship cards, thinking of you cards are a great way to keep in touch with long-distance friends and family. Use them as encouragement cards during difficult times, or use them to say "I'm missing you" to those you haven't spoken to in awhile. No matter what occasion you create these custom greeting cards for, your loved ones will be delighted to receive a one-of-a-kind thinking of you card made from the heart.
Thinking of You Cards to Send Just Because
There are plenty of reasons to send thinking of you note cards to your loved ones. It may not be a national holiday or their birthday, but you don't need a reason to tell someone how much they mean to you. Whether it's a thoughtful message just because, or a heartfelt note in their time of need, your card is sure to bring them joy and help them feel loved. Choose from a selection of thinking of you cards that are great for any purpose. From classic photo cards to elegant calligraphy, whimsical designs and more, there's something for everyone. Surprise a faraway friend with a beautiful card that features a treasured snapshot from years' past. Tell your little one how proud she makes you. Thank your parents for their decades of unconditional love. Wish a relative well after a big move. No matter the occasion, you'll find thinking of you stationery that helps you say what you want to say, in style. Thinking of you cards are the perfect way to show your recipient how much you care.
How to Design Thinking of You Greeting Cards
When you make a greeting card with Shutterfly, it's easy to customize each template into a thoughtful thinking of you card perfect for your special someone. Choose your preferred card design and upload your photos of your favorite memories to make your greeting stand out. From sympathy cards to friendship cards, Shutterfly has a stunning collection of thinking of you note styles and themes. Our card maker platform will help you personalize your thinking of you cards and modify the text, designs, and messaging to your preference. For a high-quality look and feel, choose from our luxurious cardstock options so your thinking of you greeting card can live on as a special keepsake. For more thoughtful greeting cards, design custom thank you cards, invitations, holiday cards, and more.
Related Products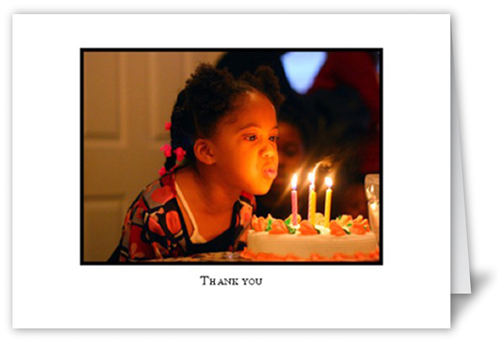 Classic White 5x7 Thank You Cards. Express your appreciation with this classic thank you greeting card. Add up to 9 pictures on the front cover, enter text if you'd like, and place photos on the inside panels as well