What customers have to say about our Baby Shower Invitations
January 26, 2019
I would buy this again definitely!
"This invitation is beautiful I just wish the liners that came with it stuck better"
January 25, 2019
Perfect invite
"These are so cute and came exactly as I expected. Love them!"
January 24, 2019
In love with the shower invites
"These invites are so cute. They came just as ordered. I love shutterfly. They never disappoint."
January 22, 2019
I would buy this product again.
"Bought this for my baby shower invitations and it exceed my expectations."
January 21, 2019
I really liked my purchase experience
"I needed to order baby shower invites. I was pleasantly surprised to find out I could have Shutterfly take care of the invitees addresses, return addresses, and stamps! What a time savor! And the invitations are adorable!!"
Unique Ideas for a Fabulous Baby Shower
Looking for unique baby shower ideas may leave you feeling like everything has already been done. Whether you're going for a fun theme or looking for unexpected activities, it can be overwhelming to find inspiration that works with your chosen theme. Sometimes working backwards can be a more productive approach.

Scoping out fun items, such as ticket baby shower invitations, is a great way to envision your plans for the party. With the right supplies, you can make your shower an event that reflects you and the joy of motherhood in a strikingly unique light. You just need the perfect details to put the icing on the cake.
Don't Follow the Rules
Too many hosts fall into the trap of following rules while planning a baby shower, when there really shouldn't be any rules at all! If you want to host a unique soiree, throw out any preconceived notions you may have and instead think of what the mom-to-be would enjoy the most. If you'd rather have a movie night than a cake tasting, start planning what movies would suit the mood.

Movie-themed baby showers aren't the only good use for ticket baby shower invitations, though. You can also customize invites to fit whatever theme you select for the party. Shutterfly offers a range of personalization options for baby shower greetings so that your vision can come to life through custom text and design.
Finish With Customized Details
Details are what make something special, and when you invite your friends and family to your baby shower, you want them to know that it is a special event. You'll likely remember the day of your baby shower for years to come and treasure the memories you make that are preserved in the form of prints.

Shutterfly gives you the ability to decide exactly what your invitations look like, and it doesn't get any more unique than that. Some of the details you can customize on your invitation include the following:
• Border
• Text
• Font
• Photo
• Size
• Paper
• Finish
You can always consult our team if you need help with any part of the design and order process. We also offer super rush and next day shipping so you can be sure your order will arrive on time. Ticket baby shower invitations can banish the worry that your shower won't be unique enough. With customized details and vibrant designs, gorgeous invitations are just the start of memories you're sure to make on the big day.
Related Products
Cute Cradle Boys 5x7 Stationery Card by Hello, Kelle. Shower her with love and a stylish baby shower invitation. Personalize it with the party details.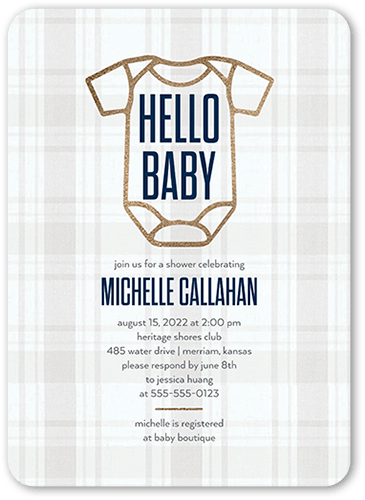 Onesie 5x7 Stationery Card by Éclair Paper Company. Shower her with love and a stylish baby shower invitation. Personalize it with the party details.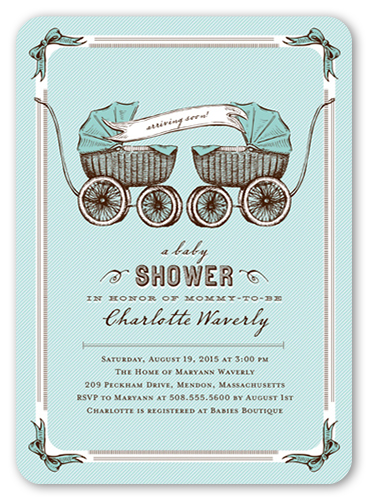 Carriages For Two 5x7 Stationery Card by pottsdesign. Shower her with love and a stylish baby shower invitation. Personalize it with the party details.