What customers have to say about our Christmas Cards
January 27, 2019
I highly recommend this card!!
"Absolutely love this card they came out perfect!"
January 23, 2019
good purchase
"Paper is excellent quality as is the envelope. Shipping can be high unless you are ordering a larger number of cards but I only bought one."
January 23, 2019
I will absolutely use this product again.
"The first time I have used Shutterfly for our annual greeting card. Very pleased and will use again."
January 22, 2019
Chinese New Year
"Christmas came too soon. No cards went out. New Year's came and went! Still no cards were sent out. But thanx to Shutterfly, made it for a Chinese Greeting! Beautiful cards front and back with pictures of family sent! Halleluah!!!!!"
January 22, 2019
I looved these cards and they arrived so quickly!
"Shutterfly makes last minute projects easy .. I love these holiday cards and continue to make photo books each month with their app as well as edits on desktop site. I love Shutterfly!"
Trifold Christmas Cards
The main point of sending out Christmas cards to your friends and family members is often to simply wish them a Merry Christmas and let them know you were thinking of them. However, a picture and a "Happy Holidays" written on the front is sometimes not enough for certain people. When you have a story to tell, trifold Christmas cards are the perfect option, and Shutterfly is available to help you make ideal cards that are impossible to duplicate. If you have additional photos, Shutterfly creates excellent quarter-folded Christmas Cards.
Telling a Story with Trifold Cards
Every year brings exciting new changes and accomplishments. Perhaps you got a big promotion at work or maybe your family welcomed a new addition this year. With trifold cards, you have plenty of space for both text and pictures so that you never feel as though you are running low on space to give all the details. A few quick updates will make the people in your life know exactly how your life is going, and they may even send a card back congratulating you on everything you achieved.
The other great aspect of trifold Christmas cards is the fact that you never have to decide which photos are used and which are not. With three separate faces on the card, you can upload several different images. This means you can upload a picture of the entire family along with individual portraits. You can have one serious photo and then a bunch of silly photos where everyone is making faces at the camera. The opportunities are truly endless, and you are only limited by your imagination.
A Festive Holiday Gift
A trifold card is a perfect way to wish the people you love a Merry Christmas and a Happy New Year. You can even place one of these cards over your home's fireplace so that guests who come over can take a gander at a wonderful piece of art.
Related Products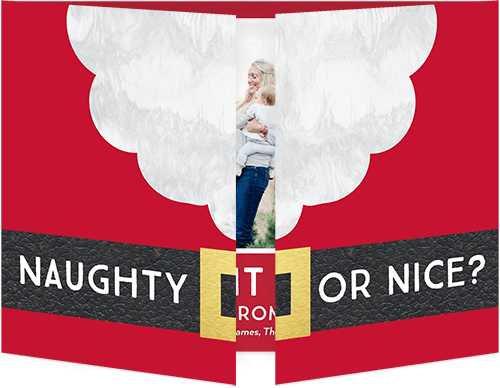 Bit of Both 5x7 Gate Fold Card by Poppy Studio. Let your story unfold with this unique card that opens up from the middle to reveal your photos like a present. Enjoy more room for photos and text than a ...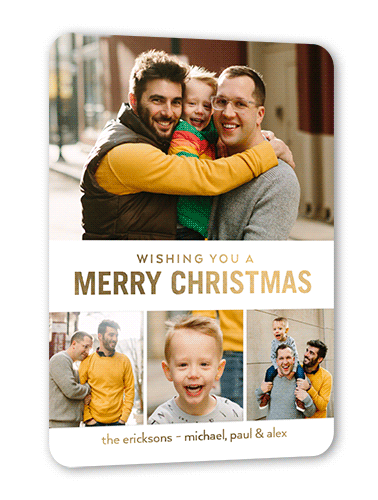 Bold Sentiment 5x7 Personalized Foil Card by Yours Truly. Send a Christmas card friends and family will love. Add your own greeting and everyone's names. There's room for more photos and wishes on the back, too.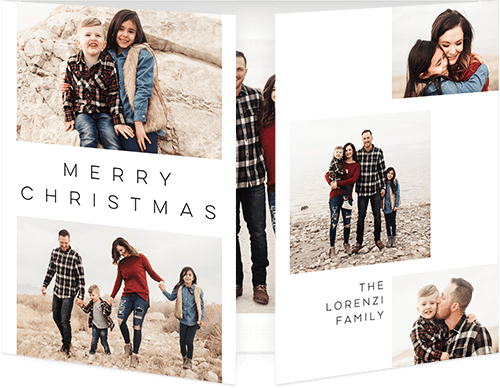 Seasonal Classic 5x7 Gate Fold Card by Yours Truly. Let your story unfold with this unique card that opens up from the middle to reveal your photos like a present. Enjoy more room for photos and text than a standard ...