What customers have to say about our Birth Announcements
January 25, 2019
A Hit With All the Family!
"We used this card as a birth announcement and thank you card for our baby shower attendees. It's on a nice heavy cardstock, and the print was super clear. With my first order there was a smear on the return address on the back of the envelope, but no big deal. With the first order I also didn't receive the blank envelopes I ordered. The second order everything was perfect. I would highly recommend!"
January 24, 2019
Very nice cards
"Super classy cards"
January 24, 2019
Great buy
"Looks and feels great. Came so quickly and is such great quality!"
January 22, 2019
So sweet
"Easy to create!sweet design"
January 22, 2019
Love this product!!
"I love the simplicity of this birth announcement, it was easy to make and arrived on time!"
Twin Birth Announcements
When you have twins, you'll likely receive more than your fair share of advice and comments from family, friends and even strangers. People will want to know if they are identical or fraternal, how you manage two babies at once and whether or not twins run in your family. With all the inquiries, it's nice to have a time and place all your own to announce the special arrival of this pair. With twin birth announcements, you get to choose the style, photos and information to reveal to the world.
Two is Better Than One
If your family has been blessed by the arrival of two at once, you will have many unique adventures in the next several years, from double strollers to twice as many hugs. When it comes time for newborn photos, consider calling in some backup to make the day go smoothly. An extra set of willing hands, be they grandma's or just a friend's will surely find plenty to do during the photos. Keep the room warm so both babies are comfortable during the session. Consider these other tips for a successful photo shoot:

• Schedule early for the best availability
• Choose neutral colors, but avoid black and white
• Feed the babies about 30 minutes prior to the session
• Find a sitter for older children
• Make your bed for those cozy family shots
While many newborn photographers suggest taking photos within the first two weeks after the birth of a child, don't fret if your twins need a few extra weeks in the hospital. Darling poses and props make beautiful pictures possible at any age.
Preserve Those Memories for Years to Come
You will likely want to enlarge a few newborn shots for the nursery or other rooms in the house. Canvas prints are a great medium for displaying tiny fingers and toes and work well in any home. Consider preserving all your favorite shots with a custom photo book. The kids will love flipping through pages of their tiny selves for years to come.
Related Products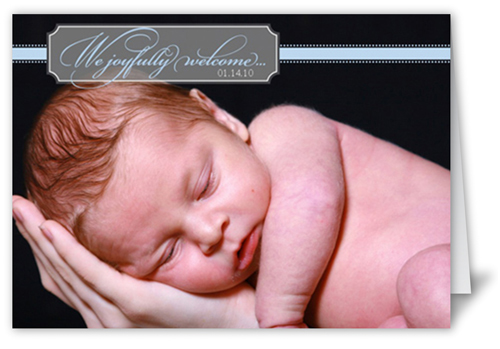 Welcome Billet Blue 5x7 Greeting Card by Stacy Claire Boyd. Welcome your little boy with this handsome baby announcement. Featuring a full picture of your new son with his name elegantly inscribed across the top, this card is simply stylish. ...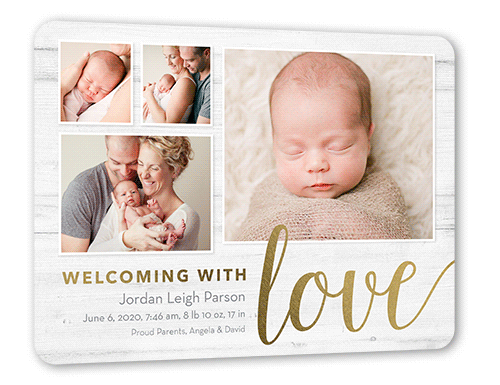 Brilliant Welcome 6x8 Stationery Card by Yours Truly. Announce your newest arrival with this stylish birth announcement. Add your baby's name, a favorite photo and the news everyone's been waiting for.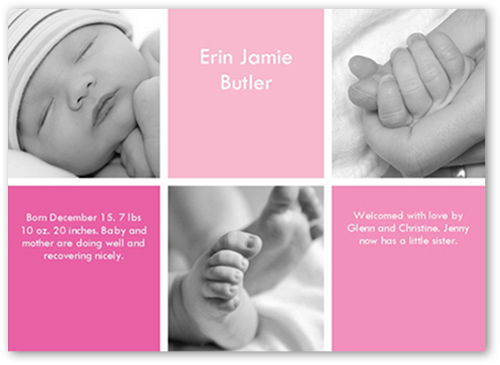 Checkers Rose 5x7 Photo Twin Birth Announcements by Shutterfly. A classic checkerboard design features three of your favorite photos for any occasion worth remembering. Important details are placed against a background of shades of pink.