DIY Baby Shower Invitations
What customers have to say about our Baby Shower Invitations
January 26, 2019
I would buy this again definitely!
"This invitation is beautiful I just wish the liners that came with it stuck better"
January 25, 2019
Perfect invite
"These are so cute and came exactly as I expected. Love them!"
January 24, 2019
In love with the shower invites
"These invites are so cute. They came just as ordered. I love shutterfly. They never disappoint."
January 22, 2019
I would buy this product again.
"Bought this for my baby shower invitations and it exceed my expectations."
January 21, 2019
I really liked my purchase experience
"I needed to order baby shower invites. I was pleasantly surprised to find out I could have Shutterfly take care of the invitees addresses, return addresses, and stamps! What a time savor! And the invitations are adorable!!"
Create Your Own DIY Baby Shower Invitations
Create an eye-catching baby shower invitation that is unique by ordering DIY baby shower invitations from Shutterfly. This gives you the opportunity to start with a blank invitation and make it your own by uploading a complete, custom design. Everyone on your guest list will love receiving this custom creation.
The Guided Design Process
When you choose to upload your design to Shutterfly, you have the option of choosing between the signature card stock or pearl shimmer card stock. Both paper options are thick and luxurious. Choose from the available size and format options as well.
Designing your DIY baby shower invitations is easy. First, create your card your preferred graphic design program. The orange "personalize" button begins the customization process. Guided steps make it easy to upload your design, arrange it on the card of your choice, and arrange all the essential baby shower details. Order a single invitation or purchase them by the hundreds, the quantity is up to you.
Custom Baby Shower Stationery Items
Chic baby shower invitations designed by you deserve stationery accessories to match. Check out the entire selection of custom stationery items to select the ones that will best enhance your invitations. Personalized return address labels, stickers, stamps, and envelopes make your invitations eye-catching even before the recipient opens the envelope.
If you want to do something special for the mom-to-be, order a set of thank you notes that coordinate with the baby shower invitation design. After her shower, she will be able to thank everyone that came to her party and showered her with gifts with a note of appreciation that coordinates with the event.
Planning an Incredible Baby Shower
There's a lot that goes into to hosting a beautiful baby shower. Check out all the baby shower articles on the Shutterfly Ideas page to get the inspiration you need. Refresh your knowledge of invitation etiquette, discover creative decorating ideas, find fun menu suggestions, and even see a few fun games that will get your guests engaged. This page is a great resource for other occasions too. Refer to it anytime you're looking for great gift ideas or hosting a party at your home.
Related Products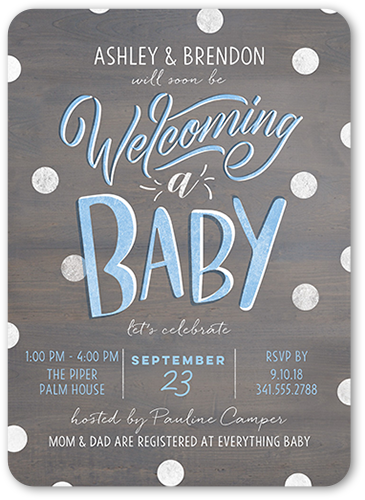 Amazing Type Boy 5x7 Baby Shower Invitation Cards. Shower her with love and a stylish baby shower invitation. Personalize it with the party details.
Cute Cradle Boys 5x7 Stationery Card by Hello, Kelle. Shower her with love and a stylish baby shower invitation. Personalize it with the party details.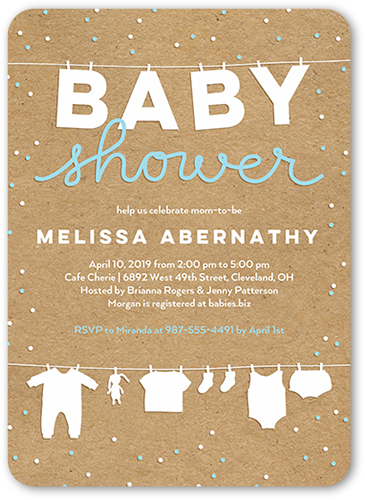 Cute Linens Boy 5x7 Baby Shower Invitation Cards. Shower her with love and a stylish baby shower invitation. Personalize it with the party details