What customers have to say about our Christmas Cards
January 27, 2019
I highly recommend this card!!
"Absolutely love this card they came out perfect!"
January 23, 2019
good purchase
"Paper is excellent quality as is the envelope. Shipping can be high unless you are ordering a larger number of cards but I only bought one."
January 23, 2019
I will absolutely use this product again.
"The first time I have used Shutterfly for our annual greeting card. Very pleased and will use again."
January 22, 2019
Chinese New Year
"Christmas came too soon. No cards went out. New Year's came and went! Still no cards were sent out. But thanx to Shutterfly, made it for a Chinese Greeting! Beautiful cards front and back with pictures of family sent! Halleluah!!!!!"
January 22, 2019
I looved these cards and they arrived so quickly!
"Shutterfly makes last minute projects easy .. I love these holiday cards and continue to make photo books each month with their app as well as edits on desktop site. I love Shutterfly!"
DIY Christmas Cards
Sending out holiday cards to everyone on your list can be one of the most exciting parts of getting ready for Christmas. This is an opportunity to let your creativity express the season's warmest greetings – and with a little help from Shutterfly, making diy Christmas cards is easier than ever! We let artists and designers upload their very own card designs. Once the card looks just the way you want it to, place your order. In just a few days a box of professionally printed cards featuring your own design will arrive. Creative minds love being able to share their creations with the world. Let your holiday greetings feature your latest masterpiece!
Creating the Perfect Holiday Card
There are many different sources from which artists and designers of all skill levels can draw inspiration. Consider some of these novel ideas when planning your Christmas and holiday cards this year:

• Drawing from historic sources, such as Victorian Christmas images or rustic pioneer celebrations
• An expressive color palette that goes beyond the standard red, green, and white often associated with Christmas
• Incorporating imagery from your regional landscape – coastlines, desert canyons, and cities all experience Christmas in their own beautiful ways
• Make animals or nature the centerpiece of your holiday art
• Make art together with siblings, children, and other family members to create a one-of-a-kind masterpiece
• Christmas photo idea inspirations
Once your art has been completed, it will need to be digitized. If you created your image using computer software then simply save the file before uploading it into our card design template. If you made a physical work of art, it will need to be scanned or carefully photographed. For optimal printed results, a resolution of 300 dpi is recommended. After your art has been digitized, follow the on-screen prompts to add the image to the card template you have selected.
Sending a Masterpiece
Custom holiday cards are a thoughtful gift that expresses just how you feel. Let everyone on your mailing list enjoy your very own season's greetings this year.
Related Products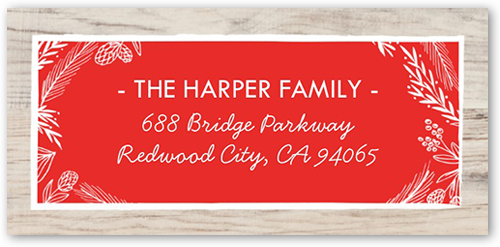 Scripted Banner Christmas Address Labels. Address your envelopes with stylish address labels. Corresponding invitations, gift tags and thank you cards are also available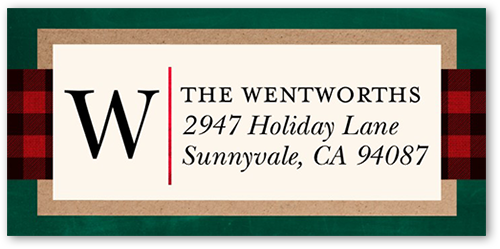 Seasonal Monogram Christmas Address Labels. Address your envelopes with stylish address labels. Corresponding invitations, gift tags and thank you cards are also available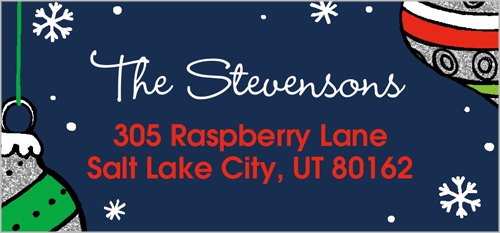 Sparkling Ornaments Christmas Address Labels. Address your envelopes with stylish address labels. Corresponding invitations, gift tags and thank you cards are also available