DIY Religious Christmas Cards
What customers have to say about our Religious Christmas Cards
January 23, 2019
good purchase
"Paper is excellent quality as is the envelope. Shipping can be high unless you are ordering a larger number of cards but I only bought one."
January 22, 2019
Chinese New Year
"Christmas came too soon. No cards went out. New Year's came and went! Still no cards were sent out. But thanx to Shutterfly, made it for a Chinese Greeting! Beautiful cards front and back with pictures of family sent! Halleluah!!!!!"
January 15, 2019
I have so much fun using my pictures on products.
"I have so much fun making unique gifts with my pictures. It makes me feel professional when I am very much an amateur."
January 14, 2019
Outstanding customer service
"The customer service agent who helped me with order 003086838129-9000112 was extremely helpful. I had problems making a Christmas card and she solved all of them. The Card was perfect with her changes. She was very kind and patient. I had an unavoidable interruption while we were working together and she assured me that she would wait on the phone until I could continue. She was committed to help me in every way she could. This was a unique customer service experience! Please thank her for me."
January 13, 2019
Quality cards
"Quality cards delivered in a timely manner!"
Upload Your Design for Ultimate Control
If you enjoy controlling the design of your cards, choose Shutterfly for ultimate user-friendliness. It's possible to personalize nearly every aspect of a religious Christmas card, holiday card, birthday card, or any other kind of card you can imagine.
With the option to upload your design onto a blank Shutterfly template, you also have the choice of whether or not to add text. This way, you can add finishing details to an existing card design, or leave it as is. This option comes in very handy when you need to add any last-minute notes or information. In any case, you can rest assured your cards will be wonderfully high in quality and value.
Choose From a Variety of Card Shapes and Sizes
When you decide to upload your religious Christmas card design, you have the option to select the form and finish of the card. Creating perfect greeting cards can be a little tricky to get just right. Playing around with template options can help clarify your design.
With the shape, size and shimmer options, your design process will be fun and inspiring. You may find that with the addition of a glittery finish, your upload-your-own religious Christmas cards feel complete at last. Add a scalloped-edge finishing touch to an invitation, or flaunt a new marriage with a bracket-shaped card.
Upload Your Design Onto Cards All Year
Naturally, when presented with the option of full control, the design possibilities become limitless. You'll remember these options as you come upon the need for birthday party invitations, thank you cards, personal greeting cards and formal notes in the future. Your stationery will ship to you in beautiful condition every time.
Related Products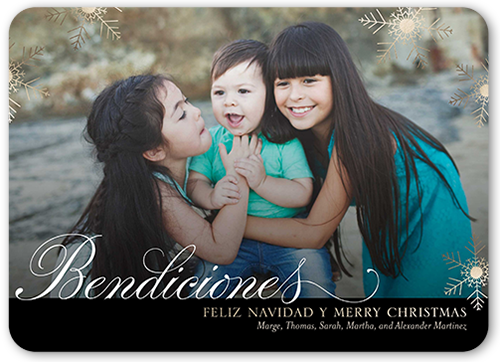 5x7 Christmas Card by Between Friends. Share holiday memories con familia y amigos by adding a special personalized message to your customized tarjeta de Navidad – including all Spanish letras and acentos. It's the perfect regalito for everyone on your ...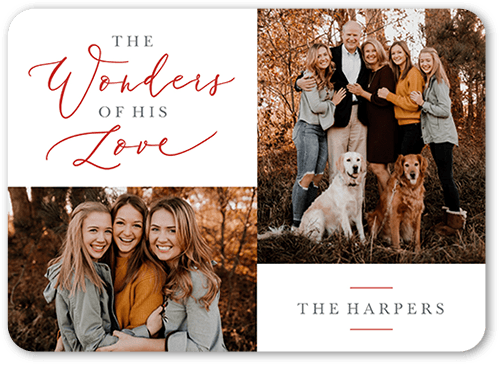 Delicate Calligraphy 5x7 Stationery Card by Stacy Claire Boyd. Send a holiday card friends and family will love. Add your own greeting and everyone's names. There's room for more photos and wishes on the back, too.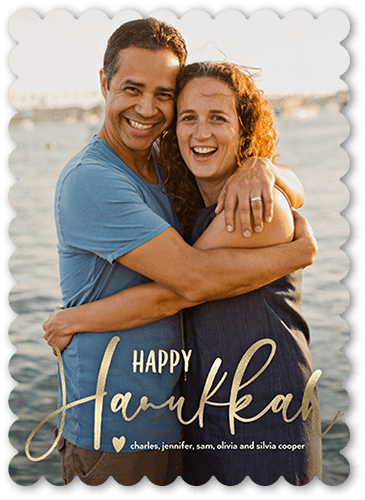 Handwritten Holiday 5x7 Stationery Card by Float Paperie. Send a Hanukkah card full of light and love. Add your own greeting and everyone's names. There's room for more photos and wishes on the back, too.