DIY Valentine's Day Cards
What customers have to say about our Valentine's Day Cards & Stationery
January 23, 2019
The cards were great
"Shutterfly does a great job on their products --I have gotten, from prints, cards, calendars and art."
January 22, 2019
Personalized Card Bliss
"Great quality card made from personal photo and personalized captions. Sometimes a store bought card doesn't capture the sentiment you're trying to portray. This is a fantastic option to create your own!"
January 22, 2019
Personalized Valentines Day Cards
"My daughter will be handing these cards out to her classmates for Valentines."
January 20, 2019
Absolutely loved my purchase
"Omg....i ordered a personalized valentines day card for my boyfriend and when I tell you I am so in love with it. I absolutely love it. Great job and I will definitely be using your services again. I love it and I know he will love it. Thank you so so much."
January 17, 2019
Please Update the year to 2019!!!
"Hi! I love your design and am hoping to use it for my daughter's valentines cards. Is there anyway you can update the design?! I tried to find a way to email you directly but was unable to. Thanks :)"
DIY Valentine's Day Cards are Easy to Create
Go beyond the traditional greeting card this year by making your own DIY Valentine's Day cards. Upload your own design or choose from over 100 designs that you can personalize with text and photos for a keepsake they'll treasure forever. There are a wide range of sizes and styles available, so you can create a card that's perfect for your recipient.
DIY Valentine's Day Cards Can be Printed with Photos
Valentine's Day is a good time to let the people in your life know how much they mean to you. With a DIY Valentine's Day card customized just for them with a special photo, you can do just that. Our cards come in a wide variety of formats and sizes, from postcard-sized to large tri-fold. We also offer several stylish trim options, and three types of paper. Our themes include:
• Hearts
• Textures and Patterns
• Sparkle and Shine
• Monogram
• Photo Gallery
• Especially for Kids
No matter who you're buying for, there's a theme to suit their style. You can even upload your own design onto one of our blank cards for a totally customized card from start to finish. It's easy to add your own photos to your card with our user-friendly interface.
Add DIY Valentine's Day Cards to Your Gifts
Our DIY Valentine's Day cards are the perfect accompaniment to any of our other custom photo gifts. Give the chef in your life a customized cutting board, or present your favorite techie with a photo printed mouse pad; add a personalized card featuring a heartfelt message and you've got a gift that's sure to impress. Of course, you don't have to wait until Valentine's Day to create a DIY greeting card. Our personalized cards are good for other occasions as well, such as:
• Birthdays
• Anniversaries
• Housewarmings
• Graduation
• Retirement
You don't even need an occasion to show your loved one how you feel. A personalized card printed with a beloved photo makes a special gift for any day of the year.
It's simple to create DIY Valentine's Day cards printed with photos and text. Select the design you want to use, then click personalize to upload your photo. All of your customization options will be right there on the screen for you; it takes only a few minutes to create your cards and complete the checkout process. We have a 100% Happiness Guarantee to ensure you'll love your photo-printed creations.
Related Products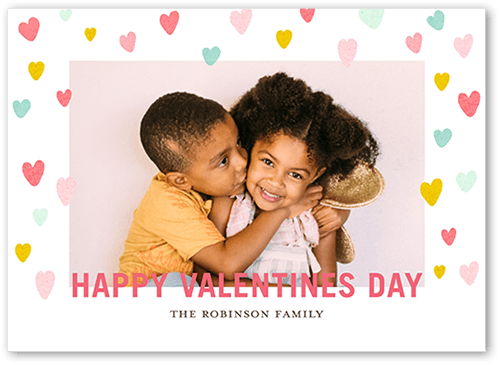 Polka Hearted 5x7 Stationery Card by Hello, Kelle. Be mine, Valentine. Fall in love with this sweet Valentine's card. Add your favorite photo and hugs, kisses and wishes.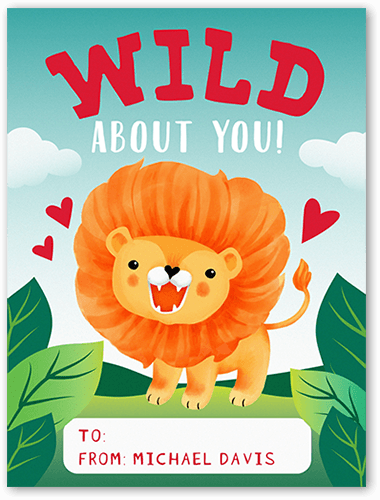 Wild about You 4x5 Stationery Card by Stacy Claire Boyd. Be mine, Valentine. Fall in love with this sweet Valentine's card. Add your favorite photo and hugs, kisses and wishes.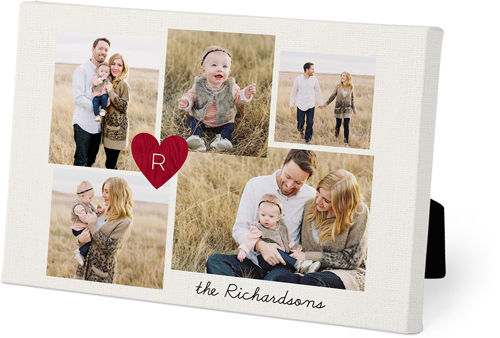 Heart Easel Back Canvas by Shutterfly. This wrapped canvas stands on its own. Available in both horizontal and vertical display, you can create it with a quote, pattern or picture to make a design statement.