Watercolor Thank You Cards
What customers have to say about our Thank You Cards
January 27, 2019
Grateful for my thank you cards
"I ordered these cards to give out with my closing gifts to my buyers and I am so glad that I did. The quality is amazing and the print was perfect. Can't wait to use them!"
"Love the size, love the card stock, love how our photo fit so nicely."
January 27, 2019
Love these cards.
"Shutterfly always does a great job."
"Once again, Iove my end result from Shutterfly. The people love their personalized cards too."
January 26, 2019
These turned out so CUTE!!!
"The card stock is very heavy and makes it a nice writing experience. Quality, thick, great bright colors on the card. This is a great product and a wonderful purchase."
Watercolor Thank You Cards
Thank you cards are a thoughtful yet simple way to let someone know you appreciate their support, love or gift. It can be intimidating to write thank you notes, but above all, the more important thing is that they should be personalized and written from the heart.
A stylish design can't hurt, either. With a variety of artistic designs to choose from, you can say thanks with watercolor thank you cards from Shutterfly.
Thank You Cards for Every Occasion
Maybe you're ordering thank you cards with a specific reason in mind. Or perhaps you want to have a set on-hand to use for unexpected occasions. Either way, there are plenty of instances where a stylish and thoughtfully written thank you note comes in handy. Here are just a few examples these watercolor thank you cards are perfect for:
Your big day. Back from your honeymoon and ready to show your gratitude to the wedding guests who made the day special? Watercolor thank you cards provide the perfect canvas for expressing your deepest appreciation and thanking each person for their love, support, and gifts. Plus, they make the perfect complement to your artistic wedding invitations.
Your graduation. Give each of your friends and family members a note of thanks after they help you celebrate your graduation. Whether they joined you at the commencement or showed their support with a gift from afar, make each of your loved ones feel special and appreciated with a personalized thank you card.
Your birthday. These beautiful, chic and modern thank you cards are the perfect choice for a birthday party. Whether you've just celebrated your 18th, 21st, 30th or another big milestone, choose from watercolor designs that suit your style. These stylish custom designs, paired with your thoughtful message, are sure to make an impact on your guests.
That's just the tip of the iceberg. From baby showers to anniversary parties and everything in between, a beautiful thank you card is a wonderful way to let someone know you're grateful for their love.
Related Products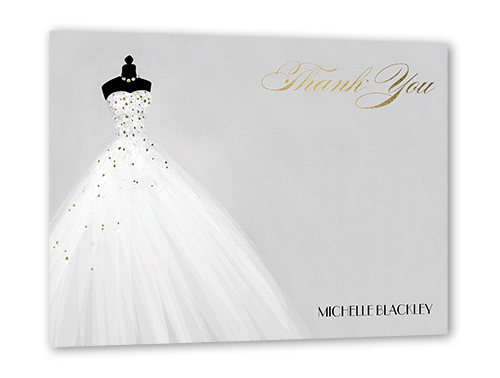 Exquisite Bride 3x5 Folded Wedding Thank You Card. Show just how much you appreciate them with this stylish thank you card. Add your favorite photos and a message of thanks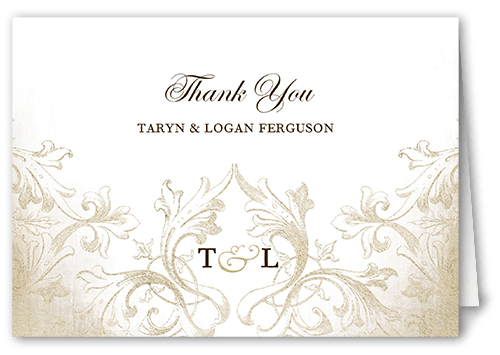 Faded Scroll 3x5 Folded Wedding Thank You Card. Show just how much you appreciate them with this stylish thank you card. Add your favorite photos and a message of thanks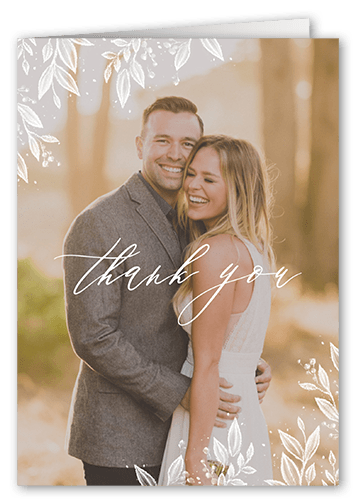 Garland Bliss 3x5 Folded Card by Petite Lemon. Because they deserve it. Give them a personalized thank you card to express your gratitude.