Wedding Guests Thank You Cards
What customers have to say about our Thank You Cards
January 27, 2019
Grateful for my thank you cards
"I ordered these cards to give out with my closing gifts to my buyers and I am so glad that I did. The quality is amazing and the print was perfect. Can't wait to use them!"
"Love the size, love the card stock, love how our photo fit so nicely."
January 27, 2019
Love these cards.
"Shutterfly always does a great job."
"Once again, Iove my end result from Shutterfly. The people love their personalized cards too."
January 26, 2019
These turned out so CUTE!!!
"The card stock is very heavy and makes it a nice writing experience. Quality, thick, great bright colors on the card. This is a great product and a wonderful purchase."
Wedding Guests Thank You Cards
After your big day has come and gone, you'll want to be prepared to send gorgeous thank you cards to your guests. Design unique wedding thank you cards before your wedding, so you'll have them ready to send out soon after your wedding. Our wedding thank you cards are a beautiful way to say thank you to your friends and family members for all of their love and support — and are also a fantastic way to share your favorite wedding photos!
Stylish Wedding Thank You Cards
Whether you prefer a classic look with elegant calligraphy, a stunning black-and-white design, a more whimsical card with floral illustrations or something else, you'll find a design to suit your style. Our stunning wedding thank you card designs and custom features enable you to easily create one-of-a-kind cards. You can even upload your own design if you choose!
Customize Your Wedding Thank You Cards
Shutterfly makes it easy to design a custom thank you card to send the perfect note of appreciation to your wedding guests. Start by choosing your preferred layout and adding your favorite wedding photos to the design. Then personalize the colors, fonts, text colors and other details until your card looks just the way you want it. And don't forget about the back of your thank you card, which you can customize with unique background colors, additional photos and optional messages for your recipients. Choose between our classic Signature Smooth Cardstock and luxurious Pearl Shimmer Cardstock, and pick your favorite trim style from several elegant options to make your perfect thank you card for wedding guests. Check out our post on What to Include in Your Wedding Thank You Cards for some helpful tips on designing your cards.
Wedding Stationery Accessories
To make the most of your wedding thank you cards, dress up your wedding envelopes with add-on items. Add a professional touch with a custom self-inking rubber stamp or make your envelope design more casual and playful with personalized address labels and whimsical custom stickers. These stylish additions will instantly elevate your stationery and bring smiles to your recipients' faces. After it's all said and done, you can hang your favorite wedding photos and keepsakes in a wedding frame that will put your love on display.
Related Products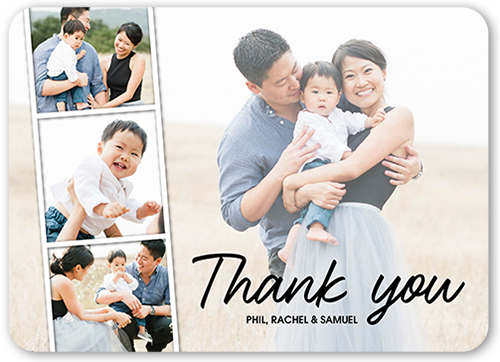 Filmstrip Thank You 5x7 Custom Thank You Cards. Because they deserve it. Give them a personalized thank you card to express your gratitude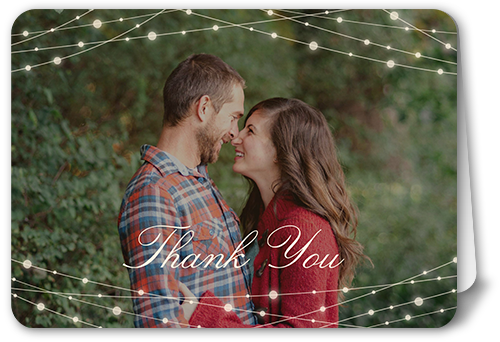 Glowing Bright 5x7 Thank You Cards. Because they deserve it. Give them a personalized thank you card to express your gratitude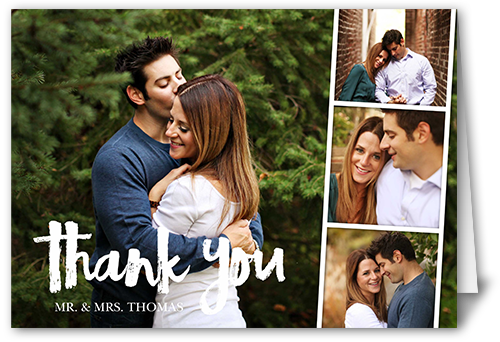 Happy Together Type 5x7 Thank You Cards. Because they deserve it. Give them a personalized thank you card to express your gratitude