Wedding Paper Divas Wedding Address Labels
What customers have to say about our Address Labels
"VERY CUTE"
January 26, 2019
Delightful!
"I love the delicate design and lavender color."
"Pretty lables"
"Can't wait to use these cute adress lables!"
January 23, 2019
Love these labels!
"Cute labels, easy to read, fun to make. I have bought several different types now and love them all! Great gifts for grads, new babies, newlyweds, housewarming presents...you name it!!"
Personalized Wedding Address Labels
Shutterfly's wedding address labels are the perfect way to add style and pizazz to your envelopes. Our custom address labels feature unique designs, are printed on quality materials and come in 24 labels per set.
Design Your Wedding Address Labels
Browse our variety of wedding address label designs to find the best match for the rest of your wedding stationery. Once you've found your perfect design, customize them to suit your personality, style and wedding theme with our array of options, including:
Fonts & Colors: Add your name or initials and address to your address labels. Choose from our selection of beautiful fonts, available in many different styles and sizes, and gorgeous colors to create a one-of-a-kind look.
Graphics: Choose your favorite graphic from our selection, including feminine florals, fun confetti, chic ribbons and lovely lace.
Background & Borders: Our address labels are also available with fabulous backgrounds and patterns, such as glittery gold and classic white borders, as well as a wide selection of solid colors to match your wedding theme.
You'll love how easy it is to create the perfect wedding address labels to match your special day. In addition to adorning your envelopes with personalized address labels, be sure to check out the additional ways you can add some personalization to your envelopes – from personalized stationery to self-inking stamps and stickers. When you dress up your envelopes with these special additional touches, your invitations will be sure to capture the attention of your invitees before they even open them!
Design Custom Wedding Stationery
Shutterfly offers everything you need to create an eye-catching wedding stationery suite that's sure to delight your loved ones. We carry wedding stationery items for before and after your wedding, in addition to wedding day stationery needs. From save the dates and wedding invitations to programs, guestbooks, and more. you'll find what you need when you shop with us!

Don't forget to design your thank you cards ahead of time so that you have them on hand and can quickly send them out after your wedding. Not sure how to design them or what to say? Read our helpful post about what to include in your wedding thank you cards.
Related Products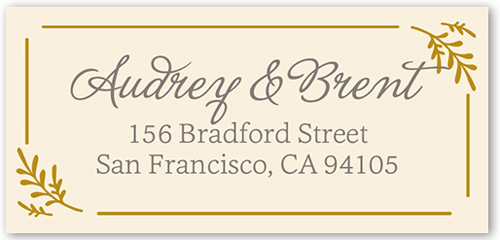 Botanical Border Wedding Address Label. Address your envelopes with stylish address labels. Corresponding invitations, gift tags and thank you cards are also available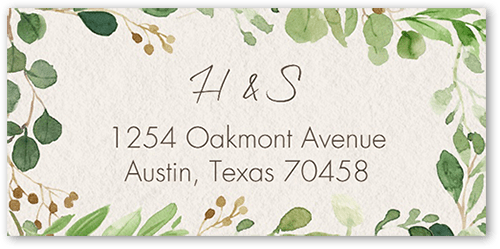 Botanical Union Wedding Address Label. Address your envelopes with stylish address labels. Corresponding invitations, gift tags and thank you cards are also available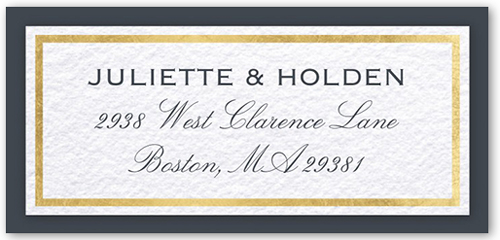 Brilliant Bracket Border Wedding Address Label. Address your envelopes with stylish address labels. Corresponding invitations, gift tags and thank you cards are also available