Wedding Stickers by Wedding Paper Divas
What customers have to say about our Stickers
January 24, 2019
Turned out Great!
"I had made some labels with my various forms of contact info. I decided that if the print was diagonal, it would show up larger. So I wrote out the info on several lines, then turned that into a .jpeg format. I was happy to find that the print was centered perfectly & no print ran outside or off the labels, and was very clear to read."
January 23, 2019
Just what I wanted
"Very good quality and came earlier than expected. Love them! Good price too."
January 23, 2019
Cute stickers
"Stickers of my kitty. Fun for teens."
January 14, 2019
Just Lovely!
"A nice elegant look. Customization is convenient However, I did not receive my free new user items. Please make sure my account is secure. I am a good customer and there are some recent errors that have never been experienced before. Thank you."
January 14, 2019
Beautiful
"These stickers are so nice but only the sale price makes them affordable."
Personalize Your Wedding With Stickers From Wedding Paper Divas
Every wedding can benefit from customized stickers from Wedding Paper Divas. Even the most budget-savvy wedding is likely to end up costing a lot. With creative wedding stickers from Wedding Paper Divas, it is possible to save a lot of money, especially when it comes to customized stationery. While wedding invitations are a must-have, expensive envelopes may not be in the budget. Instead of opting for deluxe envelopes, select regular envelopes and use personalized wedding stickers, envelope seals and address labels to distinguish this special piece of mail from every other that your guest might receive. This is just one of the fun and simple ways that couples planning a budget-conscious wedding can get the most value for every dollar they spend. Wedding stickers are an added touch that goes a long way, and can be used on other pieces of wedding stationery or as party favors, not just on envelopes.
Buying Wedding Stickers in Bulk
Wedding-related expenses are likely to get out of control, but Wedding Paper Divas can help. Wedding stickers are versatile and can deliver smiles with a wedding date reminder, or provide a decorative touch when accompanying a wedding thank you card. Custom wedding stickers by Wedding Paper Divas can pair with wedding invites, favor bags, and wedding reception stationery. They can feature a photo of the happy couple or serve as thank you stickers. For any wedding, the small expenses added together can be what really ends up being the most challenging to control. Things like a last-minute trip to the nearest department store for things like paper plates, plastic utensils, sticker labels, and paper napkins end up pushing the budget to its limit and beyond. Save money on these essentials by buying wedding favor stickers, decals and other wedding theme pieces in bulk. Adding an extra couple of custom wedding labels to your initial purchase might be a good idea, especially if it prevents an emergency trip to the store later on. Remember that unopened boxes or unused wedding stickers can usually be returned to the store.
Wedding Stickers For Tracking Expenses And Items
Items for your big day like those above-mentioned sometimes must be repurchased simply because they have been misplaced. Prepare boxes for your big day labeled with custom wedding labels for holding personalized wedding supplies, gift bags and white wedding reception stationery. Make a packing list and check off the items as they are added to the boxes. Your list might look something like this:
Plates, utensils, decals, and dining items
Tablecloths/table runners, thank you labels
Centerpieces and table décor, wine bottles
Candles, candle holders, and lighters or matches
Safety pins and bridal gown repair kit
Table place cards for guests
Wedding menu cards for buffet table
This list of essentials will help planners identify at-a-glance what items have been purchased, packed, and labeled with wedding stickers. With Shutterfly, there are lots of ways to control costs related to your wedding party or special occasion, but wedding stickers by Wedding Paper Divas are a great place to start. Having the right wedding stationery will help make your wedding day one to remember for everyone.
Related Products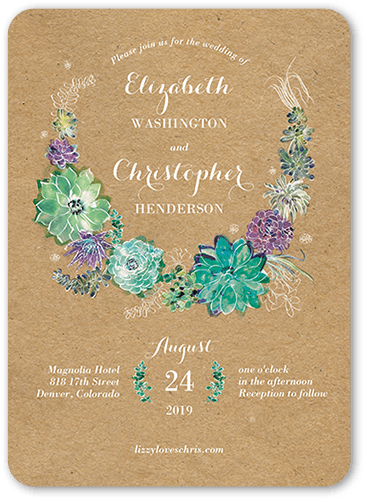 Splendid Succulent 5x7 Wedding Invitations. Send guests a wedding invitation that perfectly expresses your style. All you need are the details of your big day