What customers have to say about our Wedding Invitations
January 23, 2019
I love my invitations ❤️
"Exactly what I wanted and in the time promise"
January 23, 2019
Highly recommend for invitations
"Great quality well put together quick service"
January 22, 2019
Love it!
"It came put exactly how I wanted it! Wonderful!"
January 22, 2019
Great quality
"The pattern turned out exactly as show and the foil was a nice touch that made our invitations look fancier."
January 22, 2019
Unique and wonderful
"We're getting married at a train station and these are perfect! They're not your typical wedding invitation and they definitely make an impression."
No Photo Wedding Invitations
Weddings are beautiful occasions with unique no photo wedding invitations on quality cardstock. No photo wedding invites are a big part of your wedding stationery and often the first impression of what's in store for your guests. Everyone loves celebrating love between two wonderful people and receiving custom wedding invitations. Your wedding day is special. Your wedding day is full of love, family, and food. Make sure your wedding is as special as it can be through careful planning and preparations. Creating beautiful and elegant no photo wedding invitations is one part of the wedding planning process that can be accomplished with ease. Shutterfly has everything to help make your big day unforgettable.
When to Send No Photo Wedding Invitations
Your wedding is a significant day that deserves to be announced to all your wedding guests and the rsvp process is carried out in a thoughtful manner. Customizable invitations allow you to add your unique touch. Personalizing your wedding invitations can be enjoyable. If you think it's hard to find cute invitation designs with your wedding theme, just look at our wedding invitation suite and your mind will be changed quickly. Once you've picked out and personalized your wedding invites, you might be wondering when you should send them out to your family and friends. The traditional timeframe is six or eight weeks before your wedding. You want to give your guests an ample amount of time to make travel arrangements and clear their schedules. The main exception to this timeframe is a destination wedding. If you're putting on a destination wedding, you'll want to send your no photo wedding invitations at least three months before the occasion.
More Necessary Wedding Supplies
Don't forget to stock up on whatever else you may need to pull off your big day. Whether it's wedding programs, wedding cards, or save the date cards, Shutterfly has you covered. There are a lot of instances where you'll need wedding stationary! Purchase them all at the same time. Save time, money, and match them up with your specific wedding theme and even get address printing done. For example, you can pick out and personalize your bridal shower invitations, rehearsal dinner invitations, and thank you cards all on high grade cardstock. As you live through the excitement of your recent engagement and prepare for the monumental ceremony, make sure you are as prepared as possible for your wedding. Invite your guests with meaningful, all-in-one no photo wedding invitations.
Related Products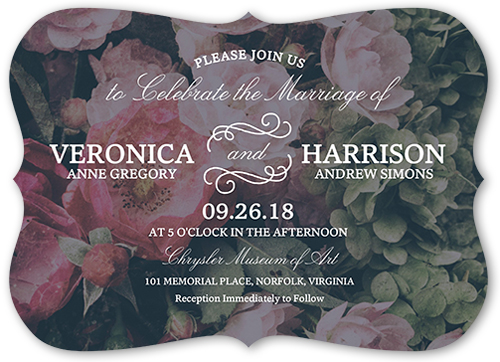 A Perfect Match 5x7 Wedding Invitation Cards. Send guests a wedding invitation that perfectly expresses your style. All you need are the details of your big day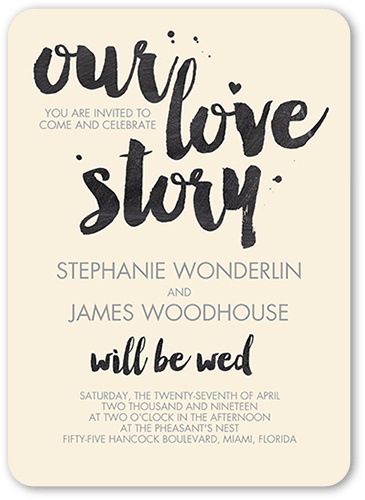 Abiding Devotion 5x7 Wedding Invitation Cards. Send guests a wedding invitation that perfectly expresses your style. All you need are the details of your big day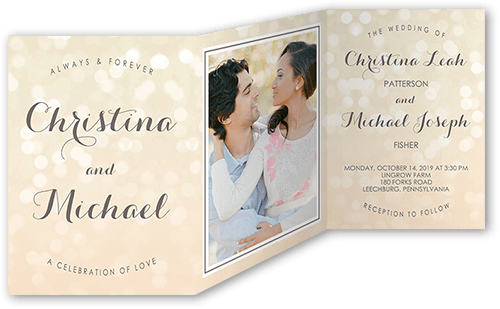 Bokeh Blur 5x7 Wedding Invitation Cards. Send guests a wedding invitation that perfectly expresses your style. All you need are the details of your big day