What customers have to say about our Wedding Invitations
January 23, 2019
I love my invitations ❤️
"Exactly what I wanted and in the time promise"
January 23, 2019
Highly recommend for invitations
"Great quality well put together quick service"
January 22, 2019
Love it!
"It came put exactly how I wanted it! Wonderful!"
January 22, 2019
Great quality
"The pattern turned out exactly as show and the foil was a nice touch that made our invitations look fancier."
January 22, 2019
Unique and wonderful
"We're getting married at a train station and these are perfect! They're not your typical wedding invitation and they definitely make an impression."
Photo Wedding Invitations
Create beautiful photo wedding invitations that will look great as keepsakes for years to come. Your guests will love seeing your beautiful engagement photos as they prepare the big day. With Shutterfly, you can create picture wedding invitations that include a single photo or a photo collage. Shop beautiful designs and personalize your wedding cards so they match your theme and design style.
Personalized Wedding Invitations
Every little detail of your wedding should be perfect and special. Don't settle for unmemorable wedding invitations. Send your guests custom wedding invitations with photos that will make them excited. There are so many designs to choose from with varying paper types, trim options, colors, and themes. From floral wedding invitations to patterned wedding photo invitations, the possibilities are endless. You'll want your invitations to match the theme of your wedding. Give your wedding invitations your personal touch by uploading a photo of you and your partner to the invitation design. This is one of the greatest benefits of photo collage wedding invitations, or wedding invitations with photos. There's no better way to show off your love and excite your guests than including a photo on your wedding invitations.
How to Create Wedding Invitations With Pictures
To create your wedding invitation, first choose the style or theme that matches your wedding theme. Shutterfly's designs include floral themes, elegant themes, watercolor thems, and much more. If you want a more general style for your wedding invite, you can always choose a simple photo wedding invite as well. You can create wedding invitations with photos in a collage design or choose a single photo that's the focal piece of your invitation. From there, customize your invite with the font that looks best and include all the information your guests need. Shutterfly also offers different sizes for your wedding invitation so you can choose flat, tri-fold, or gate-fold invites. You can even design wedding invite magnets to send on their own or along with your paper invites so your guests can have something to put on their fridge and countdown with.
More Custom Wedding Stationery
Custom wedding stationery can really tie together the theme of your wedding. Pulling off a well-designed wedding involves getting a lot of wedding supplies for various needs. If you want to give guests more details such as directions to the location, nearby hotels, and a gift registry, you might want to customize one of our personalized enclosure cards. You may also want to send out wedding RSVP cards or save the date cards with your invitations so that you can keep track of who is coming. When you get all of the necessary wedding stationery at once, it's easy to keep them within the same theme. Your wedding day is going to be beautiful and spectacular without a doubt. Make sure your guests are prepared and excited by sending out photo wedding invites, RSVP cards, and enclosure cards.
Related Products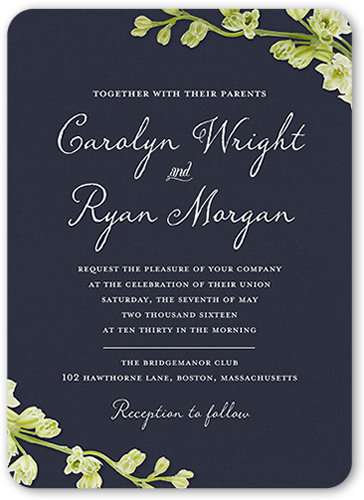 Budding Romance 5x7 Wedding Invitation Cards. Send guests a wedding invitation that perfectly expresses your style. All you need are the details of your big day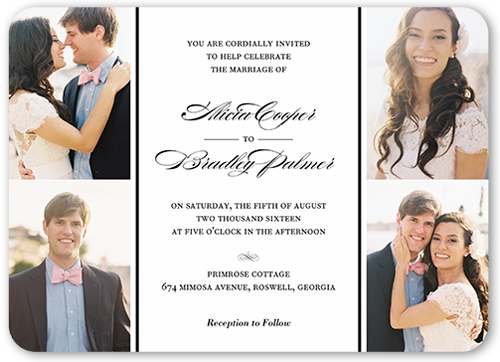 Captivating Elegance 5x7 Wedding Invitations. Send guests a wedding invitation that perfectly expresses your style. All you need are the details of your big day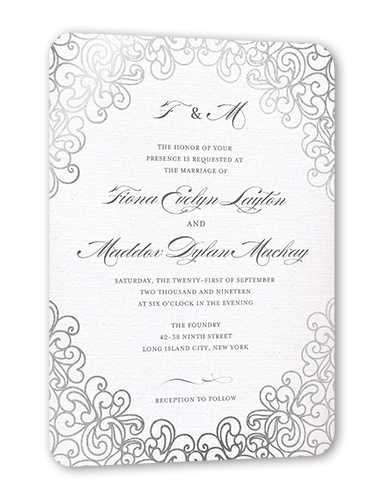 Dazzling Lace 5x7 Wedding Invitation Cards. Send guests a wedding invitation that perfectly expresses your style. All you need are the details of your big day