What customers have to say about our Wedding Invitations
January 23, 2019
I love my invitations ❤️
"Exactly what I wanted and in the time promise"
January 23, 2019
Highly recommend for invitations
"Great quality well put together quick service"
January 22, 2019
Love it!
"It came put exactly how I wanted it! Wonderful!"
January 22, 2019
Great quality
"The pattern turned out exactly as show and the foil was a nice touch that made our invitations look fancier."
January 22, 2019
Unique and wonderful
"We're getting married at a train station and these are perfect! They're not your typical wedding invitation and they definitely make an impression."
3-Photo Wedding Invitations
It can be a challenge to find wedding invitations that match the vision you have in mind, which is why Shutterfly is a perfect choice. We offer a large selection of gorgeous 3-photo wedding invitation designs, enabling you to choose the design that matches your personality and wedding theme, and then customize it to showcase your style.
If you'd like to include three photos in your wedding invitation design, you'll find some beautiful options in this collection – including a template that enables you to upload your very own design. Our 3-photo wedding invitations will allow you to capture your sense of style while giving your invitees a glimpse of what they can expect to experience on your big day.
Personalize Your Wedding Invitations
With our collection of 3-photo wedding invitation designs, you can set the stage for your stylish wedding. Our custom wedding invitations are printed on premium cardstock, providing a chic look and feel.
Shutterfly makes it easy to upload your photos and design one-of-a-kind invitations your loved ones will admire. You can create your own personalized messages and choose from various design options, such as colors, font styles, trim designs and more.
If you'd like some additional ideas and suggestions for designing your wedding invitations, see our guide on how to make personalized photo cards.
More Card Personalization Ideas
Once you've chosen your favorite wedding invitation design, there are plenty of ways to make them truly yours. Finish your invitations with custom stationery accessories including:
Custom Envelopes: Choose this option when finalizing your card design. You'll find a variety of stylish custom envelope designs that will help your invites stand out. Custom envelopes include complimentary printed addressing to make the mailing process easier for you.
Custom Address Labels: Available in coordinating designs to match your invites, personalized wedding address labels add a professional, personalized touch to your invitations.
Additional Wedding Stationery Items
If you haven't yet designed your other essential wedding stationery items, you'll want to browse Shutterfly's wide variety of original designs for save the date cards, wedding announcements and much more. We also have the perfect options for wedding day needs, including programs, menus, place cards and even napkins!
If you're looking for additional helpful wedding planning resources, be sure to read our posts about how to plan a wedding during uncertain times and how to plan events during a crisis.
Related Products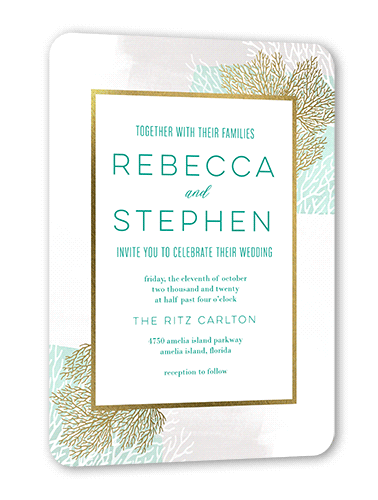 Beach Union 5x7 Wedding Invitations. Send guests a wedding invitation that perfectly expresses your style. All you need are the details of your big day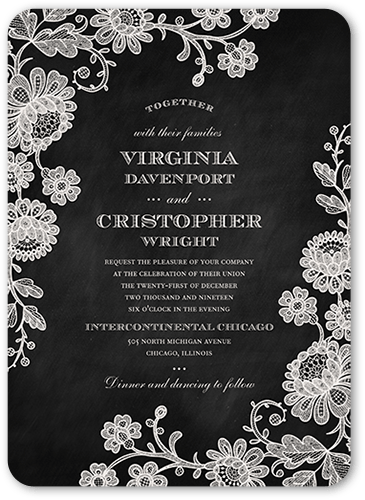 Chalked Affair 5x7 Wedding Invitations. Send guests a wedding invitation that perfectly expresses your style. All you need are the details of your big day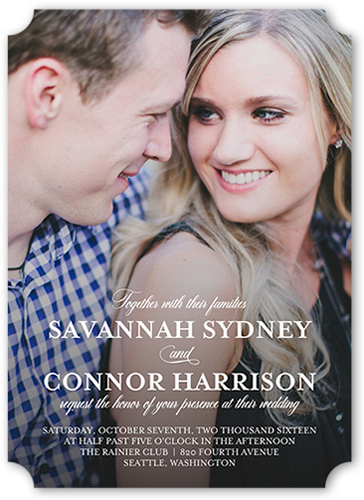 Graceful Harmony 5x7 Wedding Invitations. Send guests a wedding invitation that perfectly expresses your style. All you need are the details of your big day