What customers have to say about our Wedding Thank You Cards
January 27, 2019
Grateful for my thank you cards
"I ordered these cards to give out with my closing gifts to my buyers and I am so glad that I did. The quality is amazing and the print was perfect. Can't wait to use them!"
January 27, 2019
Love these cards.
"Shutterfly always does a great job."
January 26, 2019
Love these to send to friends.
"These are so personal. It really makes for a nice way to say hello and thank you in a personal way."
January 26, 2019
Special cards for special occasions
"Such beautiful personalized cards for any occasion."
January 26, 2019
I would buy more they were perfect
"These are nice"
3x5 Wedding Thank You Cards
Looking to send a message of gratitude in a way that makes your loved ones feel truly appreciated and cared about? Our 3x5 wedding thank you cards are a simple yet elegant way to make a meaningful impression. These stylish cards are a thoughtful way to convey your heartfelt thanks and make your recipients feel special. Our wedding thank you cards feature gorgeous designs and are made with quality material – no matter what your personality or style is, you'll find a wedding thank you card design you love in this collection.
Create Personalized Thank You Cards
Shutterfly's 3x5 wedding thank you cards offer a quick and easy way to send beautiful, personalized notes of gratitude to friends and family members who showed their love and support before, during and after your wedding. Once you've selected your favorite design from our collection, our user-friendly online customization tool will help you personalize your thank you cards. Choose from an array of color options, font sizes and styles, cardstock types and other options to truly make your cards unique to you. Don't forget to upload your favorite wedding photos and add a custom message as well! Once you've finalized your wedding thank you card design, complete your look by dressing up the envelopes they'll be sent in. Order personalized address labels and custom stickers to ensure your cards stand out and immediately grab the attention of your recipients when they're delivered.
Inspiration for Custom Thank You Cards
Struggling with designing your small thank you cards? Shutterfly offers plenty of design templates to choose from so you can find the best style. Go with an elegant thank you card design if you help a fancy, black-tie wedding. If it was a more casual affair, we also offer outdoor design styles to match your wedding theme. With so many styles to choose from, you can count on a thank you card that looks great as much as it shows you care.
More Personalized Wedding Stationery
Still need to design other important wedding stationery items? Don't delay creating your custom wedding stationery set any longer! With Shutterfly, you can design wedding stationery that showcases your unique style and coordinates with your wedding theme. We offer a wide variety of original designs for wedding save the dates, invitations and much more. We also have the perfect options for wedding day stationery needs, including personalized programs, guestbooks, menus, place cards and even napkins!
Related Products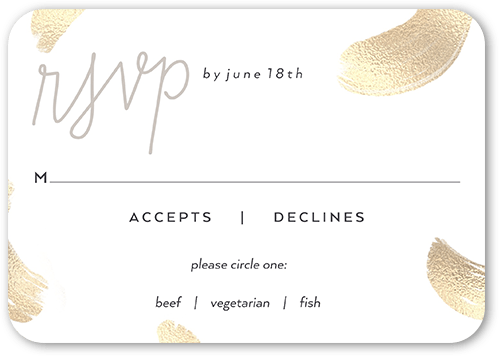 At Last Script RSVP Card by Clover. Request the favor of their reply with a stylish response card designed to match your wedding invitations.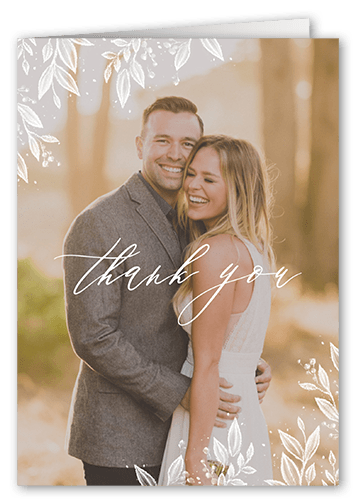 Garland Bliss 3x5 Folded Card by Petite Lemon. Because they deserve it. Give them a personalized thank you card to express your gratitude.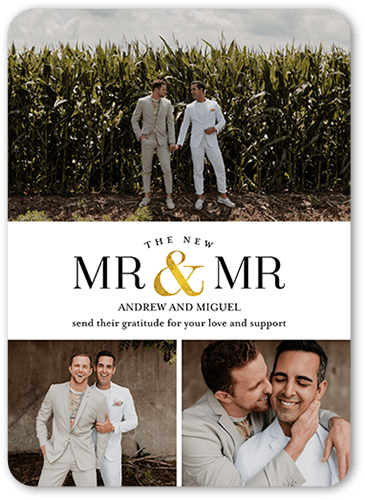 Gratefully Together Mr 5x7 Stationery Card by Magnolia Press. Because they deserve it. Give them a personalized thank you card to express your gratitude.