What customers have to say about our Wedding Invitations
January 23, 2019
I love my invitations ❤️
"Exactly what I wanted and in the time promise"
January 23, 2019
Highly recommend for invitations
"Great quality well put together quick service"
January 22, 2019
Love it!
"It came put exactly how I wanted it! Wonderful!"
January 22, 2019
Great quality
"The pattern turned out exactly as show and the foil was a nice touch that made our invitations look fancier."
January 22, 2019
Unique and wonderful
"We're getting married at a train station and these are perfect! They're not your typical wedding invitation and they definitely make an impression."
Get Creative with Artistic Wedding Invitations
Whether you're an artist yourself or you have a fine appreciation for the arts, you probably have a discerning eye when it comes to choosing the perfect wedding invitations. Not only are you looking for a design that captures your sense of style, but you also want to find one that your guests will find stunning and memorable.
An artistic wedding invitation from Shutterfly is the way to do just that.
Artistic Design Ideas for Your Big Day
With our collection of chic, unique and creative invitation designs, you can make an artistic impact and get your wedding off to a stylish start. Choose from themes and designs like these:
Floral: Artistic illustrations of beautiful flowers are a chic and classic way to enhance your wedding invitations. Whether you're looking for a traditional floral invitation or a bolder modern design, there are plenty of stunning and delicate options to choose from.
Watercolor: Soft, beautiful, artistic and modern, watercolor-inspired wedding stationery is a hot trend. You'll love the creative simplicity of this Classic Watercolor card and the bold look of our Ultramodern Brushstrokes Don't forget to pair them watercolor save the dates!
Foil-Stamped: From eye-catching designs inspired by the night sky to modern cards that exude elegance, shimmering foil is an excellent way to enhance your invitations with luminous color.
Geometric: Take your artistic invitations to a modern, abstract level with geometric designs like these Natural Luxe or Elegant Marble options (bonus: they're foil-stamped).
Glitter: Our elegant glitter designs strike the perfect balance between sophistication and personality. If you love all things glitter, these sparkly cards are a great way for you to express your style while maintaining a refined look.
More Personalization Ideas
Once you've chosen your favorite artistic wedding invitation design, there are plenty more ways to make your cards truly yours. Finish your invitations with custom stationery accessories including:
Custom Envelopes: Choose this option when finalizing your card design. You'll find a variety of stylish custom envelope designs that will help your invites stand out. Custom envelopes include complimentary printed addressing to make the mailing process easier for you.
Personalized Postage: Add customized wedding postage stamps for extra flair on your envelopes.
Custom Address Labels: Just one more professional, personalized touch to enhance your invitations, personalized wedding address labels are available in coordinating designs to match your invites.
Related Products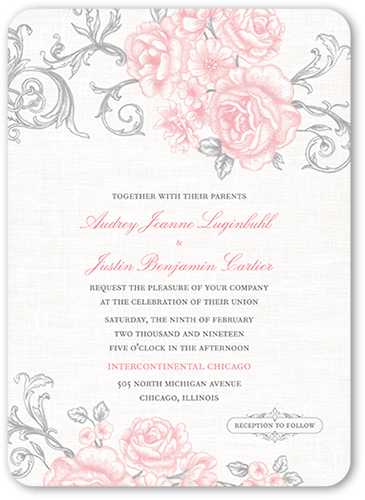 Antique Rose Scrolls 5x7 Wedding Invitation Cards. Send guests a wedding invitation that perfectly expresses your style. All you need are the details of your big day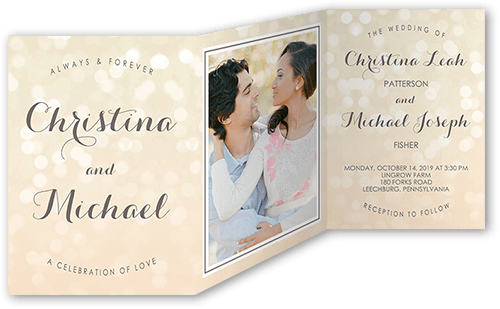 Bokeh Blur 5x7 Wedding Invitation Cards. Send guests a wedding invitation that perfectly expresses your style. All you need are the details of your big day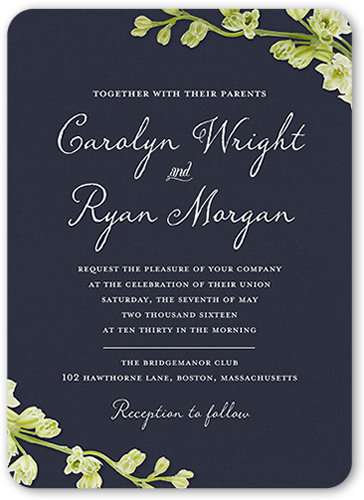 Budding Romance 5x7 Wedding Invitation Cards. Send guests a wedding invitation that perfectly expresses your style. All you need are the details of your big day