Bachelorette Party Invitations
What customers have to say about our Bachelorette Party Invitations
January 22, 2019
Personalized Card Bliss
"Great quality card made from personal photo and personalized captions. Sometimes a store bought card doesn't capture the sentiment you're trying to portray. This is a fantastic option to create your own!"
January 12, 2019
Shutterfly products always look great!
"If you love one of your photos, turn it into a card! Whether it's a Thank you card, a sympathy card, a birthday card or any other kind of card, it'll turn out great!"
January 10, 2019
It exceeded my expectations
"Great, professional results"
"quick and easy. Great pricing."
January 5, 2019
Beautiful quality cards
"I love these cards and have ordered many over the years. The paper is very nice and heavy for both the cards and envelopes."
Custom Bachelorette Party Invitations
The bachelorette party is one of the most fun events leading up to your wedding, so create bachelorette party invitations that get everyone excited! Use Shutterfly to create custom bachelorette party invites that incorporate your party theme in cute and elegant ways. This is a special time for celebrating before your big day, and with Shutterfly you can make your invitations perfect. Shutterfly gives you full control over your font, designs, trim, foil, and much more. Your friends and family will get to packing immediately when they get custom bachelorette invitations in the mail.
How to Make Personalized Bachelorette Invitations
To create your bachelorette invitations, first choose the theme or style that matches your party. Shutterfly has options for tropical, elegant, and outdoor styles so you can show your girls what the party will be like. You can also create a more general bachelorette party invitation that shows off a beautiful style like rustic, watercolor, lace, or floral. If you want even more freedom for your creativity, you can always upload your own design too. Choose between flat, magnet, or tri-fold invitations so you can fit as little or as many details as needed for the party. To personalize the card to your needs, you can choose the fonts that match your style and edit the bachelorette invite colors as needed. Need some bachelorette party invitation ideas for what to write inside? If you just want to include the basics, make sure you have the date or dates, location, RSVP deadline, and return address. If you're planning a full bachelorette weekend, you might also need to include a list of things to pack as well as a brief itinerary. To tie it all together, include a sweet message in your bachelorette party cards to let your guests know you're excited to celebrate with them.
Bachelorette Party Favors
After you've sent out your bachelorette party invitations, get creative with bachelorette party favors you can give to your guests! If you'll be drinking, everyone will love custom wine glasses or personalized shot glasses that include your wedding hashtag or wedding date. Your girls will also love personalized jewelry to commemorate coming together as a special group in celebration. If you're going on a weekend trip or having a destination bachelorette party, you can also create custom luggage tags, personalized tote bags, and other gifts that will be functional for the trip and also last for years to come. For a weekend getaway, your guests will also love custom hoodies that they can wear at night or while you're all lounging together. Customize the hoodies with fun messages like "Bride Tribe" and get together for fun group photos! If you're attending a wedding, you can also design bridal shower gifts that the bride will adore.
Design Wedding Thank You Cards
One of the first things you can do when wedding planning or preparing for elopement is create a personalized suite of wedding thank you cards. Having a large batch on hand will be perfect to send your gratitude for everyone attending your bachelorette party as well as your other wedding festivities. After the wedding, they'll be especially helpful to thank everyone for their wedding gifts and for attending. Design your wedding and bachelorette thank you cards just like you would with the invitations - choose unique styles, colors, fonts, and trim. Afterwards, put all of the pictures of your favorite memories from the bachelorette party and wedding day festivities into a custom photo book. Shutterfly offers the best photo books that you'll love to look back on for years to come.
Related Products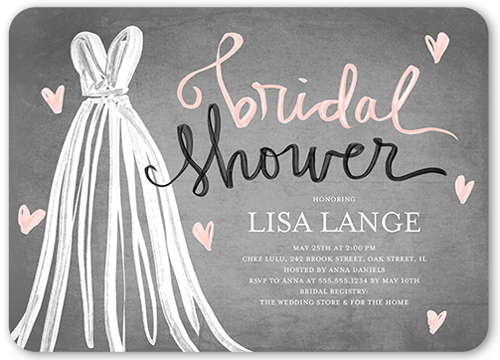 Fashionable Shower 5x7 Stationery Card by Stacy Claire Boyd. Celebrate the bride-to-be with this bridal shower invitation. Add the celebration details and a favorite photo.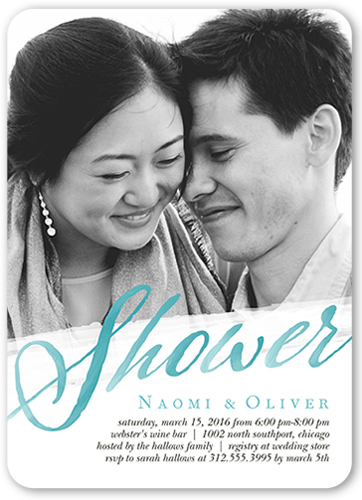 Lovely Shower 5x7 Stationery Card by Float Paperie. Celebrate the bride-to-be with this bridal shower invitation. Add the celebration details and a favorite photo.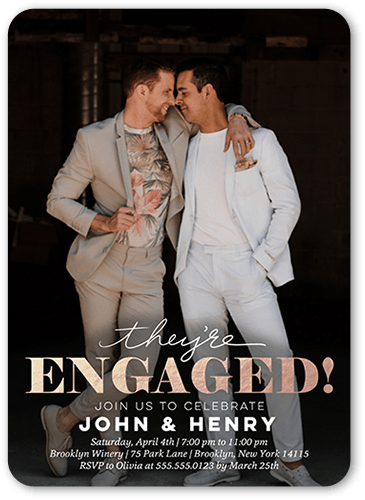 Lively Commitment 5x7 Stationery Card by Blonde Designs. Say "yes" to sophisticated engagement invitations to honor the newly engaged couple.