What customers have to say about our Wedding Invitations
January 23, 2019
I love my invitations ❤️
"Exactly what I wanted and in the time promise"
January 23, 2019
Highly recommend for invitations
"Great quality well put together quick service"
January 22, 2019
Love it!
"It came put exactly how I wanted it! Wonderful!"
January 22, 2019
Great quality
"The pattern turned out exactly as show and the foil was a nice touch that made our invitations look fancier."
January 22, 2019
Unique and wonderful
"We're getting married at a train station and these are perfect! They're not your typical wedding invitation and they definitely make an impression."
Blue Wedding Invitations
Design custom blue wedding invitations with Shutterfly. Every bride makes it a point to add something blue to her wedding ensemble in order to bring luck to her nuptials. A small hint of blue can be made even more special if you use blue as one of your showcase colors for your wedding. If you need blue wedding invitations for your unique style, Shutterfly has what you're looking for. Browse through our collection of blue wedding invitations and customize it to perfectly fit your personalities. From royal blue and dusty blue to designs that come in aqua, teal, and more blue hues, you can create the perfect personalized wedding invitations with Shutterfly.
Design Your Own Custom Blue Wedding Invitations
Shutterfly's lovely selection of blue wedding invitations were designed to coordinate perfectly with the rest of your wedding stationery. Browse through our design options to find the one that best matches your vision and style, and coordinates with your wedding invitation suite. From beautiful watercolor designs to dusty blue floral wedding invitations, the opportunities for creativity are endless. Once you've chosen your unique wedding invitation design, make it extra special and unique by personalizing your photo cards with our easy-to-use customization tools. Select from our custom color palette to choose colors that match your wedding theme and incorporate the blue hues that you love so much. Choose our signature cardstock or our pearl shimmer cardstock and select your favorite font styles, trim type and other design elements. To further personalize your wedding announcement cards, add your own personalized message and upload one or more photos from your special day.
Blue Wedding Invitation Ideas
When you use our customization tools, there are many ways to personalize your blue wedding invitations. You can choose to personalize your wedding invites based on the theme of the big day. Because of the different variations of blue, you can customize the theme of your wedding to match. If you're going for an under the sea vibe or a tropical oasis, navy blue wedding invitations could bring it all together like the cleansing waters of the ocean. For a wedding close to the winter holidays, an icy light blue may make a great choice to bring everyone into a snowy wonderland setting. You can personalize your wedding invitation card templates to include beautiful foil accents like gold, rose gold, silver, or iridescent.
Custom Wedding Invitations and More Wedding Stationery
It's easy to make a beautiful impact with elegant blue wedding invitations from Shutterfly. As you're designing your custom wedding invitations, be sure to include the most important information front and center, including the location, date and day, time, directions, RSVP deadline, and attire. Shutterfly offers RSVP cards that you can design with the same blue wedding stationery theme and include options for food, plus ones, and more. After the wedding day, don't forget to send thank you cards to your guests to let them know how much you appreciated their attendance. Complete your blue wedding stationery suite by designing stylish add-on items for your envelopes. Coordinating address labels and custom stickers will enhance the look of your envelopes and give your stationery package a complete, professional look.
Related Products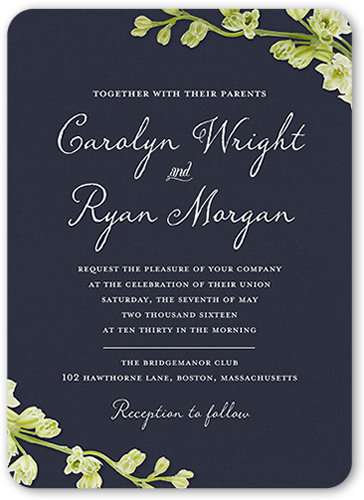 Budding Romance 5x7 Wedding Invitation Cards. Send guests a wedding invitation that perfectly expresses your style. All you need are the details of your big day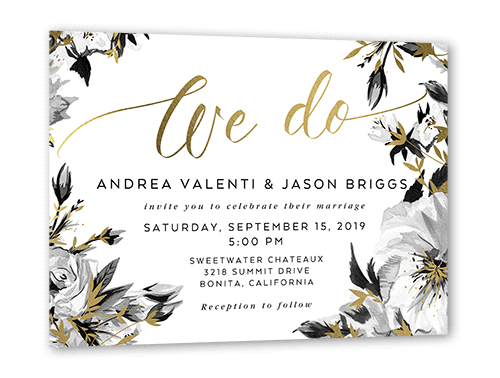 Crisp Petals 5x7 Wedding Invitation Cards. Send guests a wedding invitation that perfectly expresses your style. All you need are the details of your big day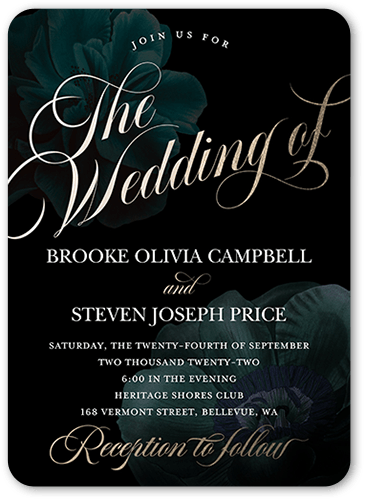 Deep Floral 5x7 Stationery Card by simplyput. Enjoy a FREE Sample Kit. Experience the quality of our wedding stationery. Order a FREE Sample Kit today > Send guests a wedding invitation that perfectly expresses your style. All you need are ...