What customers have to say about our Wedding Invitations
January 23, 2019
I love my invitations ❤️
"Exactly what I wanted and in the time promise"
January 23, 2019
Highly recommend for invitations
"Great quality well put together quick service"
January 22, 2019
Love it!
"It came put exactly how I wanted it! Wonderful!"
January 22, 2019
Great quality
"The pattern turned out exactly as show and the foil was a nice touch that made our invitations look fancier."
January 22, 2019
Unique and wonderful
"We're getting married at a train station and these are perfect! They're not your typical wedding invitation and they definitely make an impression."
Classic Wedding Invitations for Your Formal Wedding
If you're hosting a formal wedding, call on your guests with timeless and classic wedding invitations. While incorporating modern and contemporary designs into your wedding stationery may be cool, you can never go wrong with something more traditional. Turn your classic and formal wedding invitations into something timeless and special with Shutterfly. Upgrade your traditional wedding invitations with elegant designs, classic colors, gorgeous calligraphy, and the option to include your favorite photos. With Shutterfly, it's easy to make your own classic wedding invitations perfect for inviting your nearest and dearest to black tie and formal weddings.
Formal Wedding Invitation Designs
Classic wedding invitations and formal wedding cards are generally a combination of:
Premium designs: personalized foil and foil stamped lettering in metallic rose gold, silver, or gold foil
Traditional formal colors: Black, gold, blue, white, pink, and many more
Elements of other designs like rustic, vintage, and lace
After choosing your card's traditional design and colors, don't forget to upload your favorite photo of you and your partner to showcase your love. For an extra elegant touch to your traditional wedding invitations, add on a custom envelope that will wow your guests as soon as they lay eyes on it.
Formal, Classic Wedding Invitation Wording Ideas
Once you've created a personalized card that you love, be sure to take a look at our helpful wedding invitation wording guide, which has all the wedding card messages you need. If you're looking for formal wedding invitation or traditional invitation wording, there are several design and phrasing ideas to inspire you. Formal wedding invite wording is the perfect way to let guests know to bust out their best attire for your big day. Use this special occasion to go all out and then come back from your honeymoon and look back on the incredible wedding photos and memories you've created.
Wedding Stationery to Complement Your Classic Wedding Invitations
Each formal wedding invitation can also include one or all of these wedding stationery items in matching or complementary designs: save the date cards, RSVP cards, place cards, menus, programs, and wedding announcements.
Your wedding day is going to be stunning, so make sure your invitation reflects your sophisticated style. Our collection of classic and traditional wedding invitations have the details that make your wedding stationery suites elegant and one-of-a-kind. From luxury cards to affordable invitations, you can personalize your designs to make wedding invites that you adore.
Related Products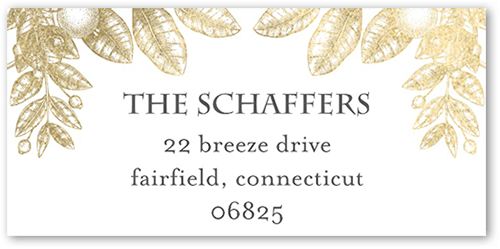 Formal Foliage Address Label by Sarah Hawkins. Address your envelopes with stylish address labels. Corresponding invitations, gift tags and thank you cards are also available.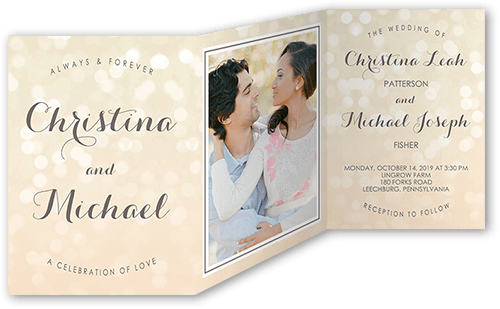 Bokeh Blur 5x7 Wedding Invitation Cards. Send guests a wedding invitation that perfectly expresses your style. All you need are the details of your big day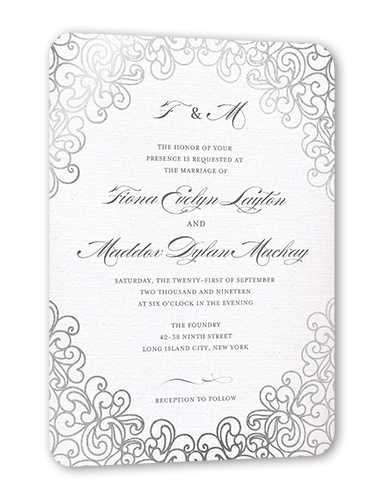 Dazzling Lace 5x7 Wedding Invitation Cards. Send guests a wedding invitation that perfectly expresses your style. All you need are the details of your big day