What customers have to say about our Wedding Invitations
January 23, 2019
I love my invitations ❤️
"Exactly what I wanted and in the time promise"
January 23, 2019
Highly recommend for invitations
"Great quality well put together quick service"
January 22, 2019
Love it!
"It came put exactly how I wanted it! Wonderful!"
January 22, 2019
Great quality
"The pattern turned out exactly as show and the foil was a nice touch that made our invitations look fancier."
January 22, 2019
Unique and wonderful
"We're getting married at a train station and these are perfect! They're not your typical wedding invitation and they definitely make an impression."
Customize Wedding Invitations With Unique Colors and Designs
With Shutterfly, you can create a customized wedding invitation that's as unique as your special love. With unique color options, create the wedding invites of your dreams that match the rest of your wedding theme and decor. Your guests will love receiving colorful wedding invites in the mail and displaying them in anticipation of the big day. Your wedding invite is one of the first steps to sharing a big celebration with your loved ones, so make sure you do it right with Shutterfly.
Make Personalized Wedding Invitations You Love
The secret to creating a beautiful personalized wedding invitation is having many options to choose from. With Shutterfly, you can show your true personality on custom wedding invitations by choosing everything from the design theme, card format, card trim, card size, and foil color. Choose tri-fold custom color invitations to show off multiple photos and still have enough space to include all the important details. If you want to keep it simple, you can create a flat wedding invitation and still make it uniquely elegant with scalloped trim, gold foil, and more. You'll love showing off your wedding plans with a unique card that looks different from anything you could get from a store.
Add Unique Touches to Your Customizable Wedding Invitations
Shutterfly's personalization options for your wedding invitation cards doesn't stop there. Add unique touches like choosing between shimmer cardstock or pearl cardstock. Depending on the design you choose, you can really make it pop with your color choices and unique foil embellishments. Your custom wedding invites will include all the information guests need to know, such as the wedding date, time, and location, as well as the RSVP card. Besides all the most important information, use your colorful wedding invitations to also include a fun message or anecdote about you and your partner.
Shop More Personalized Wedding Stationery
Your wedding invites are just one piece of your wedding stationery suite. Before the invitations are even sent out, you may want to send a save the date card to let everyone know to clear their schedules for the wedding day. Depending on what type of wedding you're having, you might also want to prepare bachelorette party invitations, bridal shower invitations, and more. For after the big day, don't forget to have wedding thank you cards prepared so you can send them out in a timely manner and thank your guests for coming to the wedding.
Wedding Planning With Shutterfly
Using Shutterfly's wedding shop, you can find nearly everything you need for the big day, and you can truly make it your own. Design wedding programs that match your invitations to create a cohesive experience all the way through. As far as wedding keepsakes and gifts, you can create fun wedding favors or unique products for the home that include your favorite wedding photos. Your wedding day is special, and Shutterfly helps make it completely unique.
Related Products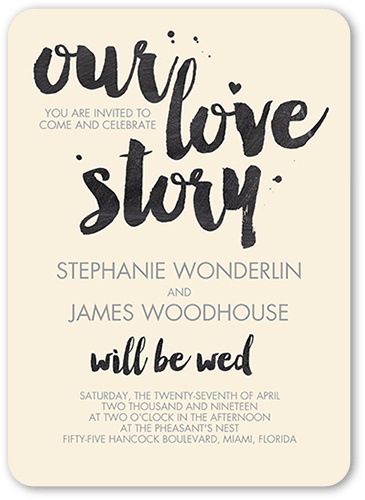 Abiding Devotion 5x7 Wedding Invitation Cards. Send guests a wedding invitation that perfectly expresses your style. All you need are the details of your big day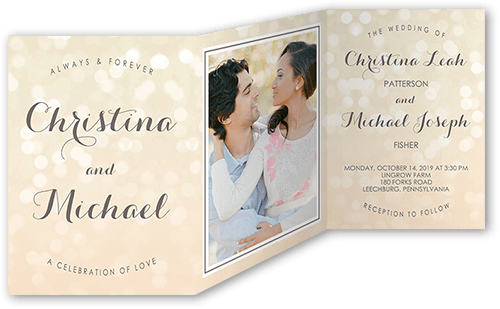 Bokeh Blur 5x7 Wedding Invitation Cards. Send guests a wedding invitation that perfectly expresses your style. All you need are the details of your big day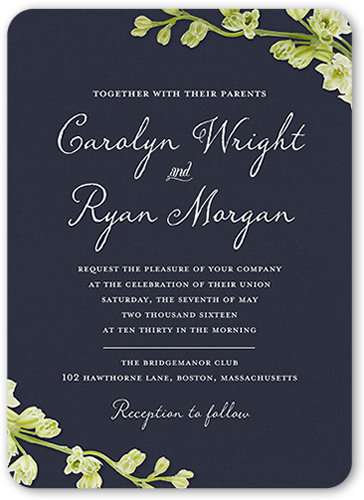 Budding Romance 5x7 Wedding Invitation Cards. Send guests a wedding invitation that perfectly expresses your style. All you need are the details of your big day