What customers have to say about our Wedding Invitations
January 23, 2019
I love my invitations ❤️
"Exactly what I wanted and in the time promise"
January 23, 2019
Highly recommend for invitations
"Great quality well put together quick service"
January 22, 2019
Love it!
"It came put exactly how I wanted it! Wonderful!"
January 22, 2019
Great quality
"The pattern turned out exactly as show and the foil was a nice touch that made our invitations look fancier."
January 22, 2019
Unique and wonderful
"We're getting married at a train station and these are perfect! They're not your typical wedding invitation and they definitely make an impression."
Destination Wedding Invitation Etiquette
Congratulations are in order—you're getting married! And best of all, you've decided to have the destination wedding of your dreams. While you start to make your dream wedding a reality, you may be wondering about the details of invitation etiquette for your big day in a faraway place.
Even if you're well-versed in wedding invitation etiquette, there are additional considerations to keep in mind for destination weddings. We'll walk you through the essentials of destination wedding invitation etiquette. Combined with these ideas for how to plan a destination wedding, you'll be well on your way to creating invitations that are not only stunning but also well-planned and considerate to your guests.
Tips for Sending Destination Wedding Invites
The main difference in planning a destination wedding when compared to a local one is that you'll need to allow more time for each step of the process. Follow these tips to make sure you're being courteous to your guests:
Send save-the-dates a year in advance or as close to it as possible. Destination save-the-dates may be optional for local events, but they're essential for weddings that will take place in another state or country. In addition to letting guests know the date of your big day, you should also mention the destination to give them an early head's up. Some of your guests will want to book travel plans right away in order to save on airfare, request vacation time at work, etc. It can be helpful to include your wedding website link on your save-the-dates to provide further details about the wedding location, hotel info, etc.
Send your invitations 3-5 months in advance. While 6-8 weeks before the big day is traditionally recommended for most weddings, we recommend getting your destination wedding invitations out earlier for your guest's convenience. An early invitation serves as a good reminder for your guests to organize travel arrangements. It also gives people extra time to make a decision about whether or not they'll be able to attend, which brings us to our next point…
Ask for early RSVPs. A destination wedding is a big commitment, not to mention an extra expense for everyone involved. Plan to include an early deadline for RSVPs in your destination wedding invitations, to avoid the headache of last-minute changes. Rather than asking for guests to RSVP 2-3 weeks before the wedding, aim for 4-6 weeks. This will allow you extra time to contact non-responders and finalize your seating chart and catering long-distance.
With these tips and ideas, destination wedding etiquette can be a breeze.
Related Products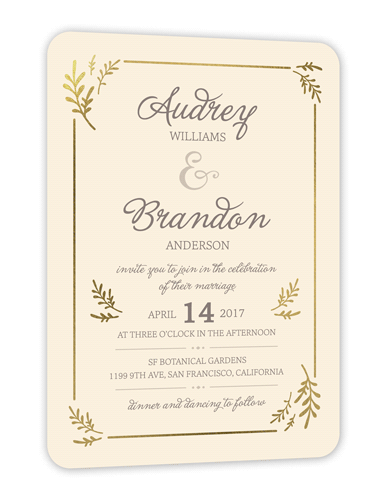 Botanical Border 5x7 Wedding Invitations. Send guests a wedding invitation that perfectly expresses your style. All you need are the details of your big day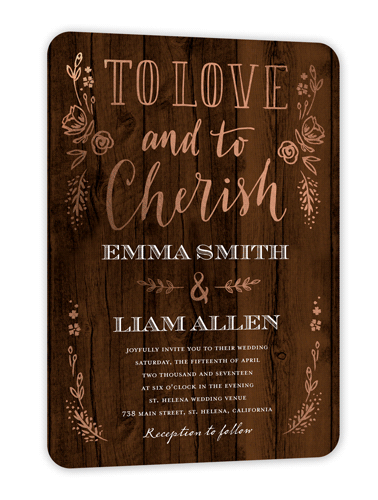 Love And Cherish 5x7 Wedding Invitations. Send guests a wedding invitation that perfectly expresses your style. All you need are the details of your big day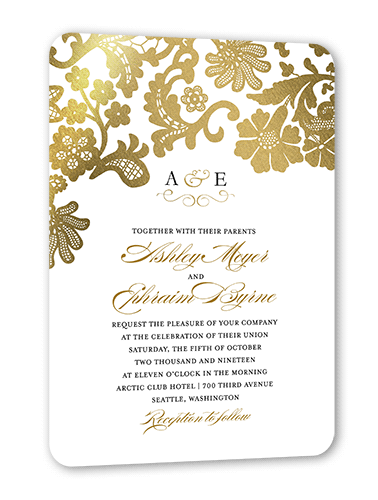 Luscious Lacing 5x7 Wedding Invitations. Send guests a wedding invitation that perfectly expresses your style. All you need are the details of your big day