What customers have to say about our Wedding Invitations
January 23, 2019
I love my invitations ❤️
"Exactly what I wanted and in the time promise"
January 23, 2019
Highly recommend for invitations
"Great quality well put together quick service"
January 22, 2019
Love it!
"It came put exactly how I wanted it! Wonderful!"
January 22, 2019
Great quality
"The pattern turned out exactly as show and the foil was a nice touch that made our invitations look fancier."
January 22, 2019
Unique and wonderful
"We're getting married at a train station and these are perfect! They're not your typical wedding invitation and they definitely make an impression."
Elegant Wedding Invitations
If your bridal style is decidedly elegant, designing a set of elegant wedding invitations is an essential part of planning your big day. Invitations, after all, set the tone for your wedding day and provide the perfect glimpse of the elegance to come. Your guests will be wowed by your elegant invitation suites made with high-quality cardstock paper and stunning card designs. Whether you opt for floral wedding invitations, captivating foil wedding invitations, or something more simple — your invitation sets will be a hit when you design them with Shutterfly. Our collection of luxe designs will make your wedding stationery elegant and fridge-worthy. Add your monograms and more special details to your elegant wedding invitation cards to make them keepsakes you hold on to long after the big day.
Choosing an Elegant Wedding Invitation Design
With swooping fonts and exquisite accents, each invitation in our collection of chic, refined elegant wedding invitation designs is sure to make an elegant impact on your recipients. Inspired by traditional wedding style but updated with a modern aesthetic, these invitations offer just the right amount of classic elegance. Paired with a personalized touch, you'll impress your guests from the very start. When it comes to choosing the perfect elegant wedding stationery templates for your taste, we make it easy. Browse these unique styles to find one that catches your eye. Popular categories for your elegant wedding invites include:
Photo: Have an elegant engagement photo you'd like to showcase? Highlight it on the front of your wedding invitations for a chic, custom-made aesthetic.
Glitter: Add just a touch of sparkle and elegant flair with stylish, iridescent glitter designs.
Floral: Roses and other flowers exude romance and traditional elegance that's perfect for your invites.
Foil: Iridescent, rose gold, or gold foil will take your wedding invitations up a notch and wow your recipients when they see the way your cards shine.
Once you've decided on a wedding invitation design, don't forget to include coordinating extras like address labels, RSVP cards, enclosure cards, and more. Find everything you need for your big day with our wedding planning guide.
Wording Ideas for Your Elegant Wedding Invitations
First and foremost, you'll want to decide how formal you want your invitations to be. Generally speaking, an elegant wedding invitation design will pair best with wording that's on the formal end of the spectrum. Let's look at some elegant examples of wedding invitation wording to get you inspired. Regardless of the level of formality you decide on, each of these samples offers an elegant tone to suit your wedding's style.
"Cassandra Marshall and Andrew White invite you to celebrate their marriage"
"With great pleasure, Zara Smith and Peter Wyatt invite you to join them at the celebration of their marriage"
"Together with their families, Jeffrey Brown and Justin Williams request the honor of your presence at their wedding"
"Mr. and Mrs. Samuel Louis Conrad request the honor of your presence at the marriage of their daughter Elizabeth Leigh to Mr. Trent Charles Levy."
Another aspect of the elegant invitation wording to consider is the formality of the wedding date and time. Here are a few examples, from least to most formal:
"June 18, 2022 at 4pm"
"Saturday, the 18th of June, 2022, at 4:00pm";
"Saturday, the fifteenth of June, two thousand twenty two, at four o'clock in the afternoon"
By keeping these tips and ideas in mind as you design and write your modern wedding invitations, you're sure to make an elegant first impression on your invitees.
Related Products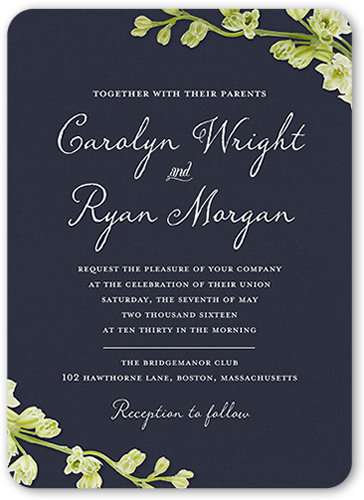 Budding Romance 5x7 Wedding Invitation Cards. Send guests a wedding invitation that perfectly expresses your style. All you need are the details of your big day
Coastal Hues 5x7 Wedding Invitation Cards. Send guests a wedding invitation that perfectly expresses your style. All you need are the details of your big day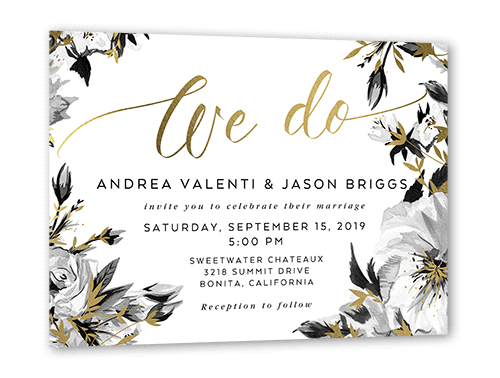 Crisp Petals 5x7 Wedding Invitation Cards. Send guests a wedding invitation that perfectly expresses your style. All you need are the details of your big day