Engagement Party Invitations
What customers have to say about our Engagement Party Invitations
January 22, 2019
Personalized Card Bliss
"Great quality card made from personal photo and personalized captions. Sometimes a store bought card doesn't capture the sentiment you're trying to portray. This is a fantastic option to create your own!"
January 12, 2019
Shutterfly products always look great!
"If you love one of your photos, turn it into a card! Whether it's a Thank you card, a sympathy card, a birthday card or any other kind of card, it'll turn out great!"
January 10, 2019
It exceeded my expectations
"Great, professional results"
"quick and easy. Great pricing."
January 5, 2019
Beautiful quality cards
"I love these cards and have ordered many over the years. The paper is very nice and heavy for both the cards and envelopes."
Say Yes to Custom Engagement Party Invitations
Big news calls for a big celebration and beautiful engagement party invitations to match. Someone said yes and it's time to plan the event that your friends and family will remember for years to come: the engagement party. Create a custom engagement party invitation worthy of the two of you and celebrate the news with a party for your friends, family and loved ones. With our collection of templates, you can customize your engagement party invites so they're perfect for your event. This is the perfect first step in your wedding planning, and your guests will be wowed by your custom invitations designed by you. Even if your wedding will be an elopement, you can still celebrate your engagement with party invitations from Shutterfly.
Personalize Your Engagement Invitations
While an engagement party is not required, it is a great way to celebrate news of the big day and share your excitement with family and friends. It also happens to be a perfect time for both families to meet and get to know each other. Add elegance, romance and style to your wedding plans with Shutterfly's collection of engagement party invitations. Every detail of your wedding day is important in setting the mood for this occasion. Our invites are beautifully designed and easy to create in just minutes. Personalize your invitation with a sweet engagement photo of the couple. With engagement photo invitations, your friends and family will love putting them up on the fridge or even framing them as a beautiful memory.
Everything to Add to an Engagement Party Invite
The engagement party should take place soon (a few weeks to a couple of months) after the proposal. First, determine your guest list, followed by budget, location, date and time. In keeping with standard wedding etiquette, invitations should be sent out at least three weeks before the engagement party. Add a personalized touch to your wedding engagement invitations with custom stamps or stickers. Shutterfly's customization options let you create fully personalized engagement invitations - you can choose the best font, background, color, and more that fit your style as a couple. If you're already planning for the big day, your custom engagement invitations can also match your theme for the rest of your wedding stationery.
Engagement Party Invitations and More Wedding Cards
Help your friends remember your upcoming wedding with save the date cards. No matter how soon you plan to get married, nothing helps remind your friends and family about your upcoming nuptials like a save the date card. Shutterfly also lets you create that memorable first impression with our wedding invitations. Our elegant card selection will make sure they mark their calendars for your big day. Finally, finish your wedding celebration with a wedding thank you card that lets all your guests know you're glad they came. From the engagement party invitation to the big day, you can create a seamless suite of stationery that looks great and focuses on your beautiful photos. We also carry bridal shower invitations and bachelorette party invitations to celebrate each milestone before your big day.
Gifts and Keepsakes for Engagement Parties
Celebrate the betrothed couple with a gift they'll always remember. Our new personalized gifts make for classic, time-treasured items in a new household. A glass picture frame with the happy couple's engagement photos or a set of wine glasses make for great gifts. While these are traditionally bridal shower gifts, they also work wonderfully for engagement party hosts and hostesses.
Related Products
New Year's Bubbles 5x7 Special Occasion Invitations. The cover features a sophisticated graphic of colorful circles on a chocolate-brown background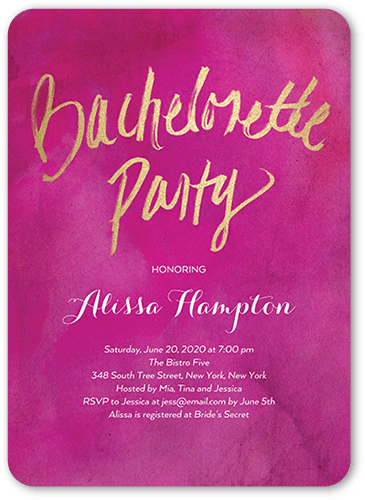 Lush Party 5x7 Stationery Card by Coloring Cricket. Ready to party? Invite all the girls to a fabulous fete with bachelorette party invitations.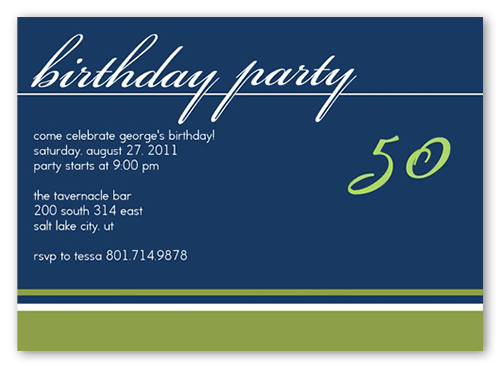 Birthday Navy Party Invitation by Petite Lemon. Fresh colors give this simple card a modern twist. Navy and celery blocks of color give this bold birthday party invitation a fun and sophisticated appeal.