What customers have to say about our Wedding Invitations
January 23, 2019
I love my invitations ❤️
"Exactly what I wanted and in the time promise"
January 23, 2019
Highly recommend for invitations
"Great quality well put together quick service"
January 22, 2019
Love it!
"It came put exactly how I wanted it! Wonderful!"
January 22, 2019
Great quality
"The pattern turned out exactly as show and the foil was a nice touch that made our invitations look fancier."
January 22, 2019
Unique and wonderful
"We're getting married at a train station and these are perfect! They're not your typical wedding invitation and they definitely make an impression."
Foil-Stamped Wedding Invitations
Just as gold leaf was used in ancient Egyptian papyri and as Ottoman sultans employed calligraphic, gold ink seals to signify importance, regality, and elegance, we have at our disposal a plethora of modern techniques for applying shimmering metallic ink to announcements and invitations of great significance. Shutterfly's process for foil stamping wedding invitations is exacting and unparalleled, resulting in beautiful cards printed to perfection.
The Enduring Charm of Foil-Pressed Wedding Invites
The day of your wedding will be one of the most important days of your life, surrounded as you'll be by family and close friends as you make this most meaningful promise to the love of your life. It's only natural that you'd want your wedding invitations to reflect the magnitude of this event and the powerful feelings surrounding it. Elegant, foil-stamped wedding invitations—in shimmering gold, silver, and rose gold foil—capture the essence of these feelings for your guests to experience themselves, while simultaneously giving them an early glimpse of the brilliance of your ceremony and reception.
Gorgeous Foil-Stamped Invitation Templates
It's with reverence for our talented design partners—all independent boutiques—when we say that our foil-pressed design templates are something to behold. Rose gold foil adds a hypnotic luster to our arched designs and it looks particularly sumptuous paired with our rustic wedding invites in sage or forest green, mahogany, plum, or sienna—alluring matches for woodsy or fall weddings. Our silver foil is a standout illuminating diamondine stars against a night-like black background. Likewise, our gold foil glimmers as lights gracefully dangling amongst tree limbs and shines with botanicals and bright florals and with our vintage wedding invitation designs, suggestive as they are of the Gilded Age.
Paper Options For Foil-Pressed Cards
The results of our foil-stamped designs are fundamentally dependent on the quality of paper they're printed on, and Shutterfly's exceptional cardstock always delivers. Choose between our Pearl Shimmer Cardstock, which lends photos and other design elements a luminous look, and our Signature Smooth Cardstock—a thicker cardstock that feels more substantial and luxurious in one's hand. As with our design templates, our paper is sourced from the very best independent boutiques. The master printers overseeing our production facilities share with these boutiques an exacting approach to create, in concert, wedding cards of unmatched quality.
Stationery To Pair with Your Elegant Foil Invites
Our foil-stamped wedding stationery doesn't stop with wedding invitations. Explore our save the dates, wedding programs, menus, and wedding thank you cards in gold, silver, and rose gold foil as well to let your love shine.
Related Products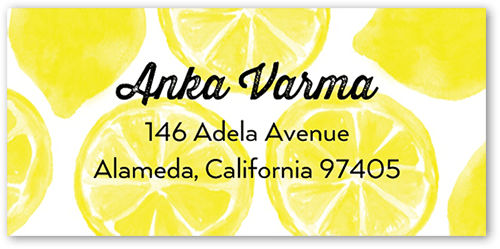 Main Squeeze Address Label by Poppy Studio. Address your envelopes with stylish address labels. Corresponding invitations, gift tags and thank you cards are also available.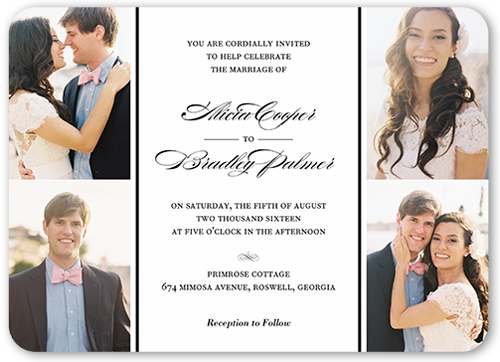 Captivating Elegance 5x7 Wedding Invitations. Send guests a wedding invitation that perfectly expresses your style. All you need are the details of your big day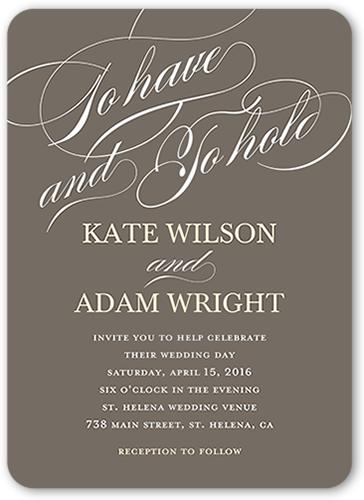 Eternal Vows 5x7 Wedding Invitations. Send guests a wedding invitation that perfectly expresses your style. All you need are the details of your big day