What customers have to say about our Wedding Invitations
January 23, 2019
I love my invitations ❤️
"Exactly what I wanted and in the time promise"
January 23, 2019
Highly recommend for invitations
"Great quality well put together quick service"
January 22, 2019
Love it!
"It came put exactly how I wanted it! Wonderful!"
January 22, 2019
Great quality
"The pattern turned out exactly as show and the foil was a nice touch that made our invitations look fancier."
January 22, 2019
Unique and wonderful
"We're getting married at a train station and these are perfect! They're not your typical wedding invitation and they definitely make an impression."
Foil Stamped Wedding Invitations
Make your wedding stationery and rsvp cards shine with gold foil wedding invitations. Your wedding day will probably be one of the most important days of your life, but the act of planning the wedding and choosing elegant wedding invitations is a lot of work. Luckily, you and your spouse-to-be can work together to choose an invitation theme with foil printing, the right calligraphy and plan a ceremony and reception you will both love.
Choose Your Gold Foil Wedding Invitations
Deciding on a wedding theme requires inspiration and imagination. Not all themes will work with every type of wedding invitation suite templates. If you decide to get married near an old barn, a big city, or trending theme probably won't fit well. On the other hand, cowboy boots and hats would look out of place if you decide on sending classic wedding invitations to invite guests. This part of the wedding planning process can be the most critical. Your wedding theme should be reflected in every aspect of your wedding. This includes save the date cards, letterpress invitations and even cardstock quality. Princess-themed rose gold foil invitations sound elegant, but if they're too formal for your style, you should probably go with minimalist lettering or a monogram template. Make sure your wedding invitation design satisfies what you both envision.
Invitations Include the Things You Love
Your rose gold foil wedding invitations should ultimately reflect the things you love. Think about the things you and your partner have in common and find ways to incorporate it into your diy décor, attire, or even your food. Agree on a theme, and take advantage of foil colors and foil stamping for an elegant look. Some couples are mixing superheroes with elegance by having the men wear superhero shirts under their tuxes or creating cakes that are half superhero and half elegant white fondant. The possibilities are endless. You can even incorporate your theme into your wedding invitations and wedding cards. Shutterfly sells fully customizable foil wedding invitations that allow you to choose colors, fonts, wording and photos. Use an engagement picture of you both dressed in themed attire for a modern wedding invitation and choose colors that shimmer and match your décor. If you're unsure of when to take your engagement photos, they should be taken 1-2 months after getting engaged.
Related Products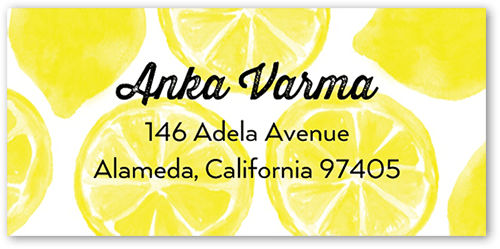 Main Squeeze Address Label by Poppy Studio. Address your envelopes with stylish address labels. Corresponding invitations, gift tags and thank you cards are also available.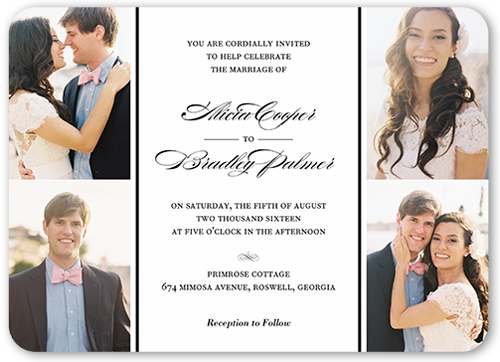 Captivating Elegance 5x7 Wedding Invitations. Send guests a wedding invitation that perfectly expresses your style. All you need are the details of your big day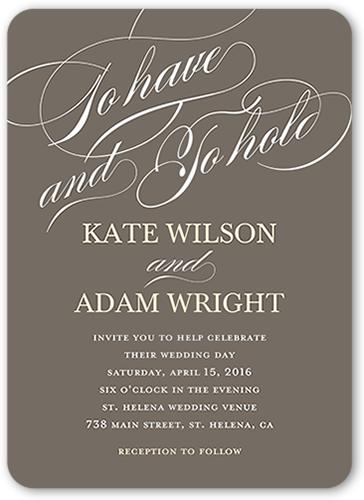 Eternal Vows 5x7 Wedding Invitations. Send guests a wedding invitation that perfectly expresses your style. All you need are the details of your big day