What customers have to say about our Wedding Invitations
January 23, 2019
I love my invitations ❤️
"Exactly what I wanted and in the time promise"
January 23, 2019
Highly recommend for invitations
"Great quality well put together quick service"
January 22, 2019
Love it!
"It came put exactly how I wanted it! Wonderful!"
January 22, 2019
Great quality
"The pattern turned out exactly as show and the foil was a nice touch that made our invitations look fancier."
January 22, 2019
Unique and wonderful
"We're getting married at a train station and these are perfect! They're not your typical wedding invitation and they definitely make an impression."
Gate Fold Wedding Invitations
The invitations you send will provide your guests with the very first glimpse of your wedding day. Capture the spirit and style of the beautiful wedding you've planned with personalized gate fold wedding invitations from Shutterfly. These types of wedding cards allow you to make a bigger impact while giving your guests an unexpected surprise when they open their mail to find your invites and stunning photographs in this creative, premium card format.
Gatefold Wedding Invitation Templates
Designed to be opened like double doors revealing what's inside, our gatefold wedding invitations offer luxe style and premium quality to create a perfect first look for your guests. These wedding card designs offer a truly unique flair to ensure your invites stand out. Folded cards, in general, whether gate fold or tri-fold wedding invitations, act, essentially, as big wedding invitations, providing more space to tell your engagement and relationship story through professional photos or casual snapshots. There's a luxury element to gate fold wedding invites that's instantly recognizable.
Choose from a range of stunning, contemporary designs that capture your bridal style and wedding theme no matter what they may be. Floral, watercolor, minimalist, traditional, formal, and other styles give your wedding invites a personal touch that suits your taste and ceremony style beautifully.
Customize Your Gate Fold Wedding Invites
Personalizing your gatefold wedding invitations is easy with Shutterfly. Begin by choosing a design color from the available options, and then select a paper type to suit your needs. To make the invitation your own, include the names of the happy couple along with all the venue details. Depending on your chosen design, you may also be able to add your favorite engagement photos or other personalized details inside.
When your card is ready, choose from a variety of envelope options, including custom envelopes, colorful envelopes and pretty envelopes liners to make your invites extra special.
Design Considerations For Gate Fold Wedding Invitations
With its uncommon format, gate fold cards present interesting design opportunities. Some will want to feature two photos on the exterior "gates" of the folding card, while others will choose a template that features florals, watercolors, monograms, or a special quote, leaving photos to the interior of the card once the gates reveal them. Still others will prefer a single photo adorning one of the exterior gates, opposite their names and ceremony information. Our selection of gate fold wedding invitations is expansive, so enjoy the process of choosing a card that represents you and yours.
More Premium Wedding Stationery
Your gatefold invitation is only one essential part of your wedding stationery suite. Pair your wedding invites with other premium stationery to provide more information and details to your guests, including save the dates, RSVP cards, enclosure cards, programs, and wedding thank you cards. These cards are available in coordinated designs to match your invitations and create a beautiful, cohesive set of stationery to get your wedding plans off to the perfect start. For extra flair, consider adding personalized wedding address labels to your envelopes, too.
Related Products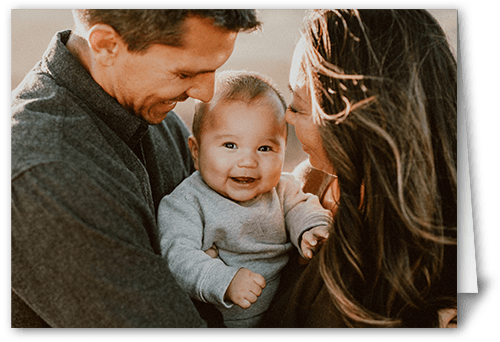 Picture In Landscape Christian Christmas Cards. Celebrate any occasion with this classic greeting card. You can add pictures on the front cover and place photos on the inside panels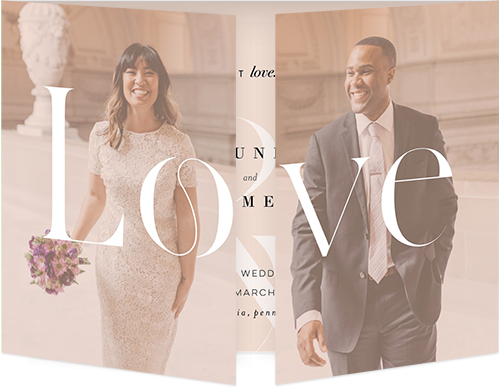 Blush Love 5x7 Gate Fold Card by Kelli Hall. I thee wed. Announce your wedding in style with a favorite photo and the celebration details on this wedding announcement.