What customers have to say about our Wedding Invitations
January 23, 2019
I love my invitations ❤️
"Exactly what I wanted and in the time promise"
January 23, 2019
Highly recommend for invitations
"Great quality well put together quick service"
January 22, 2019
Love it!
"It came put exactly how I wanted it! Wonderful!"
January 22, 2019
Great quality
"The pattern turned out exactly as show and the foil was a nice touch that made our invitations look fancier."
January 22, 2019
Unique and wonderful
"We're getting married at a train station and these are perfect! They're not your typical wedding invitation and they definitely make an impression."
Chic Lace Pattern Wedding Invitations
Lace patterns are a timeless, popular and beautiful addition to wedding décor and stationery. From ultra-subtle lacey backgrounds to striking scrollwork and delicate filigrees, lace pattern wedding invitations offer a unique elegance and sophisticated yet modern style. For the chic bride-to-be, these invitation designs are the perfect way to set the stage for a dazzling big day.
How to Choose a Lacey Wedding Invitation
Whether your bridal style is traditionally elegant, rustic chic or modern and minimalist, you're sure to find a lace pattern invitation that suits your taste. Here are just a few styles to discover:
Rustic Lace: Burlap or barnwood-inspired designs pair beautifully with lace to create a rustic yet chic look perfect for the modern bride.
Delicate Floral: Floral and flowery lace designs balance traditional style with contemporary, feminine elegance.
Minimalist Pattern: Designs with a minimalist color palette and simple look are enhanced by subtle lace patterns that lend a touch of flair.
Foil & Glitter: For that extra dose of personality and eye-catching charm, choose from foil-stamped and glitter cards. A touch of shine or sparkle gives a unique quality to your invitations.
Once you've chosen your favorite lace wedding invitations, don't forget to order matching wedding RSVP cards, enclosure cards and thank you cards!
Coordinating Stationery Accessories
No wedding stationery suite is complete without the addition of chic, stylish accessories. After all, you want your invitations to be personalized and unique inside and out. Choose from coordinating extras like:
Colorful Envelopes: Choose your favorite from classic white, vibrant red, silver, gold and kraft paper.
Slip-In Liners: Add a pop of color or a striking pattern—including lace, floral, watercolor, stripes and polka dots—to the inside of your envelopes for added elegance.
Wedding Address Labels: Find coordinating lace pattern address labels that perfectly match your chosen invitation. Great for adding personality and a custom touch to your envelopes.
Personalized Postage Stamps: Finish your wedding invitation envelopes with lace and pattern postage stamps that show off a photo, monogram or coordinating pattern.
With lace pattern wedding invites from Shutterfly, designing a chic and elegant wedding stationery suite is easier than ever. Before you know it, you'll be sending out stunning, personalized invitations that are sure to impress each of your guests.
Related Products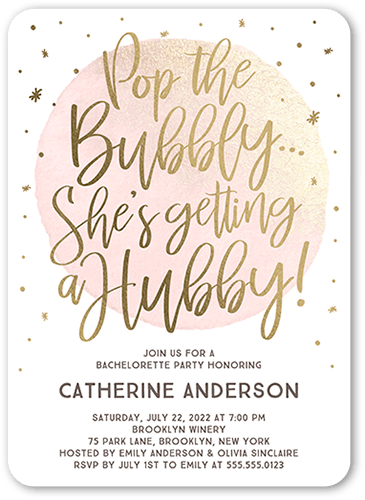 Bubbly Hubby 5x7 Stationery Card by Éclair Paper Company. Ready to party? Invite all the girls to a fabulous fete with bachelorette party invitations.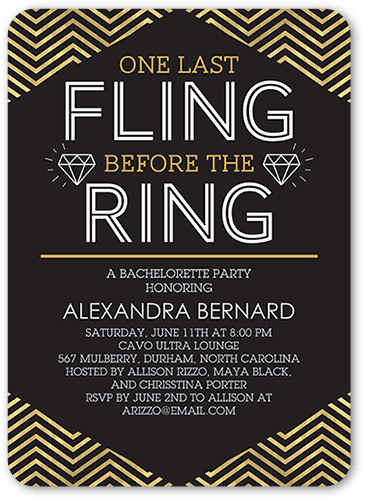 Fabulous Fling 5x7 Stationery Card by Éclair Paper Company. Ready to party? Invite all the girls to a fabulous fete with bachelorette party invitations.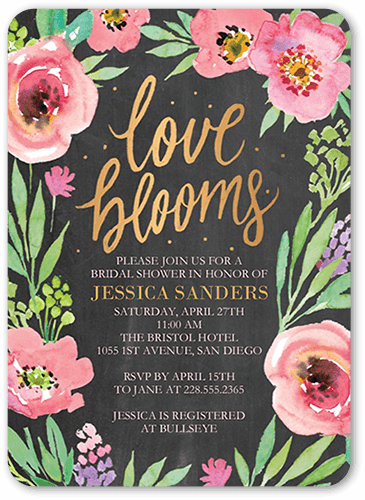 Ladylike Blossoms 5x7 Bridal Shower Invitations. Celebrate the bride-to-be with this bridal shower invitation. Add the celebration details and a favorite photo