What customers have to say about our Wedding Invitations
January 23, 2019
I love my invitations ❤️
"Exactly what I wanted and in the time promise"
January 23, 2019
Highly recommend for invitations
"Great quality well put together quick service"
January 22, 2019
Love it!
"It came put exactly how I wanted it! Wonderful!"
January 22, 2019
Great quality
"The pattern turned out exactly as show and the foil was a nice touch that made our invitations look fancier."
January 22, 2019
Unique and wonderful
"We're getting married at a train station and these are perfect! They're not your typical wedding invitation and they definitely make an impression."
Modern Wedding Invitation Ideas
Design modern wedding invitations with Shutterfly. For a modern wedding, a stylish and contemporary stationery suite is essential. Today's wedding trends allow for complete personalization and creativity that goes beyond the confines of traditional wedding invitations. Whether you want your modern wedding invites to have a sophisticated feel, a minimalist design or whimsical flair, Shutterfly makes the decision process a fun and inspiring one. If you're hosting a destination wedding or one close to home, you can design one-of-a-kind and simple wedding invitations with Shutterfly. With our collection of modern wedding invitations, you can discover invitation designs that perfectly balance modern trends with your unique style.
Tips for Choosing Your Modern Wedding Invitation
When you're wedding planning, you'll want to make sure your modern wedding invitations suit your big day. Shutterfly offers a vast collection of wedding stationery templates so you can customize yours perfectly to your theme and style. Remember you can always customize the fonts and or even opt for foil wedding invitations with rose gold, silver, or gold foil accents. Before you begin browsing our collection of elegant wedding invitations, keep these tips in mind to help you find the perfect Shutterfly design for your modern bridal style:
Use our "Show with my photos" feature to make it easier to visualize each modern wedding invitation as your own. In just a few clicks, each photo wedding invitation you're browsing will automatically display with your uploaded photos.
Filter by theme, design color, and more to show more specific results. Available modern wedding invitation themes include rustic, watercolor, floral wedding invitations, and more. Each category offers plenty of modern wedding invite options to help you find your favorite.
Mark your favorites by clicking the heart icon beneath the invitation designs that catch your eye. When you're done browsing the overall options, go to the "My Favorites" heart in the upper right to compare your wedding card selections side-by-side.
How to Design Modern Wedding Invitations
You can create modern wedding invites that fit with any wedding style or theme with Shutterfly. Add a contemporary feel to your wedding with our collection of wedding invitation suites. We make it easy for you to customize your wedding stationery so your cards are exactly how you want them on your wedding day. Browse our minimalist wedding invitation designs and when you're ready to customize them, add your photos, experiment with typography, include your monogram, and add wedding day and RSVP details for your guests. Customize envelope liners and designs to make your cards truly special. Made with high-quality cardstock, you can coordinate back-of-card designs for your classic wedding invitations to include a photo or design detail that ties into your wedding theme. Get started with five free wedding invitation samples.
Related Products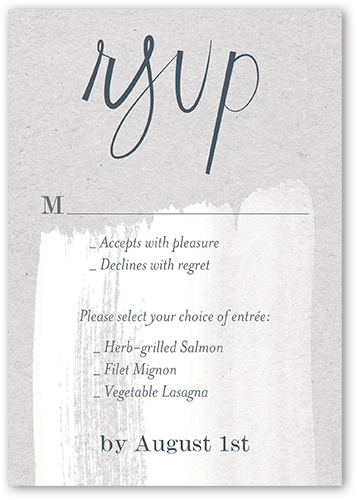 modern brush RSVP Card by Petite Alma. Request the favor of their reply with a stylish response card designed to match your wedding invitations.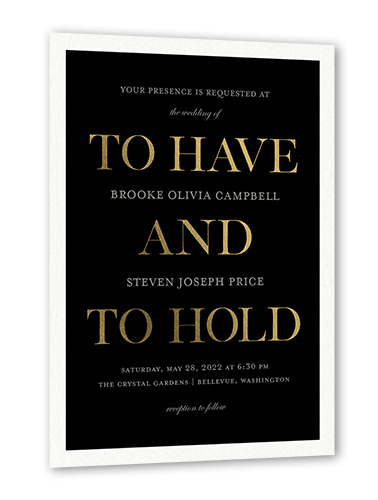 Modern Stacked 5x7 Stationery Card by simplyput. Enjoy a FREE Sample Kit. Experience the quality of our wedding stationery. Order a FREE Sample Kit today > Send guests a wedding invitation that perfectly expresses your style. All you need are ...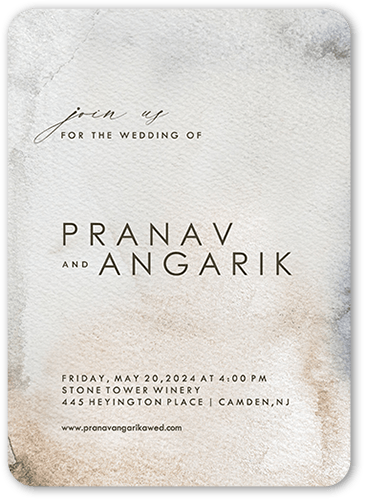 Modern Wash 5x7 Stationery Card by Lady Jae. Enjoy a FREE Sample Kit. Experience the quality of our wedding stationery. Order a FREE Sample Kit today > Send guests a wedding invitation that perfectly expresses your style. All you need ...