What customers have to say about our Wedding Invitations
January 23, 2019
I love my invitations ❤️
"Exactly what I wanted and in the time promise"
January 23, 2019
Highly recommend for invitations
"Great quality well put together quick service"
January 22, 2019
Love it!
"It came put exactly how I wanted it! Wonderful!"
January 22, 2019
Great quality
"The pattern turned out exactly as show and the foil was a nice touch that made our invitations look fancier."
January 22, 2019
Unique and wonderful
"We're getting married at a train station and these are perfect! They're not your typical wedding invitation and they definitely make an impression."
Outdoor Wedding Invitation Ideas
Outdoor weddings offer a rustic warmth, intimacy and earthy quality that appeals to many couples, whether you're looking to have a country-chic ceremony or your style is on the rustic side of elegant. From seaside weddings on the beach to woodsy events among the trees, outdoor weddings allow you to exchange your vows in the midst of all that nature has to offer.
One important part of planning your wedding is finding the perfect outdoor wedding invitations that capture your bridal style and suit your chosen locale. We've gathered some stylish, beautiful ideas for outdoor wedding invites to help inspire you.
Choosing the Perfect Outdoor Wedding Invitation
With Shutterfly's extensive collection of stunning wedding invitations, you'll find a variety of designs to choose from for your big day. Discover themes that suit several popular outdoor wedding types, such as:
Beach: A nautical-themed or natural, beachy outdoor wedding calls for chic invitations like this Sweet Starfish card or dramatic Fairy Tale tri-fold invitation.
Garden Party: If you'll be surrounded by beautiful flowers, your wedding invitation should be, too. You'll find plenty of floral designs to choose from, including the simple yet elegant Budding Romance invitation and trendy Chalkboard Floral
Country: If you're all about burlap, lace and barnwood and you're planning a countryside outdoor wedding, here are two designs you'll love: Rustic Floral Garland and Glowing Bright.
Woodsy: The sophisticated Refined Woods card or this lovely Gorgeous Blossoms invite are two perfect options for an outdoor wedding among the trees.
Under the Stars: An evening wedding is the epitome of romance, perfect for summer nights. Choose elegant invitations that twinkle like the stars, like this Diamond Sky foil-stamped invite or Sparkling Sky glitter card.
In addition to these popular designs, discover other gorgeous outdoor wedding invitations by browsing our collection. No matter what your wedding theme is or what invitation design you ultimately choose, each of our top-quality, personalized wedding invitations will offer your guests a stylish first impression of your wedding.
Outdoor Wedding Invitation Extras
Don't forget to pair your outdoor wedding invitations with coordinating cards and stationery accessories, including:
Related Products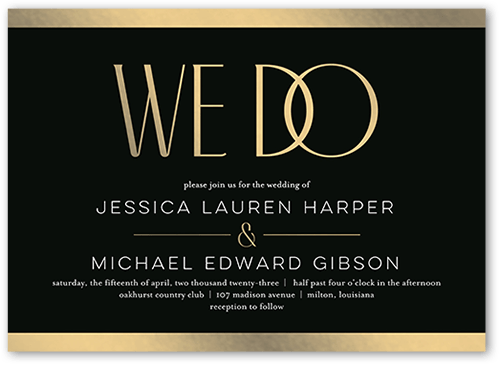 Art Deco We Do 5x7 Stationery Card by Float Paperie. Send guests a wedding invitation that perfectly expresses your style. All you need are the details of your big day.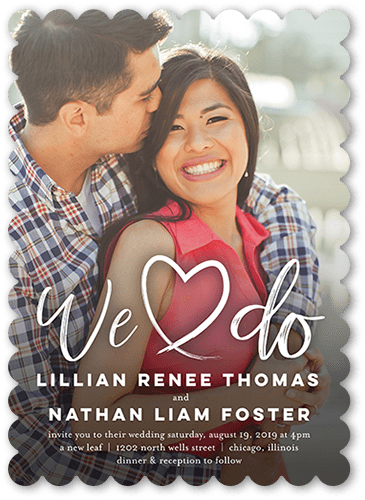 Beloved Script 5x7 Stationery Card by Float Paperie. Send guests a wedding invitation that perfectly expresses your style. All you need are the details of your big day.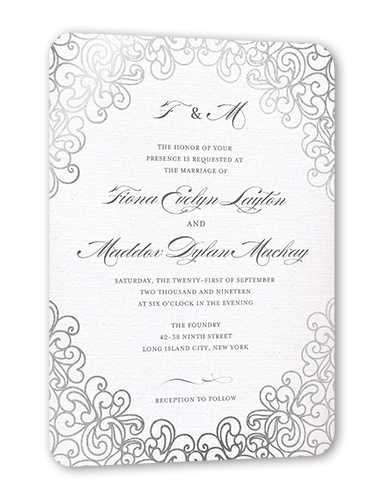 Dazzling Lace 5x7 Wedding Invitation Cards. Send guests a wedding invitation that perfectly expresses your style. All you need are the details of your big day