What customers have to say about our Wedding Invitations
January 23, 2019
I love my invitations ❤️
"Exactly what I wanted and in the time promise"
January 23, 2019
Highly recommend for invitations
"Great quality well put together quick service"
January 22, 2019
Love it!
"It came put exactly how I wanted it! Wonderful!"
January 22, 2019
Great quality
"The pattern turned out exactly as show and the foil was a nice touch that made our invitations look fancier."
January 22, 2019
Unique and wonderful
"We're getting married at a train station and these are perfect! They're not your typical wedding invitation and they definitely make an impression."
How to Prepare for Engagement Photos
The day you get your engagement photos taken is one of the most important events leading up to your wedding. You want to ensure you and your partner are prepared for a day of posing in front of the camera, but you don't want to be so prepared that you seem fake.
Choose Your Photographer
If you don't have a friend or family member who is going to take the pictures for you, do your research regarding photographers. Find someone with good reviews, plenty of experience and a solid portfolio. He or she should be willing to meet on location.
Think About Your Outfits
If you'd like a wider variety of pictures, change your outfit at least once during the shoot. In most cases, you'll want to choose one casual outfit and one dressier ensemble so that you have both casual and formal pictures.
Consider Your Location
For truly memorable engagement photos, you want to choose a location—or locations—that mean something to you and your partner.
The place where you first met
Your favorite park
Your favorite part of a nearby city
The place where the proposal happened
Plan the Shoot Around Your Schedule
Be careful about when you schedule your photoshoot. You don't want to schedule it when you have lots of other things going on, such as a busy week at work or too close to a major holiday. Chances are you'll be preoccupied and not getting enough sleep, and you don't want to look too tired in your photographs. Always be sure you get enough sleep the night before.
By incorporating these tips and tricks into getting your engagement photos taken, you are sure to get plenty of great pictures. Luckily, Shutterfly offers plenty of options for photo wedding invitations. You can choose one such as the // var SflyPageMon = SflyPageMon || {}; if ("end" == "start") { AboutCategoryComponent_jspStart = 1634858032536; SflyPageMon && SflyPageMon.mark && SflyPageMon.mark("AboutCategoryComponent"); } else { SflyPageMon && SflyPageMon.measure && SflyPageMon.measure("AboutCategoryComponent", null, null, 1634858032536 - AboutCategoryComponent_jspStart); } //

Related Products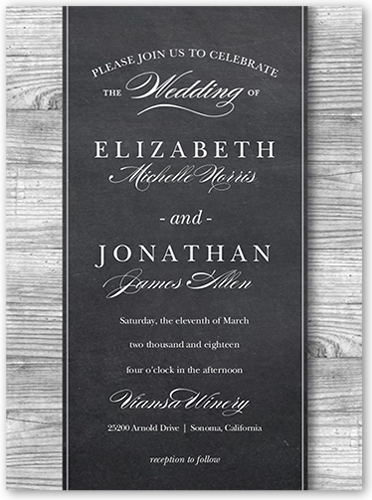 Chalk Wood Frame 6x8 Wedding Invitations. Send guests a wedding invitation that perfectly expresses your style. All you need are the details of your big day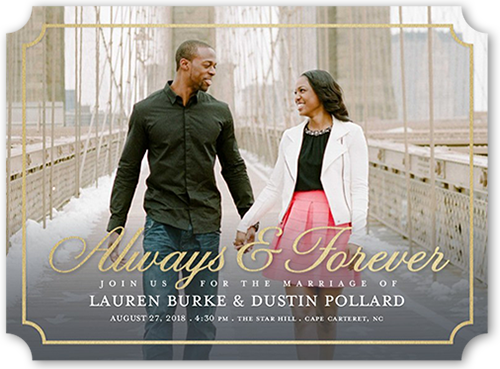 Classic Framed Love 6x8 Wedding Invitations. Send guests a wedding invitation that perfectly expresses your style. All you need are the details of your big day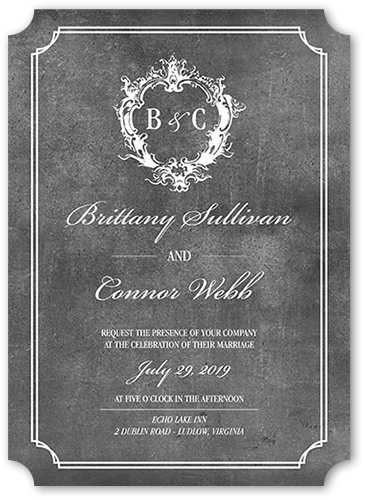 Classy Crest 5x7 Wedding Invitations. Send guests a wedding invitation that perfectly expresses your style. All you need are the details of your big day