Rehearsal Dinner Invitations
What customers have to say about our Rehearsal Dinner Invitations
January 22, 2019
Personalized Card Bliss
"Great quality card made from personal photo and personalized captions. Sometimes a store bought card doesn't capture the sentiment you're trying to portray. This is a fantastic option to create your own!"
January 21, 2019
Love love love my invitations
"I made wedding rehearsal dinner invitations. They are perfect! Can't wait to send them out."
January 20, 2019
Beautiful!
"These turned out absolutely beautiful! The pearl shimmer paper adds an extra sparkle and makes them even prettier!"
January 12, 2019
Shutterfly products always look great!
"If you love one of your photos, turn it into a card! Whether it's a Thank you card, a sympathy card, a birthday card or any other kind of card, it'll turn out great!"
January 10, 2019
It exceeded my expectations
"Great, professional results"
Rehearsal Dinner Invitations
Remind your friends and family of your big day with custom rehearsal dinner invitations. Designed to keep your wedding party informed in style, Shutterfly's selection of custom rehearsal dinner invites are the perfect solution for any groom or bride who wants to make sure that the right people are able to celebrate their last night as a couple in a fun and fashionable way that highlights the mood and festivities. Our rehearsal dinner invites make it easy for you to show your bridal and wedding party participants you care and appreciate their help and support leading up to this momentous occasion. The love between you and your soon to be spouse is one of a kind and it deserves to be immortalized in a romantic and timeless way that will live on in the hearts and minds of your friends and family forever.
How to Design Wedding Rehearsal Dinner Invitations
With an emphasis on good food, great times, laughter and music, you can personalize your rehearsal dinner invitations any way you like. Choose photos that capture the spirit of different moments throughout the year of your bridal, groom and parental parties or upload images and messages that you feel would bring a whole new meaning and reverence to the special night. No matter what you choose, your personalized rehearsal dinner invitations are the perfect complement to showcase your one last night before matrimony in a custom, beautiful and appealing way with love for everyone that is participating. You'll want to include any information on how your guest list can RSVP and if they can bring any plus-ones. Your guest list can include anyone from immediate family, groomsmen, and bridesmaids, to close family and friends you would love to join you for this special occasion.
Whether you are looking to create something elegant, romantic, timeless or simply futuristic and unforgettable, you can mix and match our special enhancement options with your photos and special memories to create the dinner invitations that you want. No more settling for less than what you deserve and want when it comes to finding quality rehearsal party and dinner invites and custom products to match your theme, colors and wedding party plans and decorations. Be sure to browse through our other custom photo gifts and ideas for stylish and unique ways to show your appreciation for your wedding party the night before the big event.
Rehearsal Dinner Invitations and More Custom Wedding Stationery
With Shutterfly, it's easy to customize all of your wedding stationery in just one place. Design custom save the dates, wedding invitations, and rehearsal dinner invitations before the big day. You can also design response cards and enclosure cards that will make your wedding planning so much more simple. For bridesmaids throwing celebratory parties, Shutterfly offers bachelorette party invitations and bridal shower invitations to honor the bride. After the wedding day, send wedding announcements and customize thank you cards to send to your guests to share your gratitude. After the honeymoon, if you've moved into a new place together, send housewarming party invitations to show your loved ones your new home. Designing wedding rehearsal dinner invitations and custom wedding stationery is a fun task with Shutterfly. Add your favorite photos and design the templates to fit the personality of the happy couple to make custom cards that will wow all of your recipients.
Related Products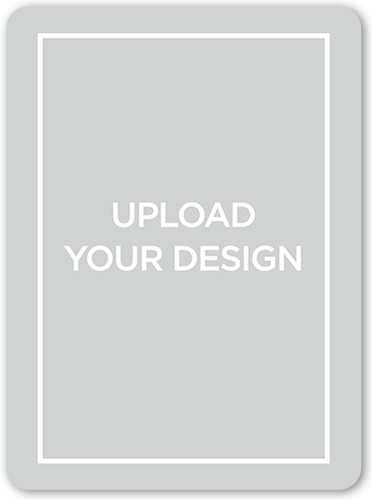 Upload Your Own Design Rehearsal Dinner Invitation. The big night before the big day. Invite all your guests with stylish rehearsal dinner invitations