What customers have to say about our Wedding Invitations
January 23, 2019
I love my invitations ❤️
"Exactly what I wanted and in the time promise"
January 23, 2019
Highly recommend for invitations
"Great quality well put together quick service"
January 22, 2019
Love it!
"It came put exactly how I wanted it! Wonderful!"
January 22, 2019
Great quality
"The pattern turned out exactly as show and the foil was a nice touch that made our invitations look fancier."
January 22, 2019
Unique and wonderful
"We're getting married at a train station and these are perfect! They're not your typical wedding invitation and they definitely make an impression."
Rustic Wedding Invitations
Design rustic wedding invites that showcase a warm feeling and cozy atmosphere. If you're planning a rustic wedding or barnyard wedding, Shutterfly's personalized wedding invitations can help you incorporate your theme from the moment your invites reach your guests. Our wedding invitation cards can be personalized with elegant details like gold or rose gold foil and handwritten font, so your rustic cards will still showcase a classy, beautiful event. Rustic wedding invitations show that you're fun-loving and down to earth but still want to present a classic wedding that makes each guest feel welcome.
Rustic Wedding Invitation Templates
At Shutterfly, we offer a wide array of wedding invites featuring details and designs that provide the rustic feel you may be looking for. With your rustic wedding card design, you can set the tone for what your guests can expect on the big day. By incorporating your rustic theme in your wedding invite, your special day will feel even more cohesive and well put together. Here are some of the most popular style options for rustic wedding invitations:
Barn wood: Whether your ceremony will actually take place in a barn or you just like the idea of the textured wood decor, we've got you covered with dozens of different barn wood styles.
Lace: When featured on the edges of the invitation or the entire background, lace is another popular theme for rustic wedding invitations. The juxtaposition of elegant lace with rough-hewn wood shows that your event will be warm and comfortable while also elegant.
Chalkboard: This dark gray or black backdrop is the perfect setting for flowing typefaces that seem to be written in chalk. Of course, you get the benefit of what looks like perfect handwriting using our selection of customizable fonts.
How to Use a Rustic Wedding Theme on Your Invite
If you choose to go with a rustic theme for your wedding, Shutterfly is ready to help in many ways. Of course, you can complete your wedding stationery suite with matching save-the-date cards, thank you notes and table seating cards. Along with your custom rustic wedding invites, featuring wood and barn themes with earth tones, floral and botanical details with lots of greenery and perhaps sunflowers, and even boho or fall-inspired, everything will look seamless and well-planned. You can also include rustic decor to set the atmosphere for your guests. Create custom mason jars as cups or use them as small vases for flowers throughout the reception. Your guests will also love rustic-themed celebration decor, including a wedding welcome sign at the venue or custom signs for the bar and buffet. Your guests will especially love a rustic theme for your wedding guest book, which you'll be able to look at and cherish for each anniversary to come.
Rustic Wedding Invitation Wording
The rustic wedding invites or fall wedding invitations of your dreams are just a few clicks away. We have no doubt you can find the perfect match for your unique wedding personality. As you're designing your wedding invitations, be sure to include the most important information including the location, date and day, time, directions, RSVP deadline, and attire. Shutterfly offers RSVP cards that you can design with the same rustic theme and include options for food, plus ones, and more. For your wedding invite wording, keep it short and sweet, but feel free to add a fun message letting everyone know how excited you are to celebrate!
Related Products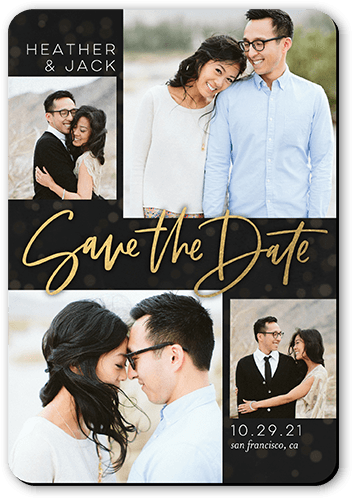 Delightful Affection Stationery Magnet by Petite Lemon. Make sure they mark their calendars with this stylish Save the Date magnet. Just add a photo and your nuptial details.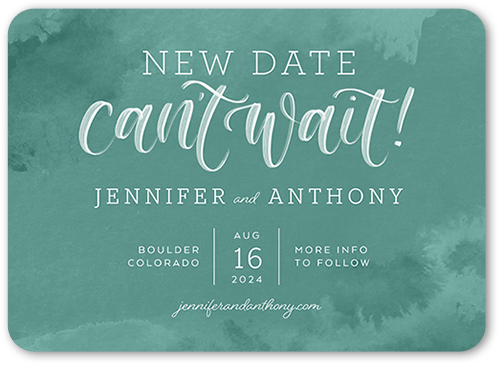 Long Awaited Stationery Magnet by Petite Lemon. Make sure they mark their calendars with this stylish Save the Date magnet. Just add a photo and your nuptial details.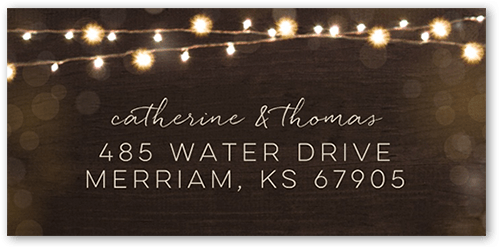 Twinkling Curtain Address Label by Petite Lemon. Address your envelopes with stylish address labels. Corresponding invitations, gift tags and thank you cards are also available.