What customers have to say about our Wedding Invitations
January 23, 2019
I love my invitations ❤️
"Exactly what I wanted and in the time promise"
January 23, 2019
Highly recommend for invitations
"Great quality well put together quick service"
January 22, 2019
Love it!
"It came put exactly how I wanted it! Wonderful!"
January 22, 2019
Great quality
"The pattern turned out exactly as show and the foil was a nice touch that made our invitations look fancier."
January 22, 2019
Unique and wonderful
"We're getting married at a train station and these are perfect! They're not your typical wedding invitation and they definitely make an impression."
Seasonal Theme Wedding Invitations
Shutterfly's seasonal theme wedding invitations offer a variety of beautiful, elegant designs to fit any season. Whether you're getting married in winter, spring, summer or fall, you'll find the perfect design to match your seasonal theme. From glowing lights and chic wood to bright blossoms and captivating mountains, our seasonal wedding invitation designs will capture the attention of your recipients. Your Shutterfly wedding invitations should reflect the story of your relationship and celebrate the splendor of the season your wedding is taking place. Family members and friends will be delighted to receive your unique seasonal wedding invitations and will be excited about sharing this milestone event with you!

Design Your Custom Seasonal Wedding Invitations
Browse our collection of seasonal wedding invitation designs to find the one that perfectly complements your personality, style and wedding theme. Whether you're going for a minimalist, classic or modern look, you'll find what you're looking for in this selection of seasonal wedding invitation themes. After choosing your wedding invitation design, use our easy customization options to further personalize your invitations and add your own special touches. Choose from our array of color combinations, trim styles, font sizes and styles and cardstock type, and then add your own custom message. Whether you go with a non-photo invitation or upload an engagement or other special photo of you and your partner, your seasonal wedding invitations will be unique to you. Also, remember to add all the important details about your wedding day that your guests need to know, such as the time, location and dress code. Personalize every aspect of your wedding and make it an event that truly reflects you and your partner from start to finish.

Custom Add-Ons for Seasonal Wedding Invitations
Ensure your seasonal themed wedding invitations stand out in the mail by adding style and color to the envelopes with our personalized address labels. When you dress up your envelopes with these simple additional touches, your seasonal themed invitations will be sure to grab the attention of your invitees before they even open them. Create a cohesive look for all your wedding stationery needs by designing all of your seasonal themed wedding stationery for before and after the event, as well as your day-of stationery, with Shutterfly. Check out our save the dates, thank you cards, programs, guestbooks, menus, place cards, and more.
Related Products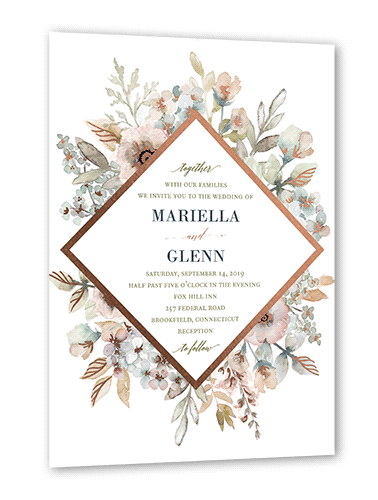 Diamond Blossoms 5x7 Wedding Invitations. Send guests a wedding invitation that perfectly expresses your style. All you need are the details of your big day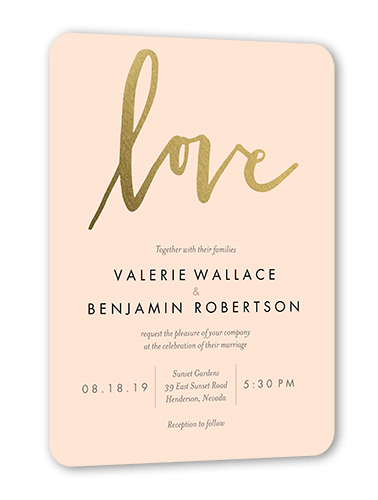 Dipped Love Modest 5x7 Wedding Invitations. Send guests a wedding invitation that perfectly expresses your style. All you need are the details of your big day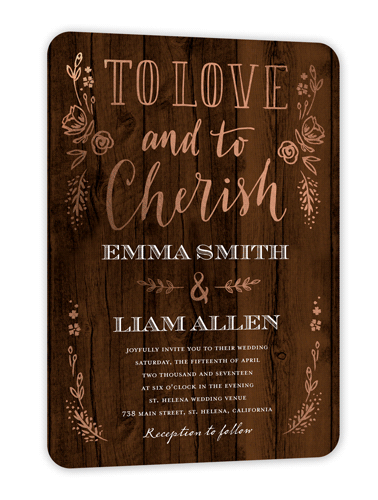 Love And Cherish 5x7 Wedding Invitations. Send guests a wedding invitation that perfectly expresses your style. All you need are the details of your big day