What customers have to say about our Wedding Invitations
January 23, 2019
I love my invitations ❤️
"Exactly what I wanted and in the time promise"
January 23, 2019
Highly recommend for invitations
"Great quality well put together quick service"
January 22, 2019
Love it!
"It came put exactly how I wanted it! Wonderful!"
January 22, 2019
Great quality
"The pattern turned out exactly as show and the foil was a nice touch that made our invitations look fancier."
January 22, 2019
Unique and wonderful
"We're getting married at a train station and these are perfect! They're not your typical wedding invitation and they definitely make an impression."
Simple Wedding Invitations
Congratulations—you're getting married! Now that you're in the midst of wedding planning, it's time to choose your wedding invitations. Whether your wedding will be elegant, rustic, casual, extravagant, indoors or outdoors, creating simple wedding invites can be a great way to go. A few words can go a long way toward creating a beautiful and memorable first impression of your big day. Our collection of simple wedding invitation suites are perfect for minimalist couples. Use our wedding invitation templates to fully customize your cards to perfectly fit your wedding theme and style.
How to Choose the Perfect Simple Wedding Invitation
A straightforward wedding invitation doesn't mean a boring design. Shutterfly offers a vast collection of minimalist wedding invitations that offer personality, modern elegance and undeniable style. Browse through our simple wedding invitation design templates and choose the one that stands out to you and your partner. All of our wedding invites are made with luxe high-quality cardstock that will wow your recipients. Want to add an extra touch of glamour to your elegant wedding invitations? Opt for our Pearl Shimmer Cardstock to make your cards shine. Although you're designing simple wedding invitations, you can add embellishments and custom text as you personalize your cards. Discover a variety of simple, versatile wedding stationery cards that suit virtually any kind of wedding, including:
Rustic: Give your invites a simple, modern, rustic touch with designs that display beautiful greenery and neutral colors.
Classic: For a traditional yet simple effect, we like the Minimal Script and Elegant Love Affair
Outdoor: For a countryside, woodsy or beach wedding, bring a touch of nature to your outdoor wedding invitations with our collection of simple wedding invites.
Contemporary: For a fresh, modern, nontraditional look, opt for a bold design with gold embellishments.
Minimalist: In true minimalist style, a little goes a long way. Keep it simple and impactful with minimalist wedding invitations that will never go out of style.
Simple Wedding Invitation Wording
It can be overwhelming to decide the kind of wording to include on your custom wedding invitations. Thankfully, if you've chosen a simple wedding invitation design, all you need to do is keep it basic. In general, keep your wedding invitation wording brief and clear, and infuse it with personality that makes sense for your style as a couple. It's up to you how formal or informal you want to sound. Here are a few examples to get you started:
"Selena DuPont and Thomas Kent request the pleasure of your company at their wedding"
"Michael Robinson and Everett Crawford are saying I do. Join us to celebrate"
"Together with their families, Natalie Swanson and Emily Smith invite you to their wedding"
No matter your wording, it's easy to make a beautiful impact with simple wedding invitations from Shutterfly. As you're designing your minimalist wedding invitations, be sure to include the most important information front and center, including the location, date and day, time, directions, RSVP deadline, and attire. Some couples also include a wedding website guests can refer to for more information. Shutterfly offers RSVP cards that you can design with the same simple theme and include options for food, plus ones, and more. After the wedding day, don't forget to send thank you cards to your guests to let them know how much you appreciated their attendance.
Related Products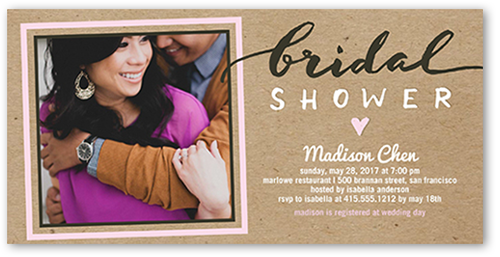 4x8 Craft Shower Photo Bridal Shower Invitations. Celebrate the bride-to-be with this bridal shower invitation. Add the celebration details and a favorite photo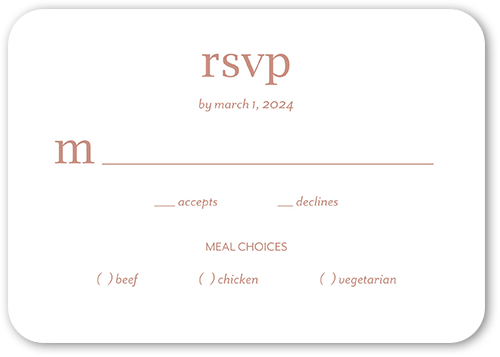 Simple And Forever RSVP Card by Magnolia Press. Request the favor of their reply with a stylish response card designed to match your wedding invitations.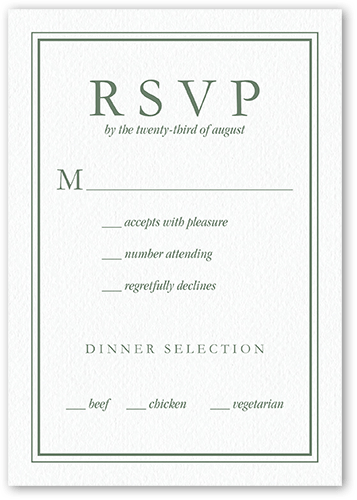 Simple Branches RSVP Card by Magnolia Press. Request the favor of their reply with a stylish response card designed to match your wedding invitations.