Sparkle+Shine Bachelorette Party Invitations
What customers have to say about our Bachelorette Party Invitations
January 22, 2019
Personalized Card Bliss
"Great quality card made from personal photo and personalized captions. Sometimes a store bought card doesn't capture the sentiment you're trying to portray. This is a fantastic option to create your own!"
January 12, 2019
Shutterfly products always look great!
"If you love one of your photos, turn it into a card! Whether it's a Thank you card, a sympathy card, a birthday card or any other kind of card, it'll turn out great!"
January 10, 2019
It exceeded my expectations
"Great, professional results"
"quick and easy. Great pricing."
January 5, 2019
Beautiful quality cards
"I love these cards and have ordered many over the years. The paper is very nice and heavy for both the cards and envelopes."
Create Sparkle and Shine Bachelorette Party Invitations
When it's time to send out bachelorette party invitations, make sure they sparkle and shine to get your guests excited! Shutterfly lets you design a bachelorette party invitation with beautiful foiled lettering, glitter, and confetti detailing that looks great. Whether you're planning a local party or a destination getaway, you can find a bachelorette invitation style that matches your theme and preferences.
How to Use Our Bachelorette Party Invitation Template
Shutterfly lets you design bachelorette party invites that look beautiful and elegant. With our sparkle and shine invitations, you can make sure your guests know they're in store for an amazing experience. When customizing your bachelorette party invite, it's easy to use the design template and choose all of the visual elements you want. To get started, choose the size invitation you need. You can design a small 4x5 invitation or a larger 5x7 invitation card, as well as a medium-sized option too. From there, you can choose your card trim options as well. Stick with standard rectangular invites or design your party invitations with unique scalloped corners. Your cards will really stand out! Once you're ready to personalize, use the design template to determine your color preferences, fonts, and messaging.
Bachelorette Party Invitation Ideas
As you're designing your bachelorette invitations, some great ideas including adding a fun message or unique bachelorette party invite wording. A classic invite might say "[Bride Name]'s Bachelorette Party!" but with Shutterfly it's easy to create a brand new title. If you're having a tropical party, go for "Bellinis and Bikinis." No matter what your party theme is, you can also call it "One Last Fling Before the Ring." Your bridal party and friends will love the fun name and it'll make them even more excited to celebrate with you. Another great idea is to make sure your bachelorette invitations match your party theme. Choose a classic style invitation if you're having a more elegant, black-tie affair. With gold letter foiling, your invitation will really pop. You can also create rusting invitations if you're having a more casual party.
More Products for Any Bachelorette Party Themes
Once you've sent your bachelorette invitations out, start stocking up on all the party supplies you'll need. Shutterfly's personalized photo gifts make for great bachelorette party favors and decor. Your guests will love custom shot glasses or custom wine glasses that they can use at the party or bachelorette weekend and then take home with them. Design some fun bachelorette party decor as well that matches your theme! You can create a custom vinyl banner as well as a selfie frame sign that's perfect for photo opportunities. Before your bachelorette party, make sure you've sent out your wedding invitations and purchased the rest of your wedding stationery as well. Shutterfly has everything you need to get ready for the big day!
Related Products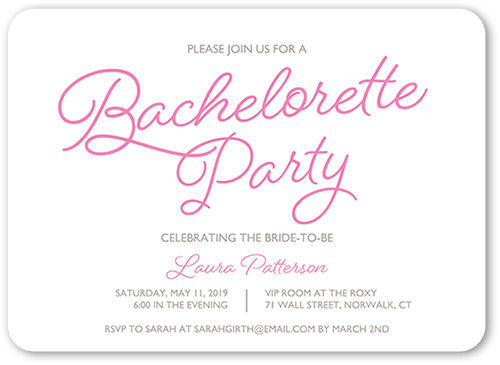 Tropical Affair 5x7 Stationery Card by Magnolia Press. Ready to party? Invite all the girls to a fabulous fete with bachelorette party invitations.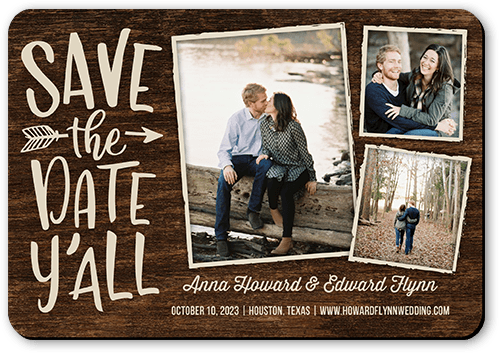 Southern Engagement 5x7 Stationery Card by Éclair Paper Company. Make sure they mark their calendars with this stylish Save the Date card. Just add a photo and your nuptial details.