What customers have to say about our Wedding Invitations
January 23, 2019
I love my invitations ❤️
"Exactly what I wanted and in the time promise"
January 23, 2019
Highly recommend for invitations
"Great quality well put together quick service"
January 22, 2019
Love it!
"It came put exactly how I wanted it! Wonderful!"
January 22, 2019
Great quality
"The pattern turned out exactly as show and the foil was a nice touch that made our invitations look fancier."
January 22, 2019
Unique and wonderful
"We're getting married at a train station and these are perfect! They're not your typical wedding invitation and they definitely make an impression."
Tri-fold Wedding Invitations
For those looking for more space to tell their relationship story, tri-fold wedding invitations make for an inspired choice. There's something about the way these cards gracefully accordion out to reveal picture upon picture. It's both interactive and engrossing, and the result is a wedding card that comprehensively captures the spirit of your couple and captivates those holding it. If you're keen to create a keepsake-quality card, designing a custom, tri-fold wedding invitation with an array of photos is likely your top option.
Luxury, Folded Wedding Invitations
For anyone gathering thoughts on how to best create a wedding invitation—and perhaps especially those who've experienced eventful engagements, featuring travel or other adventures—the goal of presenting yourself and the love of your life in one or two photos can be daunting. Tri-fold wedding invites are a welcome salve to such dilemmas, as these cards simply offer much more space for high-quality photos and text. Perhaps best of all, they neatly fold up for easy mailing in standard 5x7 envelopes. These aren't your standard invitations, as everyone receiving one will instantly recognize.
Creative Tri-Fold Invitation Templates
Shutterfly's unique design templates for tri-fold invitations put nearly limitless creativity at your fingertips. With this significantly more expansive format, we've created templates that present, above all, possibility. As a result, you get to decide how many photos you'd like to include, how to present those photos, and where to place them, and, yes, you're given six full sides to play with—from front cover to back cover to everything in between.
Our independent designers have come up with inventive ways to make full use of the possibilities presented by tri-fold cards and the results are stunning. Some of our more alluring templates feature text that spans across all three panels on one side of the card, creating a sophisticated, magazine layout-like effect. These templates look amazing when the photos used on each panel are from the same photo shoot or are otherwise tied together by color or theme—they're playful, distinctly modern, and emphasize sequencing in a way that suggests a visual story.
Tri-Fold Cardstock & Design Color Options
As paper quality is critical for photo invitations—and with tri-fold cards, especially so—we've sourced our cardstock from the finest boutiques. Choose between our Folded Smooth Cardstock—featuring a weight and thickness designed especially for folded cards, including tri-fold and gatefold varieties—and our Pearl Shimmer Cardstock, which affords invitations an appealing, luminous look. Most of our tri-fold templates feature a selection of curated design color options—simply toggle through these to see which works best—and some of these cards also allow you to choose any design color you'd like.
Other Premium Wedding Stationery
As Shutterfly offers cards for every aspect of your wedding planning, you have the opportunity to coordinate the design of your wedding invitations with your save the dates, wedding programs, wedding thank you cards, and more. Imagine your guests' delight at receiving a full suite of coordinated wedding stationery, one card at a time.
Related Products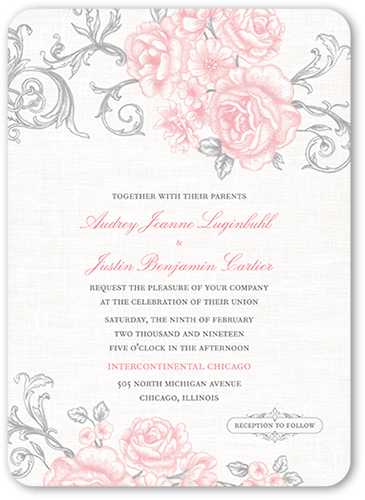 Antique Rose Scrolls 5x7 Wedding Invitation Cards. Send guests a wedding invitation that perfectly expresses your style. All you need are the details of your big day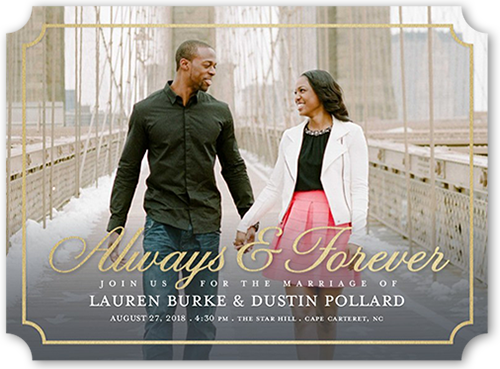 Classic Framed Love 6x8 Wedding Invitations. Send guests a wedding invitation that perfectly expresses your style. All you need are the details of your big day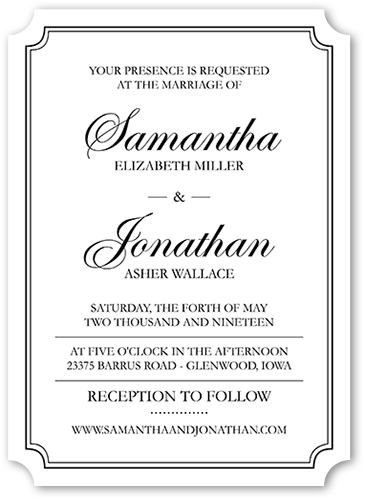 Elegant Love Affair 5x7 Wedding Invitations. Send guests a wedding invitation that perfectly expresses your style. All you need are the details of your big day