Unique Typography Bachelorette Party Invitations
What customers have to say about our Bachelorette Party Invitations
January 22, 2019
Personalized Card Bliss
"Great quality card made from personal photo and personalized captions. Sometimes a store bought card doesn't capture the sentiment you're trying to portray. This is a fantastic option to create your own!"
January 12, 2019
Shutterfly products always look great!
"If you love one of your photos, turn it into a card! Whether it's a Thank you card, a sympathy card, a birthday card or any other kind of card, it'll turn out great!"
January 10, 2019
It exceeded my expectations
"Great, professional results"
"quick and easy. Great pricing."
January 5, 2019
Beautiful quality cards
"I love these cards and have ordered many over the years. The paper is very nice and heavy for both the cards and envelopes."
Bachelorette Party Invitations With Unique Typography
When you're getting ready for your bachelorette party, your bachelorette invitation can set the tone for the entire night or weekend and the party theme. Using unique typography bachelorette party invitations, it's easier to give your guests a sneak peek of what's to come. Get them excited for a destination party with colorful text or use neon font to show that it'll be a fun night out on the town. No matter your bachelorette party theme, Shutterfly has the invitation styles and designs that can match your event.
How to Design Unique Bachelorette Invitations
To get started making a unique typography bachelorette party invite, search through each card style and filter as needed. You can make a small 5x5 card or a slightly larger 5x7 rectangular invitation. Aside from size, you're also able to filter by color. Choose a black bachelorette invitation if you're having a more elegant event, or opt for a more colorful background to match your theme or favorite colors. As with any Shutterfly products, you can add your photos to some of our invitation templates. Add a photo of you and the girls or just a photo of yourself so they'll know right away who the party is for once they get the invite. Once you have the style invitation you love, enter the Shutterfly bachelorette party invitation template. There, you can adjust your bachelorette party invite wording and customize the colors, fonts, card trim, and paper.
Ideas for Bachelorette Party Invites
Some great bachelorette party invitation ideas include matching your party theme or designing a card that fits your personality. Within our unique typography designs, you can filter your invitation further by style. Choose a whimsical invitation design that's perfect for destination weekends, wine tastings, and more. Our vintage invitation styles are perfect for a vintage-themed party or for a bride who appreciates 1950's aesthetics and decor. No matter which style you choose, you can further customize by using gold, silver, or rose gold foil font.
More Products to Match Your Bachelorette Party Invitation
Planning a wedding and all of its events is serious business. Aside from your bachelorette party, there's the bridal shower or wedding shower, rehearsal dinner, and of course the wedding itself. To help with your wedding planning, Shutterfly's wedding shop has everything you need to create custom wedding stationery, invitations, party decor, favors, keepsakes and more. Design personalized koozies that you can give as bachelorette or wedding favors. Other great ideas include a custom photo book that can be used as a guest book at your wedding or parties. Create unique, personalized products and stationery for your wedding to help make sure it's the day of your dreams!
Related Products
Bellinis and Bikinis 5x7 Stationery Card by Éclair Paper Company. Ready to party? Invite all the girls to a fabulous fete with bachelorette party invitations.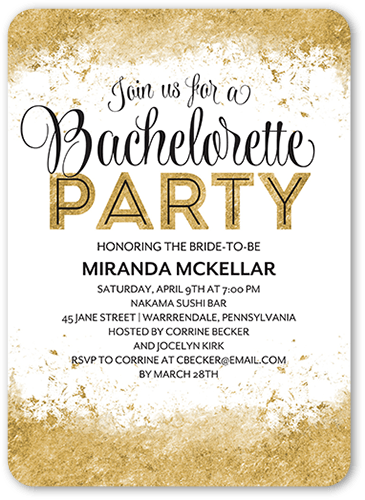 Lovely Flakes 5x7 Stationery Card by Éclair Paper Company. Ready to party? Invite all the girls to a fabulous fete with bachelorette party invitations.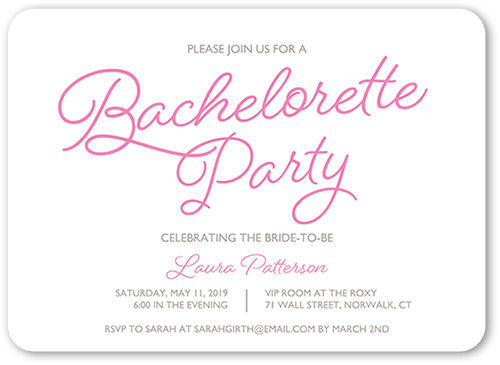 Tropical Affair 5x7 Stationery Card by Magnolia Press. Ready to party? Invite all the girls to a fabulous fete with bachelorette party invitations.