DIY Bachelorette Party Invitations
What customers have to say about our Bachelorette Party Invitations
January 22, 2019
Personalized Card Bliss
"Great quality card made from personal photo and personalized captions. Sometimes a store bought card doesn't capture the sentiment you're trying to portray. This is a fantastic option to create your own!"
January 12, 2019
Shutterfly products always look great!
"If you love one of your photos, turn it into a card! Whether it's a Thank you card, a sympathy card, a birthday card or any other kind of card, it'll turn out great!"
January 10, 2019
It exceeded my expectations
"Great, professional results"
"quick and easy. Great pricing."
January 5, 2019
Beautiful quality cards
"I love these cards and have ordered many over the years. The paper is very nice and heavy for both the cards and envelopes."
DIY Bachelorette Party Invitations
Nothing's more unique than a DIY bachelorette party invitation. Instead of trying to make it all on your own, Shutterfly's upload your design invites give you the bachelorette party invitation template you need to make sure everything looks professional and well put together. Even though you already have the design you want to use, Shutterfly still gives you options for card size, trim, and additional font and text on the bachelorette invitation.
Personalize Your Bachelorette Party Invites
If you're creating DIY bachelorette party invitations, you probably already have the exact design you want to use. Shutterfly can still offer additional personalization options to make sure your bachelorette party invite looks exactly how you're envisioning. Before you upload your design, choose between three different formats. You can use a classic flat invitation or a tri-fold invitation if you have multiple designs you'd like to use on different sides of the card. We also offer magnet bachelorette party invitations that you can include with your paper card or send on their own for a simple, fun way to remind your guests about your party. If you choose a flat card, you can customize even further by size. Use a small 3x5 invitation card or a larger 5x7 invitation card that can either be flat or folded.
More Ideas for DIY Bachelorette Invitations
Stuck on how to design your DIY bachelorette party invitations? Create your custom design to match your party theme. Some examples of bachelorette party themes include tropical destination, wine night, neon night on the town, daytime tea party, or spa day. Other bachelorette party invitation ideas include adding photos of yourself as the guest of honor. If you're having a small bachelorette party, you could also include photos of your and the girls to make them feel even more like special guests. Since the bachelorette party is usually closer to the wedding, you've probably already sent out your wedding invitations. Consider matching your bachelorette party invitations to your wedding invites to make everything look even more cohesive. As you design your DIY bachelorette invitations, also consider using the same design for your party favors. Offer your guests custom candles or personalized wine glasses - it all depends on what you and your guests love to do!
Bachelorette Party Invite Wording
So you have your design, but you still don't know what to write in your bachelorette invite. Inside the card, you'll be able to add the party details as well as brief messages and decide which custom fonts you'd like to use. Be sure to include your party location, date or dates, time (if applicable), and any travel directions your guests might need. If you're planning a destination party or weekend bachelorette party, be sure to let your guests know what they might need to bring.
Related Products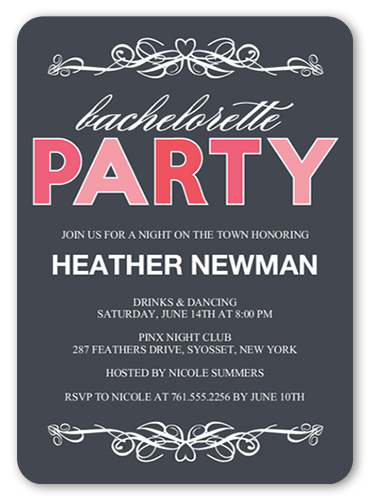 Big Bright 5x7 Bachelorette Party Invitations. Dinner, drinks, and dancing for the bride-to-be. Make it happen with this sophisticated and stylish bachelorette party invitation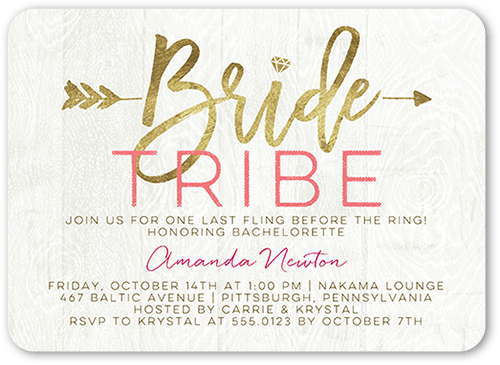 Bridal Troop 5x7 Stationery Card by Sarah Hawkins. Ready to party? Invite all the girls to a fabulous fete with bachelorette party invitations.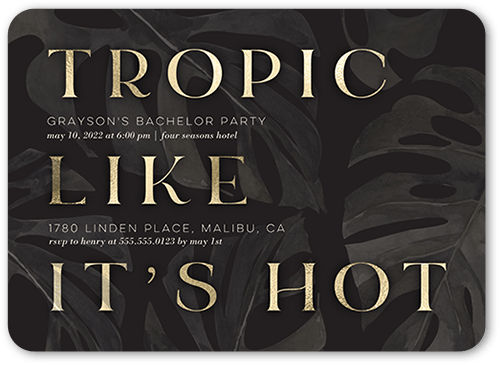 Elegant Tropic 5x7 Stationery Card by Float Paperie. Ready to party? Invite all the girls to a fabulous fete with Bachelor Party Invitations.