Watercolor Bachelorette Party Invitations
What customers have to say about our Bachelorette Party Invitations
January 22, 2019
Personalized Card Bliss
"Great quality card made from personal photo and personalized captions. Sometimes a store bought card doesn't capture the sentiment you're trying to portray. This is a fantastic option to create your own!"
January 12, 2019
Shutterfly products always look great!
"If you love one of your photos, turn it into a card! Whether it's a Thank you card, a sympathy card, a birthday card or any other kind of card, it'll turn out great!"
January 10, 2019
It exceeded my expectations
"Great, professional results"
"quick and easy. Great pricing."
January 5, 2019
Beautiful quality cards
"I love these cards and have ordered many over the years. The paper is very nice and heavy for both the cards and envelopes."
Watercolor Bachelorette Party Invitations
Looking for artistic bachelorette party invitations that will stand out? Our invites featuring gorgeous watercolor designs are a perfect choice, as they'll be sure to delight and impress your recipients. Invites are the first impression the bridal party and others close to the soon-to-be bride will get for this special bachelorette party. Shutterfly's custom watercolor bachelorette party invitations are perfect for the occasion, offering a stylish way to let everyone know about this fun outing. These stunning invites will get the rest of the bridal crew and other invitees excited to celebrate the guest of honor's transition to married life!
Beautiful Bachelorette Party Invitation Templates With Watercolor Designs
Browse Shutterfly's collection of watercolor bachelorette party invitations and then customize your invites with our easy-to-use design tools to ensure they match your event's theme and the bride's personality and style. When designing your bachelorette party invites, choose from a variety of colors, fonts, borders and more. Pick out some of your favorite photos that you feel appropriately match this unique event and upload them to your custom bachelorette party invitation to add even more personality and fun to the design. You can even choose to upload your own unique design to the Shutterfly website to create a truly one-of-a-kind watercolor bachelorette party invitation!
Personalize Your Watercolor Bachelorette Party Invitations
Complete your beautiful watercolor bachelorette party invitation design by adding a unique message, funny quote or the bride-to-be's favorite saying. And don't forget to add all the important event details, such as date, time, location and anything recipients may need to bring. Not sure what needs to be included in your invitation? Our post about important information to include on party invitations will help you out! If you need some ideas when designing your bachelorette party invitations, get inspired with the design tips in this guide on how to make a photo card. After you've finished personalizing your bachelorette party invitations, add some style and personality to the envelopes they'll be sent in. Have fun adorning the envelopes with Shutterfly's personalized stickers, address labels or self-inking rubber stamps. These add-on stationery items are a simple yet elegant way to elevate your envelopes. For more wedding cards, check out our wedding invitations, save the date cards, and more with Shutterfly.
Related Products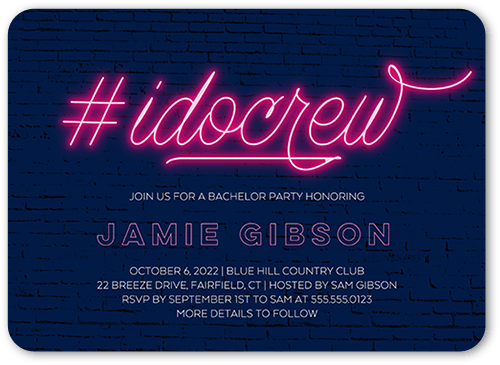 I Do Crew 5x7 Stationery Card by Éclair Paper Company. Ready to party? Invite all the girls to a fabulous fete with Bachelor Party Invitations.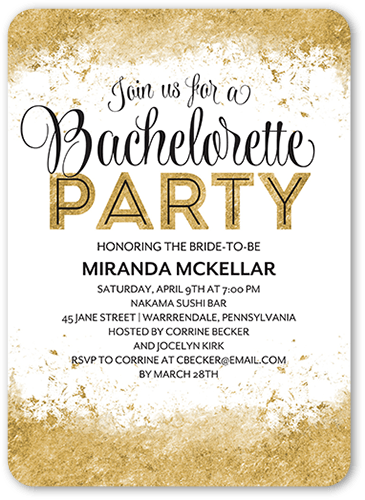 Lovely Flakes 5x7 Stationery Card by Éclair Paper Company. Ready to party? Invite all the girls to a fabulous fete with bachelorette party invitations.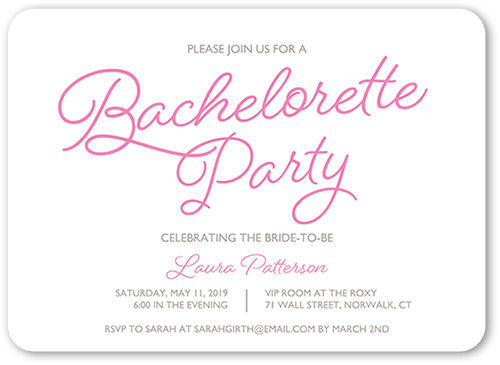 Tropical Affair 5x7 Stationery Card by Magnolia Press. Ready to party? Invite all the girls to a fabulous fete with bachelorette party invitations.