Wedding Address Labels
What customers have to say about our Wedding Address Labels
"VERY CUTE"
January 26, 2019
Delightful!
"I love the delicate design and lavender color."
"Pretty lables"
"Can't wait to use these cute adress lables!"
January 21, 2019
I would buy again
"Color"
Create Unique Wedding Address Labels
Personalized wedding address labels are a beautiful final touch to add to your save the date cards or wedding invitations. With customization options for photos, fonts, and colors, you can make sure the mailing labels match the rest of your wedding stationery theme. Your guests will love the small touch of elegance that makes your wedding cards look that much more professional and well put together. Shutterfly's address labels for wedding invitations and more are easy to create and also help your guests know exactly where to send their RSVP cards to let you know they're coming to the wedding.
Make a Stunning First Impression With Wedding Mailing Labels
Packaged in convenient sets of 24, you can use Shutterfly address labels to add flair to your envelopes at every step of the wedding planning process. From your first engagement party invitations and those exciting save the date cards to your official wedding invitations, address labels will transform your wedding-related envelopes into something truly special. You'll even be able to use them after the wedding is over to send out personalized thank you cards to all your guests. Stylish and chic, return address labels are the perfect way to add a final personalized touch to stationery that will someday be a cherished keepsake. After all, the envelopes will be the first thing your guests see—so make it a good first impression with Shutterfly. Whether your wedding will be rustic, modern, classic or whimsical, you'll find an address label that's perfect for your nuptial style. To make sure the wedding return address labels fit your needs, you can customize everything from the theme, trim, foil color, and more.
Wedding Day Address Labels Personalized Your Way
It's easy to create wedding address labels that are unmistakably yours. To design labels for wedding invitations, start with a label design that complements your wedding invitations and stationery; you can even upload an original design if you're feeling creative. Then add the names of the soon-to-be newlyweds along with a return address, all styled in your favorite fonts, colors and sizes. Many of our wedding address label options can also be personalized with a photo of the bride and groom for a truly custom feel. Large, vibrant and high-quality, these wedding address labels will transform your invitation envelopes into personalized expressions of your unique style. You've planned your big day down to the specifics of every decoration and every word. So put the final cherry on top of your wedding stationery with custom address labels from Shutterfly.
Pair Return Labels With Elegant Wedding Stationery
Get the complete package to make a great impression. Match your personalized wedding address labels with stylish, coordinating wedding invitations, wedding programs, wedding menu cards, RSVP cards and wedding congratulations. Shutterfly offers a full wedding stationery suite so you can make sure everything is coordinated and elegant before, during, and after the wedding. For a nice touch while you're planning, Shutterfly also offers custom monthly planners and personalized notebooks. When you add your favorite couple's photos, these unique stationery products can become the best wedding planner books.
Related Products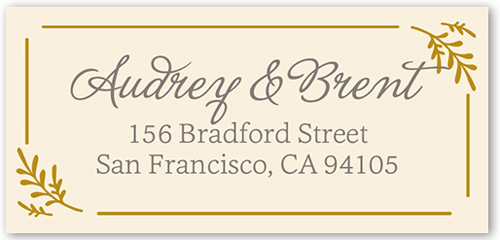 Botanical Border Wedding Address Label. Address your envelopes with stylish address labels. Corresponding invitations, gift tags and thank you cards are also available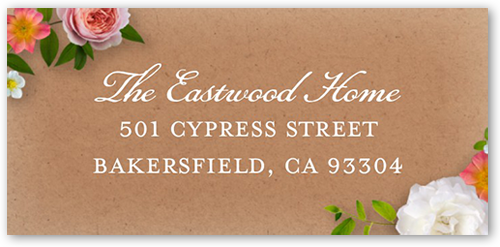 Brilliant Bouquet Wedding Address Label. Address your envelopes with stylish address labels. Corresponding invitations, gift tags and thank you cards are also available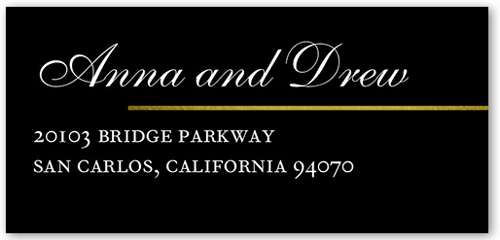 Chic Calligraphy Wedding Address Label. Address your envelopes with stylish address labels. Corresponding invitations, gift tags and thank you cards are also available