Wedding Congratulations
What customers have to say about our Wedding Congratulations
November 3, 2018
Quality Cards
"Shutterfly is my go to spot for wedding cards. The quality is great and you can't be a personalized card for the price in comparison to basic ones at the store."
August 20, 2018
Great quality!
"I purchased this card and personalized it for my brother and sister-in-law's wedding. I added photos on all sides and text written in Italian. The card will travel all the way to Italy! The quality of paper is great and I'm very pleased with how it came out."
August 15, 2018
The Best Card for an Anniversary
"Just love the ease and flexibility of this format!"
July 13, 2018
I love Shutterfly.
"Wonderful service and products"
July 9, 2018
I've been a fan for many years & will be one for many more
"Sometimes there is no card to be found locally that says what you want it to say. Shutterfly allows me to do that in a beautiful way without leaving home. Also, creating is satisfying. Thank you for being there."
Wish Them Well with a Wedding Congratulations Card
Wedding cards are a special keepsake that married couples can look back on fondly for years to come. Has someone in your life has finally tied the knot with their other half? Send your congratulations in a unique way by designing a custom wedding wishes card.
Whether they've been your friends for ages or are a beloved part of your family, send love to the newlyweds and commemorate their union with a stylish wedding card from Shutterfly. Give them something to look forward to when they return from their honeymoon: a perfectly personalized and utterly memorable congratulations card waiting in their mailbox.
Endless Ways to Say Congrats
Creating a personalized wedding card for the happy couple is easy with Shutterfly. Start from scratch by uploading your own design, or choose from a variety of stylish templates, with the option to include your favorite photos from the big day. From classic designs to whimsical illustrations and everything in between, we have cards perfect for every Mr. and Mrs. in celebration of their wedding.
Whether you want to write a sentimental letter or reminisce on your shared memories, a wedding card is the perfect opportunity to congratulate the couple and wish them luck for the future. Let them know you had a blast at the reception. Tell them how excited you are that they finally tied the knot. Learn what to write in a congratulations cards with expert tips and advice from Shutterfly. Give them your friendly tips for a happy marriage. Express your well wishes for the next chapter of their lives. No matter how you say congratulations, a personalized wedding card is sure to be a meaningful gift for the newlyweds.
Personalized Wedding Wishes
When it comes to crafting the perfect wedding card to send to the newlyweds in your life, your wishes should be truly personal. So speak from the heart. Customize the greetings and messages on the front of your card, and use the free space inside to write your heartfelt congratulations.
With Shutterfly, customization is made incredibly simple. Personalize your wedding card to make sure every detail is just the way you want it. Choose from different backgrounds, trim options, layouts, fonts and even envelope colors to craft a beautiful congratulations card. Add the names of the bride and groom, their wedding date and a photo of the happy couple to completely personalize your design.
As they head off to happily ever after, give your newly married loved ones another reason to be joyful. With a stylish and personalized wedding wishes card, celebrate their wedded bliss in a memorable, beautiful way.
More Wedding Stationery
If you're celebrating your own nuptials, fulfill all your wedding stationery needs with Shutterfly. Choose from elegant wedding programs, wedding address labels, save the dates, wedding invitations and menu cards to complete your marriage celebration.
Related Products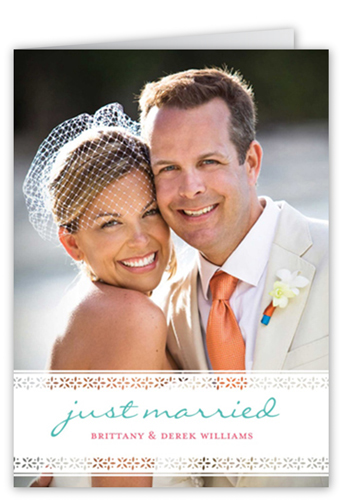 Laced Love 5x7 Folded Wedding Announcement Cards. I thee wed. Announce your wedding in style with a favorite photo and the celebration details on this wedding announcement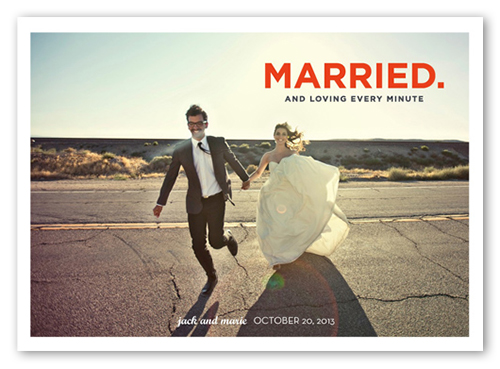 Loving Every Minute 5x7 Wedding Announcement Cards. I thee wed. Announce your wedding in style with a favorite photo and the celebration details on this wedding announcement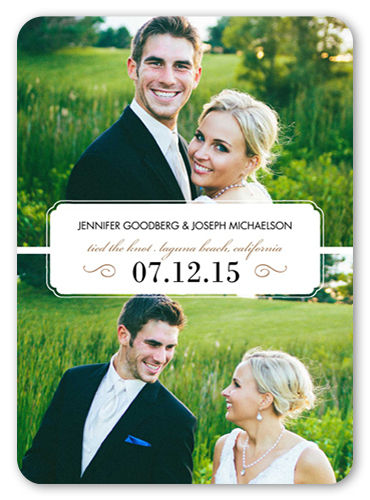 Seal Of Love 5x7 Wedding Announcement Cards. I thee wed. Announce your wedding in style with a favorite photo and the celebration details on this wedding announcement