What customers have to say about our Wedding Thank You Cards
January 27, 2019
Grateful for my thank you cards
"I ordered these cards to give out with my closing gifts to my buyers and I am so glad that I did. The quality is amazing and the print was perfect. Can't wait to use them!"
January 27, 2019
Love these cards.
"Shutterfly always does a great job."
January 26, 2019
Love these to send to friends.
"These are so personal. It really makes for a nice way to say hello and thank you in a personal way."
January 26, 2019
Special cards for special occasions
"Such beautiful personalized cards for any occasion."
January 26, 2019
I would buy more they were perfect
"These are nice"
Wedding Thank You Cards
Show your appreciation for your wedding guests with custom wedding thank you cards by Shutterfly. Your wedding day was full to the brim with everything you could have hoped for: romance, fun, joy, and the company and generosity of the people you love most. After you're done planning for your wedding and the big day has come and gone, say thank you to your loved ones and show off your favorite wedding photos with personalized wedding thank you notes. Whether you're thanking your guests for their attendance or for a thoughtful wedding gift (even from someone who didn't attend), a photo wedding thank you card is the best way to show your loved ones how much they mean to you.
Wedding Thank You Notes
If you're looking for wedding thank you card ideas or examples, Shutterfly has everything you need. We have great ideas for wedding thank you cards for parents, wedding guests in general, for those who gave you gifts or money, for Covid-era weddings, and for those who gave you gifts or money but didn't attend the ceremony itself. Writing and sending physical thank you notes, especially ones adorned with a custom message and a photo or two from the ceremony, is the best way to express your gratitude. These thank you notes can go out right after the wedding, a year later, or even sent as Christmas cards to reflect back on your incredible year. Our wedding thank you cards come in 5x7 and other sizes and are decidedly affordable—cheap not in quality but price.
How To Write Wedding Thank You Cards
It's easy to find the perfect wedding thank you card that shows your gratitude in a special way. Select a handful of favorite custom thank you card designs and compare side-by-side, or see your photos in every design with just a few clicks. Our extensive collection of thank you cards features a variety of chic options for your wedding. Choose from dozens of unique, stylish designs that coordinate perfectly with your wedding invitations for a complete wedding stationery set. Whether you prefer a classic look with an elegant calligraphy and a black and white design, or a more whimsical thank you card with floral illustrations and a rustic look, we have the perfect option to suit your style for your special day. Our foil-stamped designs offer stunning, shimmering accents to make your thank you notes truly one-of-a-kind. If you're feeling creative, you can even upload your own design.
Choose A Wedding Thank You Card Template
Each wedding thank you card is customizable down to its tiniest details. Start by choosing your preferred design template and by adding your favorite wedding photos. From watercolor designs to whimsical photo cards, you can find the best personalized thank you card that complements your wedding day. Add a message to your wedding thank you card and know that etiquette related to wording depends to a large degree on your style and community. Personalize the colors, fonts, text colors, card stock, and other details until your card looks just the way you want it. Don't forget about the back of your thank you card, which you can customize with unique background colors, additional photos, and optional messages for your recipients.
Stationery to Pair with Your Wedding Thank You Cards
With Shutterfly, it's possible to coordinate your wedding thank you notes with wedding invitations, save the dates, wedding programs, and other wedding stationery. Additionally, you can incorporate a dash of fun by adding personalized address labels and whimsical wedding stickers. Create an all-in-one suite of wedding stationery tuned to your style or wedding theme.
Related Products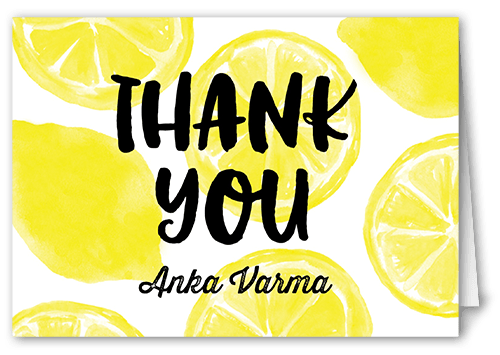 Main Squeeze 3x5 Folded Card by Poppy Studio. Show just how much you appreciate them with this stylish thank you card. Add your favorite photos and a message of thanks.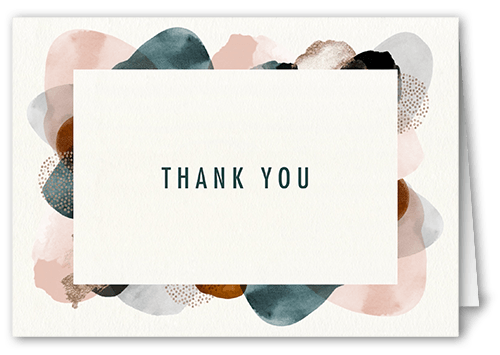 Colorful Daubs 3x5 Folded Card by Float Paperie. Show just how much you appreciate them with this stylish thank you card. Add your favorite photos and a message of thanks.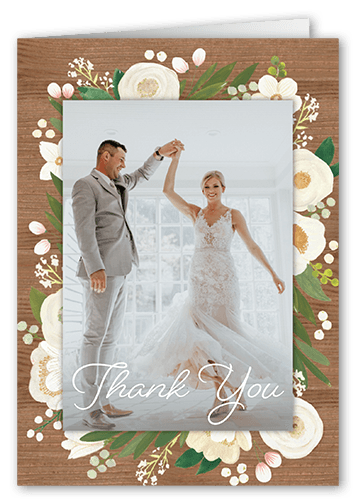 Elegant Bouquet 3x5 Folded Card by Petite Lemon. Because they deserve it. Give them a personalized thank you card to express your gratitude.