Whimsical Baby Shower Invitations
What customers have to say about our Baby Shower Invitations
January 26, 2019
I would buy this again definitely!
"This invitation is beautiful I just wish the liners that came with it stuck better"
January 25, 2019
Perfect invite
"These are so cute and came exactly as I expected. Love them!"
January 24, 2019
In love with the shower invites
"These invites are so cute. They came just as ordered. I love shutterfly. They never disappoint."
January 22, 2019
I would buy this product again.
"Bought this for my baby shower invitations and it exceed my expectations."
January 21, 2019
I really liked my purchase experience
"I needed to order baby shower invites. I was pleasantly surprised to find out I could have Shutterfly take care of the invitees addresses, return addresses, and stamps! What a time savor! And the invitations are adorable!!"
Celebrate the Whimsy and Wonder of Motherhood
As you plan to bring a bundle of joy into the world, it's exactly that—planning—that can take away from the excitement. The pressure to get everything ready and perfect for the baby can make it far more stressful than is necessary, but you can reclaim the wonderment of expecting by celebrating with a baby shower.

Showers and sprinkles make great opportunities for friends and family to celebrate with you, so of course, you want to make the event special. You can start by setting the tone with whimsical baby shower invitations that fit the theme you are aiming for. Some of the possibilities you may consider include these:
• Hearts
• Floral
• Shine and sparkle
• Animals
• Patterns and textures
Make Your Invites as Unique as You Are
Once you announce that you are expecting, the questions will flood in: when are you due? Is it a boy or a girl? What names have you chosen? Your child will be just as unique as you are—and your baby shower invitations should reflect that, too. Nothing captures the impending joy of motherhood the way whimsical imagery does, and Shutterfly offers a range of customizable invites that will fit the bill.

We make it easy to share with friends and family by giving you total control over how your whimsical baby shower invitations look. Whether you want a girly motif with animals or a gender-neutral design, you can find it among the selections we offer.
Scrapbook the Memories
Your whimsical baby shower invitation wording should tell a story and invite attendees to be part of it, too. As you invite friends and family to join you in celebrating motherhood, you are inviting them to be part of the journey, and the invitations you send out must be worthy of such importance.

Shutterfly's range of options makes it easy to create an invitation that will double as a keepsake. You can put it in a scrapbook as a memory unto itself, and your guests will likely treasure theirs, too. You can choose from paper options such as pearl shimmer cardstock, signature cardstock or photo paper to create the look you want, and with customization options, the end result is entirely in your hands.
Pregnancy is a journey, and your shower is one of the best parts. You can capture the joy you hope to spread in the whimsical baby shower invitations you send to all of your closest friends and family.
Related Products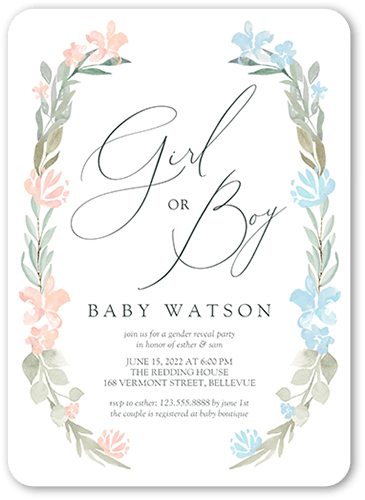 Gentle Floral Frame 5x7 Stationery Card by Poppy Studio. Shower her with love and a stylish baby shower invitation. Personalize it with the party details.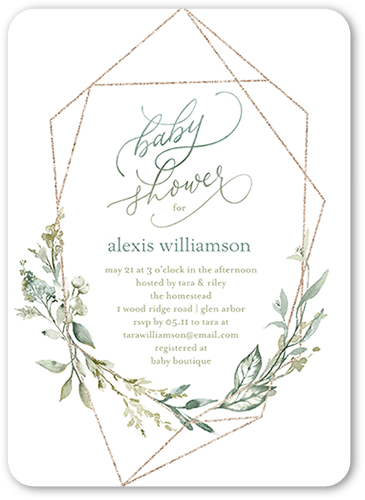 Geometric Floral Frame 5x7 Stationery Card by Lady Jae. Shower her with love and a stylish baby shower invitation. Personalize it with the party details.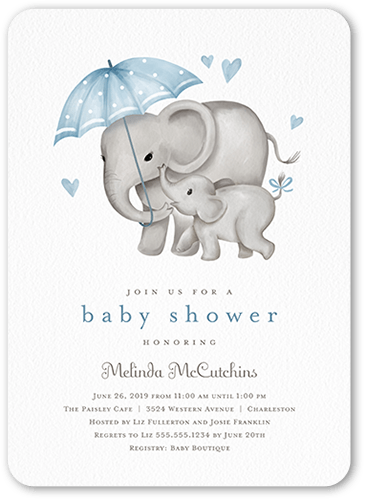 Joining the Herd Boy 5x7 Stationery Card by Stacy Claire Boyd. Shower her with love and a stylish baby shower invitation. Personalize it with the party details.