What customers have to say about our Address Labels
"VERY CUTE"
January 26, 2019
Delightful!
"I love the delicate design and lavender color."
"Pretty lables"
"Can't wait to use these cute adress lables!"
January 23, 2019
Love these labels!
"Cute labels, easy to read, fun to make. I have bought several different types now and love them all! Great gifts for grads, new babies, newlyweds, housewarming presents...you name it!!"
White Address Labels
Shutterfly has a huge selection of address labels that you can customize with your own text and pictures. As you look through the options, you may notice that some of them are a bit more monochromatic, while others offer a rainbow of colors. The type of label you choose to get may vary based on the event you are planning. Many brides- and grooms-to-be search for white address labels to help set a tone of elegance for their save-the-dates and wedding invitations. However, a white label can be used more often than for wedding-related events.
When to Use White Labels
White address labels, along with other solid color options, are often viewed as a more professional-looking label than the multi-colored products. This means you can use text-only white labels when you send out professional correspondence, such as resumes, newsletters and business cards. You may want to avoid using personalized photo labels, unless the photo is related to your work, as this could be viewed as unprofessional.
Are you planning on throwing an all-white event? Maybe you want your next birthday or cocktail party to be the height of stylishness. You may be able to achieve this goal by removing all color and having a white event. When you send out the invitations, you would definitely want to make sure there is as little color as possible.
Some white address labels still have a design on them. For example, you can find holiday-themed labels, which could be used when you send out your holiday greeting cards. Other primarily white labels have a monogram or photo to add some extra personalization for birthdays, baptisms and other special events.
Get all Stationery Supplies
You can use these monochromatic labels as often or as infrequently as you like. As you get ready to send out lots of letters for your special event, you may need to get a few other supplies. Check out the customizable postage stamps and invitation selections that Shutterfly has to offer.
Related Products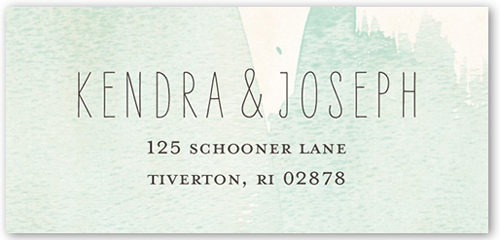 Classic Watercolor Wedding Address Label. Address your envelopes with stylish address labels. Corresponding invitations, gift tags and thank you cards are also available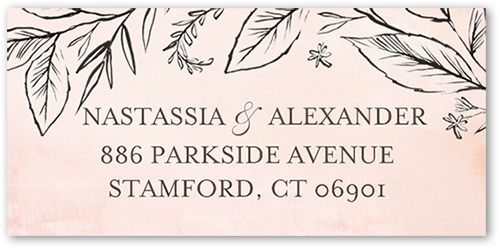 Graceful Watercolor Wedding Address Label. Address your envelopes with stylish address labels. Corresponding invitations, gift tags and thank you cards are also available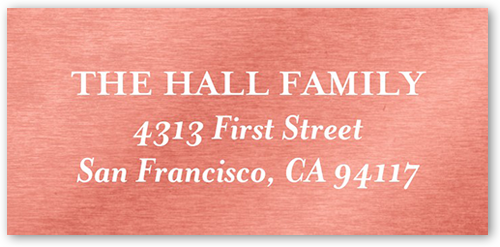 Sparkling Tag Wedding Address Label. Address Return envelopes to friends & family with fun Christmas themes, icons, & photos. Shop now