White Birth Announcements
What customers have to say about our Birth Announcements
January 25, 2019
A Hit With All the Family!
"We used this card as a birth announcement and thank you card for our baby shower attendees. It's on a nice heavy cardstock, and the print was super clear. With my first order there was a smear on the return address on the back of the envelope, but no big deal. With the first order I also didn't receive the blank envelopes I ordered. The second order everything was perfect. I would highly recommend!"
January 24, 2019
Very nice cards
"Super classy cards"
January 24, 2019
Great buy
"Looks and feels great. Came so quickly and is such great quality!"
January 22, 2019
So sweet
"Easy to create!sweet design"
January 22, 2019
Love this product!!
"I love the simplicity of this birth announcement, it was easy to make and arrived on time!"
Welcome Your Newborn to the World
Don't keep the wonderful news of your new baby all to yourself–share it with everybody you know! At Shutterfly, we love newborns and believe they should play a part in everyone's life. We offer a giant selection of white birth announcements that are sure to strike the fancy of any parent. It's your newborn's grand debut, why not make it style?
Picture Perfect
We specialize in customizing and printing your home photos. In fact, when you sign up for a Shutterfly account, you enjoy unlimited photo storage, allowing you to quickly swap your entire collection into our templates. Consider capturing your baby's first days in a personalized photo book or encapsulating a year in the life in a custom calendar. Or, simply order prints of your favorite photos and pick them up in as little as an hour at your local Walgreens, Target or CVS. Our job is to provide the means to express your personality and story.
We take quality quite seriously at Shutterfly and offer only premium paper products, ideal for photo printing. Choose from our signature cardstock or premium photo paper, or even our pearl shimmer cardstock for that added sheen. Additionally, many of our designs allow for a custom color palette, freeing you from the confines of traditional white birth announcements.
Simplicity You Can Afford
Our goal is to make designing and sending custom stationery simple. Our easy-to-use platform lets you see your creation before we print it, ensuring every last detail is exactly how you want it. When you're ready to send, we offer a variety of shipping options, including
Standard and economy
Next-day rush delivery
Direct mail
Easy mail with pre-addressed envelopes
Most importantly, we make our services affordable. Before you place your next order, be sure to check out our special offers where you'll find great deals, such as free shipping on orders of $49 or more and promo code discounts. You deserve to preserve your memories in style, but it shouldn't cost a fortune.
Your Next Project Awaits
Whether you're ready to order your white birth announcements or plan your next holiday party, we're here to help. Find out the latest tips and tricks in home décor, party planning and gift giving on our Design Studio page. As you begin your next project, consider stepping outside the box to create a truly signature style to capture all of life's precious moments. No matter what, remember that Shutterfly is here to take care of your every need.
Related Products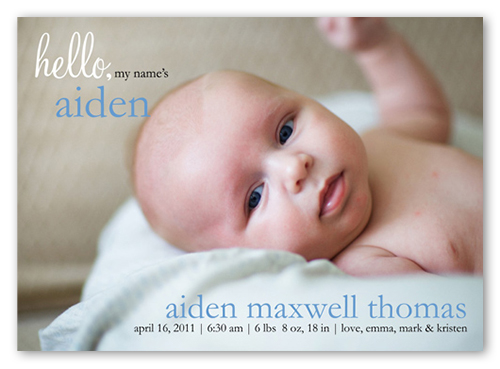 Blue Note Birth Announcement 5x7 Stationery Card by Stacy Claire Boyd. Hello, my name is. Add your baby boy's name and favorite photo to this modern birth announcement to let the world know he is finally here.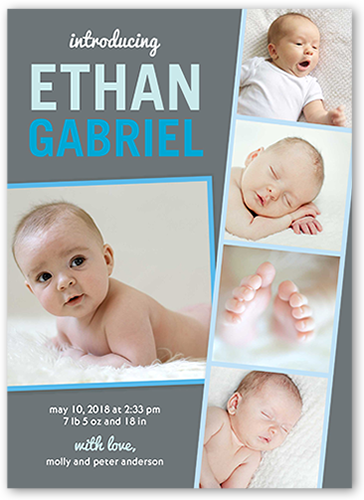 Filmstrip Fun Boy 5x7 Birth Announcement Card. Announce your newest arrival with this stylish birth announcement. Add your baby name, a photo with the news everyone waiting for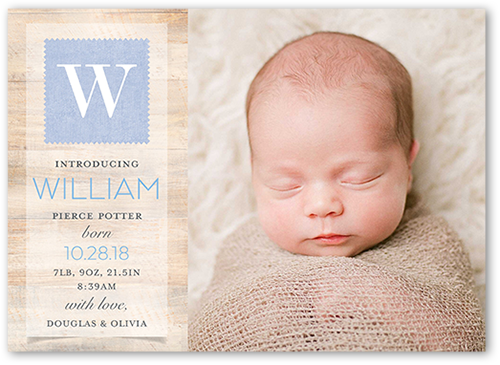 Perfect Monogram Boy 5x7 Birth Announcement Card. Announce your newest arrival with this stylish birth announcement. Add your baby name, a photo with the news everyone waiting for