Winter Wonderland Christmas Party Invitations
What customers have to say about our Christmas Invitations
January 23, 2019
good purchase
"Paper is excellent quality as is the envelope. Shipping can be high unless you are ordering a larger number of cards but I only bought one."
January 22, 2019
Chinese New Year
"Christmas came too soon. No cards went out. New Year's came and went! Still no cards were sent out. But thanx to Shutterfly, made it for a Chinese Greeting! Beautiful cards front and back with pictures of family sent! Halleluah!!!!!"
January 22, 2019
Cool Invite
"Cool design. Nice quality card. Much nicer than the cards with photos."
January 15, 2019
I have so much fun using my pictures on products.
"I have so much fun making unique gifts with my pictures. It makes me feel professional when I am very much an amateur."
January 14, 2019
Outstanding customer service
"The customer service agent who helped me with order 003086838129-9000112 was extremely helpful. I had problems making a Christmas card and she solved all of them. The Card was perfect with her changes. She was very kind and patient. I had an unavoidable interruption while we were working together and she assured me that she would wait on the phone until I could continue. She was committed to help me in every way she could. This was a unique customer service experience! Please thank her for me."
Winter Wonderland Christmas Party Invitations
Send everyone on your list a Christmas party invitation that harks back to the winter wonderlands of childhood. Shutterfly's Christmas party invitations are an enchanting way to share all the important details about your event. Complete with festive colors, metallic highlights and stunning graphics, let us help you send the perfect Christmas party invitation.
Make an Amazing Winter Wonderland Party Invitation
Our classic Christmas party invitations are printed on luxe cardstock and feature five different trim options. Some styles of invitation have room on the back for additional party details and to upload a favorite photo. Invitations measure 5" x 7" and are flat. Make a winter wonderland party invitation when you consider cards that include:
Foil-Stamped Options: Some of our designer cards feature real foil highlights that add sparkle and shine to your invites.
Graphics: Choose a party invite that includes holiday-themed graphics like beautiful green Christmas trees, elegant snow globes, bold and brilliant snowflakes and dazzling ornaments.
Cardstock: Our stylish holiday cards are printed on two kinds of premium cardstock. Our Signature cardstock is made from sustainably forested paper while our Pearl Shimmer cardstock adds a little shine to your invites.
Save time when you've finished your winter wonderland party invitations and check out some of our other customizable mailing options like holiday postage, return address labels and holiday stamps.
Related Products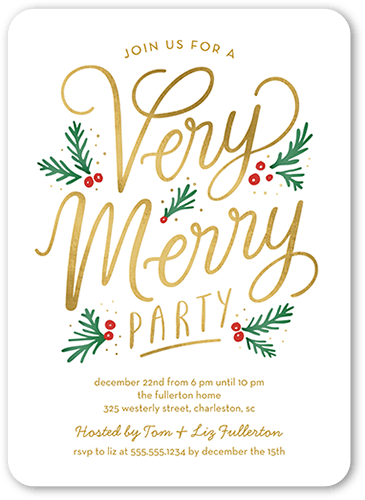 Golden Holly Party 5x7 Stationery Card by Stacy Claire Boyd. Invite everyone to a holiday party with this stylish holiday invitation. Just add the event details.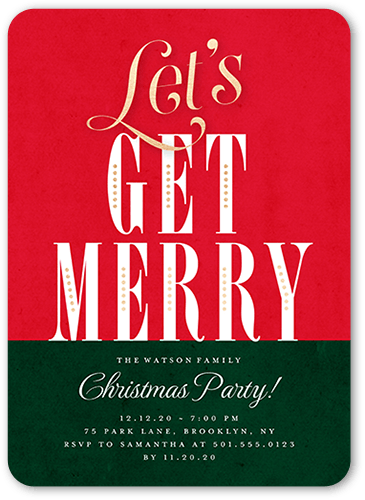 Lets Get Merry 5x7 Stationery Card by elk design. Invite everyone to a holiday party with this stylish holiday invitation. Just add the event details.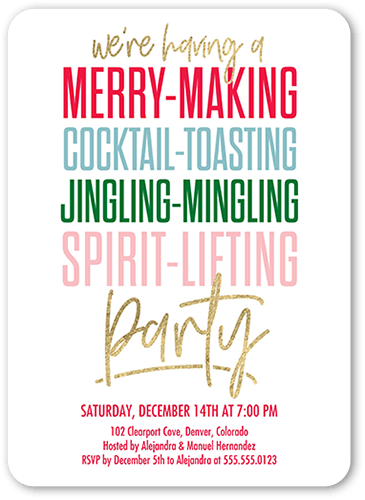 Merry Making 5x7 Stationery Card by Éclair Paper Company. Invite everyone to a holiday party with this stylish holiday invitation. Just add the event details.