What customers have to say about our Thank You Cards
January 27, 2019
Grateful for my thank you cards
"I ordered these cards to give out with my closing gifts to my buyers and I am so glad that I did. The quality is amazing and the print was perfect. Can't wait to use them!"
"Love the size, love the card stock, love how our photo fit so nicely."
January 27, 2019
Love these cards.
"Shutterfly always does a great job."
"Once again, Iove my end result from Shutterfly. The people love their personalized cards too."
January 26, 2019
These turned out so CUTE!!!
"The card stock is very heavy and makes it a nice writing experience. Quality, thick, great bright colors on the card. This is a great product and a wonderful purchase."
Teaching Children to Write Thank You Cards
Thank you cards are important for children to learn how to use. It's the kind of skill every parent hopes to pass on to the next generation for how well it reflects on their children. Get your child excited by letting them choose their favorite color, such as yellow thank you cards. If you have been struggling with instilling this skill in your children, then here are some tips to get the ball rolling.
Use Empathy
Young children are just developing their skills in empathy. If you use this skill while it's forming to promote good habits, they often become linked to feeling good. If you're trying to get a young child to write a thank you card, use an example of a time when someone thanked your child for something and remind them how that felt.
Teach by Example
If it's time for your child to write thank you cards, then get some out yourself. This is easy during the holidays when both you and your child receive gifts. However, if it was your child's birthday, it just means you'll have to dig deep and come up with one or more things people have done for you lately that you are thankful for.
Give Your Child Some Agency
Letting your child have a say in how the cards look and what is written in them is especially important as kids get older. When they take charge of one or more aspects of the thank you note process, they're building good habits for future appreciation. You can let them choose a picture to put on the card or how the address labels will look.
Just as it's important to say thank you to someone in person when they do something nice for you, thank you cards are important as little reminders of love and appreciation. For just about any color, including yellow thank you cards, look at our customization options. You can also create personalized postage stamps for your thank you cards and other mail.
Related Products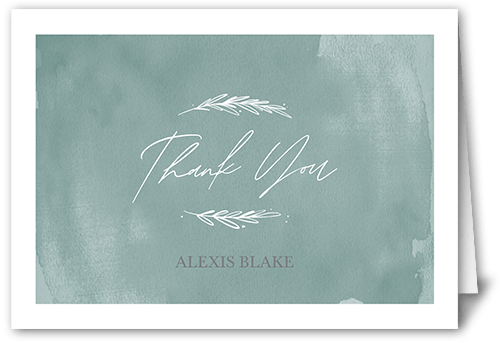 Watercolor Beginnings 5x7 Folded Card by Petite Lemon. Because they deserve it. Give them a personalized thank you card to express your gratitude.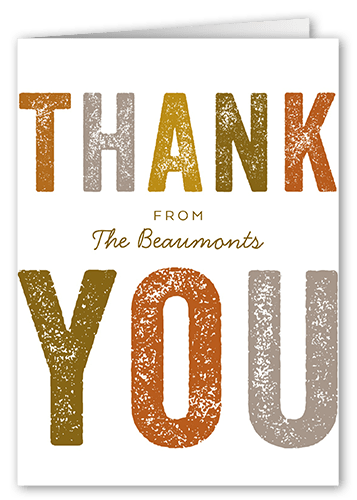 Thanks Gobble 3x5 Folded Card by Blonde Designs. Show just how much you appreciate them with this stylish thank you card. Add your favorite photos and a message of thanks.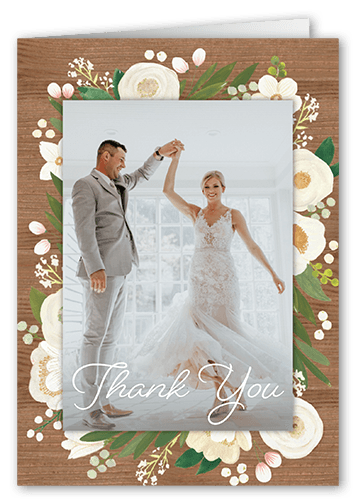 Elegant Bouquet 3x5 Folded Card by Petite Lemon. Because they deserve it. Give them a personalized thank you card to express your gratitude.