What customers have to say about our Christmas Cards
January 27, 2019
I highly recommend this card!!
"Absolutely love this card they came out perfect!"
January 23, 2019
good purchase
"Paper is excellent quality as is the envelope. Shipping can be high unless you are ordering a larger number of cards but I only bought one."
January 23, 2019
I will absolutely use this product again.
"The first time I have used Shutterfly for our annual greeting card. Very pleased and will use again."
January 22, 2019
Chinese New Year
"Christmas came too soon. No cards went out. New Year's came and went! Still no cards were sent out. But thanx to Shutterfly, made it for a Chinese Greeting! Beautiful cards front and back with pictures of family sent! Halleluah!!!!!"
January 22, 2019
I looved these cards and they arrived so quickly!
"Shutterfly makes last minute projects easy .. I love these holiday cards and continue to make photo books each month with their app as well as edits on desktop site. I love Shutterfly!"
Yours Truly Christmas Cards
When the holiday season arrives, get ready to send your friends and family members Christmas greetings sure to deliver some delightful seasonal joy. Shutterfly's "Yours Truly" Christmas card designs will make your recipients feel loved. This Christmas, turn your favorite pictures and memories into beautiful and unique custom Christmas cards. With your personalized touch, your loved ones will want to display the holiday greeting that you designed on the fridge year-round.
Christmas Card Greetings for Everyone on Your List
Our "Yours Truly" personalized Christmas card designs are perfect for sending holiday wishes that display your unique style and personality. Whether you want to write a funny greeting or something more traditional, you can customize the text in your card to make it one-of-a-kind. If you need ideas for what to say in your cards, check out these holiday sentiments below:
Season's Greetings
Happy Holidays
Holiday Wishes
Peace, Love & Joy to You & Yours
Merry Everything
Christmas Love
Happiest Holidays
Wishing You a Blessed Christmas
Choose from our collection of eye-catching designs that are perfect for expressing your heartfelt wishes this holiday season. Once you've found the Christmas card design that suits your personal style, make it yours by adding family photos, custom messages and a range of personalization options. For more inspiration on holiday greetings, check out our guide on what to write in a Christmas card.
How to Make a Custom Christmas Card
Shutterfly offers a variety of customization options, making the design process a fun and easy one. After you choose your favorite Christmas card template from Shutterfly's vast collection of card designs, you'll want to upload your favorite family photos to get started. Create a collage of pictures to highlight different aspects from the past year or showcase one special photo as the focal point of your personalized Christmas card. You can then customize the colors of your holiday card's design. Many of our designs offer several color options to let you personalize your Christmas photo cards with your favorite colors. Choose the colors that coordinate best with your family photos for a professional, custom-tailored look that stands out. Next, find the perfect font size and style that displays your holiday message in your personal style. For the finishing touches, select from a variety of unique trim styles to add even more personality and pizazz to your holiday cards. If you're a bit stuck on how to best design the "Yours Truly" Christmas cards, our 15 holiday card ideas that will brighten the season will give you the inspiration you need!
Add a Festive Touch to Your Christmas Card Envelopes
Complete the festive package of your Christmas cards by adding flair to your envelopes with Shutterfly's coordinating personalized address labels and custom stickers. To add an extra special touch to your personalized Christmas cards, opt for our holiday-themed custom envelopes that feature beautiful and festive designs. With a custom envelope, your Christmas cards will be sure to stand out among the stack.
Related Products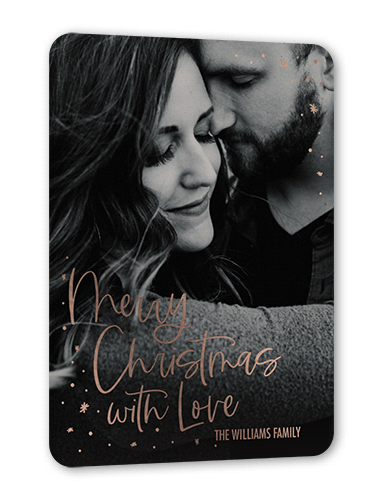 Annual Affection 5x7 Personalized Foil Card by Sarah Hawkins Designs. Send a holiday card friends and family will love. Add your own greeting and everyone's names. There's room for more photos and wishes on the back, too.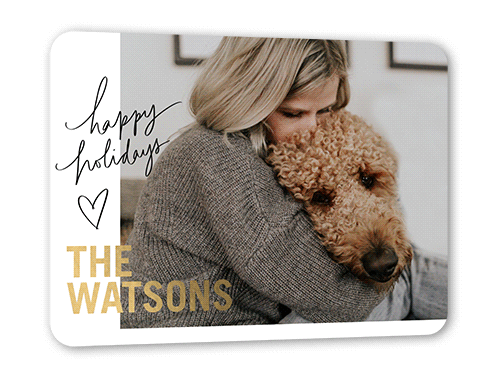 Gentle Heart 5x7 Personalized Foil Card by Blonde Designs. Send a holiday card friends and family will love. Add your own greeting and everyone's names. There's room for more photos and wishes on the back, too.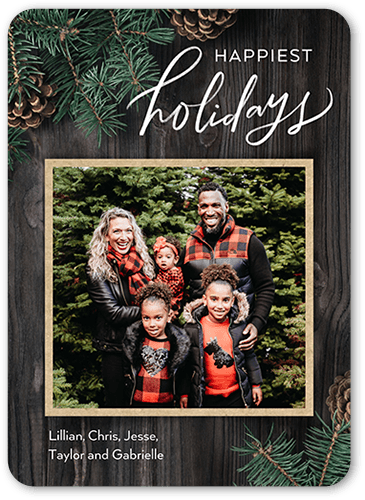 Rustic Festivity 5x7 Personalized Foil Card by Stacy Claire Boyd. Send a holiday card friends and family will love. Add your own greeting and everyone's names. There's room for more photos and wishes on the back, too.