What customers have to say about our Framed Prints
January 26, 2019
I will definitely buy more of these!
"Absolutely superb product. The quality is exceptional."
January 24, 2019
Beautifully done!
"Although my order came incorrect, Shutterfly was proactive in ensuring it was corrected. Excellent customer service and I am very pleased with the result!"
January 23, 2019
Fabulous!!!
"Bought this for a gift and person loves, loves, loves it!!!"
January 15, 2019
So lovely
"I love this picture so much, I'm searching through my photos to create a wall full of them!"
January 15, 2019
Loved this
"It's now the centerpiece of our bedroom and we love it. I got it as an anniversary gift and it came out perfect. I couldn't be happier!"
3-Photo Framed Prints
If you have some favorite photos you want to display in your home or office, our 3-photo framed prints provide an inexpensive and stylish way to do so. These frames will lovingly showcase your special photos and also make thoughtful, personalized gifts. With Shutterfly's framed prints, your photos will look stunning no matter where they're displayed – and you can mix and match frame and mat options to create a one-of-a-kind display.
Photo Ideas for Your 3-Photo Framed Prints
Framed prints offer a great way to add a personalized touch to any room in your home. Instead of printing the photos separately and having them framed elsewhere, you can get it all done with Shutterfly, including a high-quality top mat. Your photo collage prints can be stacked vertically, laid out horizontally, or organized into a unique shape. If you're looking for ideas for customizing your framed print, see a few popular options below.
Family Photos: Display your favorite family photos throughout your home. Showcase newborn photos, candid family shots, professional family portraits, vacation photos and more. Shutterfly even offers special kids photo print templates with fun illustrations and designs to match their personalities.
Wedding Photos: Create a unique framed print that highlights 3 of your favorite photos from your wedding day. Our wedding photo collage templates can include a collage with even more photos as well, so you can include your favorite photos from getting ready, having fun at the reception, and getting married during the ceremony.
Nature Photos: Turn your best vacation and landscape shots into art by using them to create a one-of-a-kind framed print.
Pet Photos: Framed prints are also wonderful for displaying your most cherished photos of your four-legged family members. Create a framed pet print that showcases silly photos of your furry friends along with cute paw print illustrations and pet quotes.
Designing Your Framed Prints
Shutterfly offers a fantastic selection of 3-photo framed prints. Browse our collection to find the design that best captures your personality and style and then have fun making it truly unique to you. Upload your favorite photos and use our customization options to choose your favorite colors, font styles and more. You can even find a collection of free images and artwork in the Shutterfly Art Library. Make your design more sentimental by adding names, dates and custom messages or quotes. If you still need a bit more guidance and inspiration when creating your framed prints, use our Design-a-Wall tool to help you visualize a variety of wall art display ideas and get a better idea of what will look good in your home. You'll be amazed at how much style and personality our framed prints will add to your home and how professional your photos look in them. No matter what design templates you choose for your picture prints, you'll be able to customize the frame to make sure it successfully complements your print. Decide between a classic curve frame, a contemporary frame, as well as a modern frame depending on what looks best in your home.
Related Products
Gallery Collage of Six Double Wooden Print by Shutterfly. This hinged frame will let you display two of your most cherished memories side by side. Perfect gift for a new couple or mom and dad.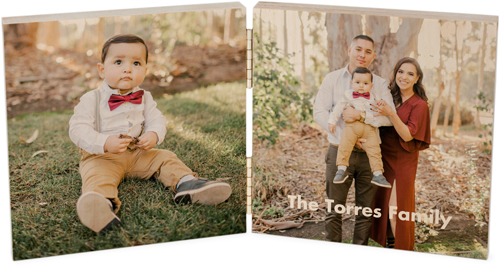 Photo Gallery Double Wooden Print by Shutterfly. This hinged frame will let you display two of your most cherished memories side by side. Perfect gift for a new couple or mom and dad.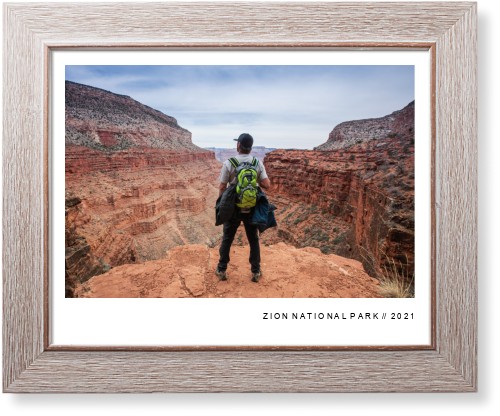 Modern Gallery Art Print by Shutterfly. Turn a favorite image into a stunning gift, or addition to your own space, with a gallery quality premium cardstock art print. Transform your best memories into custom wall art with photo art prints ...